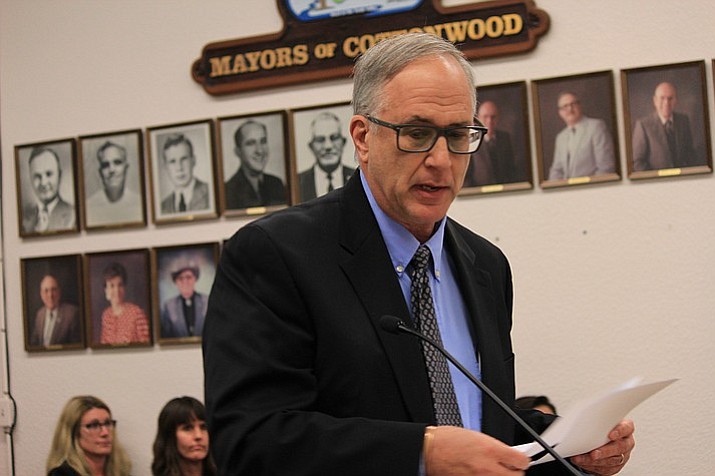 Originally Published: April 21, 2018 12:38 p.m.
Cottonwood -- Transparency and Human Resource issues were some of the topics of discussion during the annual evaluation of Presiding City Magistrate, Douglas LaSota on Tuesday.
Council reappointed LaSota to a two-year term last year. His contract is set to end In April, 2019. Annual evaluations are part of LaSota's contract.
"The City Council shall review and evaluate Mr. LaSota's performance as presiding Magistrate upon his completion of one year of service," according to the employment agreement. "These performance evaluations may or may not result in an adjustment to Mr. LaSota's base salary at the sole discretion of the City Council and subject to available resources."
LaSota requested an open session for his evaluation.
One of the issue LaSota brought up during his self-review was transparency between the council and courts, citing an agenda item having to do with court consolidation. He said that he was not made aware of the agenda item until the Friday before the meeting.
But Council member Deb Althouse said that council is also just as much in the dark with upcoming agenda items until the Friday before meetings.
"It bothered me that his was written because I didn't know either," she said. "It's not that we're not communicating with you it's that stuff is not being finalized until Friday."
LaSota said his comment wasn't meant as a complaint or an attack rather than a request to the Mayor find ways to give him some advance notice on agenda items having to do with the courts.
"I wasn't even supposed to be in town that day," he said. "I had to change airline fares just to be here."
During a comments segment by council, Vice Mayor Kyla Allen suggested LaSota should improve how he handles personnel issue. She cited a March meeting where LaSota talked about personnel problems with his staff during a public council meeting.
"My suggestion would be to attend HR training so you can understand what you can and can't say at that podium," she said. "Things have been said there that were terribly inappropriate."
--Follow Kelcie Grega on Twitter @KelcieGrega