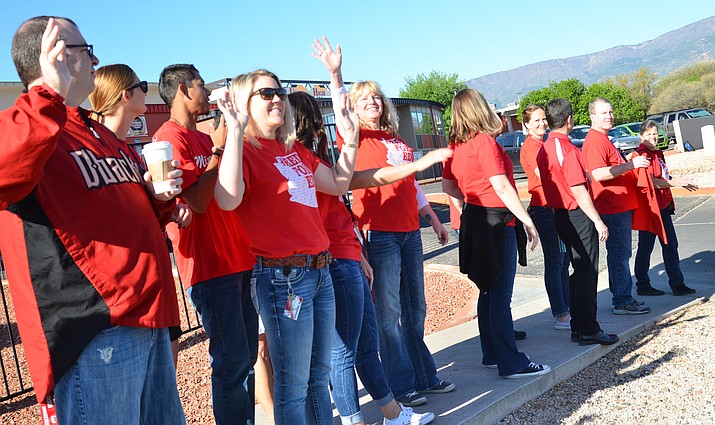 Originally Published: April 21, 2018 1:06 p.m.
VERDE VALLEY – The decision by Arizona teachers to walk off the job April 26 represents one of the most agonizing personal and professional decisions they've ever made, according to five local teacher representatives to the Arizona Education Association.
"Walking out has been an extremely difficult choice that I've been back and forth on for weeks now," said Camp Verde School District representative Kaitlin Potter. "On the one hand, I know that we need to create positive change in our education system and have already tried doing so in a more peaceful and accepting manner. This walkout is not something we are jumping into hastily or taking lightly. It has been a long time coming, and I feel that it is going to benefit our students in the long run. On the other hand, I worry about my students. I worry about where they will go, what they will do, and what they will eat. I'm so worried about them that it's making this decision an almost impossible one."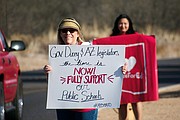 Beaver Creek School District representative Allie Wheeler said that while she supports the walkout, "I continue to find myself torn. I understand that to make change you have to do difficult things. I believe that educators' hearts stand with their students, and it is difficult for me to talk about walking away from our students."
Across the Verde Valley at the Clarkdale-Jerome School, AEA rep Jennifer Shilling said. "I know I need to stand up with my fellow educators, yet I want to stay in the classroom with young students.  But there isn't an alternative.  This is about the students and supplying them with current resources, a safe building, and effective teachers."
Throughout the Verde Valley, educators say the walkout is absolutely necessary. In the long run, they say, it is the best things they can do for their students.
"If we don't stand up for education now, and demand that the State respects the needs of every current and future student in Arizona, will we always be stuck with the status quo?" asked Mingus Union representative Jason Teague. "On the flip side, I know that good teachers in the classroom is what is best for all students.  I have not spoken with a single educator that wants to walk out.  We just want our schools to be properly funded so that our students can have the best education we can offer."
Added Cottonwood-Oak Creek AEA representative Brenda Lewis: "It is important to keep this in context. It has been going on for years. We want them to understand that this is about the students, it is about the continued underfunding for our schools."
In each school district throughout the Verde Valley, local sentiment for the April 26 strike fell in line with the reported 78-percent statewide vote in support of the walkout. At Mingus, Teague reported that "90 percent of the entire staff participated in the walkout vote.  We had 64 votes for the walkout, 41 votes against, and 12 staff members chose to not participate; 54 percent of the Mingus Union High School staff voted in support of the walkout.'
At Clarkdale-Jerome, Shilling reported, "Clarkdale-Jerome School's numbers were very similar to the state.  We had 71 percent of those who voted, voted to participate in a walkout."
At Beaver Creek, Wheeler said, "Teachers were not the only ones able to vote, any school employee could vote, which I think shows a great support for the movement and that a school's entire staff, from bus drivers, food service, maintenance staff, office staff, as well as instructional staff, administration and teachers, we are seeing a support for education and the demands that RedForEd has set forth. 80 percent of our district staff who voted, voted in favor of supporting a walk out."
Throughout the Verde Valley, educators are hopeful that some kind of compromise can be reached to avert a walkout April 26.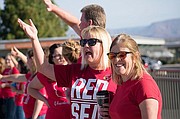 "The days leading up to the walkout serve a couple of purposes," said Mingus' Teague. "First off, it gives the schools and communities a chance to communicate and plan for the possibility of a walkout.  The last thing we want to do is blind side our students, parents or community.  Second, it does give the Governor and State Legislature a chance to act on the demands being put forth by RedforEd. As far as expecting a walkout on April 26th, I have learned that we can count on anything happening at this point.  My hope is that Governor Ducey will put forth a plan that the education community can accept so we may avoid a walkout."
Teague also said teachers are highly sensitive to the timing of this planned walkout. They realize, he said, it can impact things such as graduation, AzMerit Testing and AP testing. "It certainly makes it more complicated for educators, students, parents and the community at large. I can't speak on whether or not this makes our message more powerful.  But it does cause more people to pay attention.  I always worry that this will hurt the public perception of educators," he said.
At Camp Verde, Potter said the timing for this walkout is problematic, but "would there ever be an ideal time to have a walkout? I don't think so. Students in Arizona need something to change, and if we don't do it now, then when? Why should students have to wait any longer to get the education that will help make them successful in their futures? I don't worry about walking out at this time of year any more than I would at any other time of year. I think people would have the same opinions as they do now, regardless of the timing. Some people fully support the walkout and realize that teachers are doing what they believe to be best for their students, while others feel we are abandoning our posts. I don't see it as abandonment. I see it as an opportunity to improve education in Arizona."