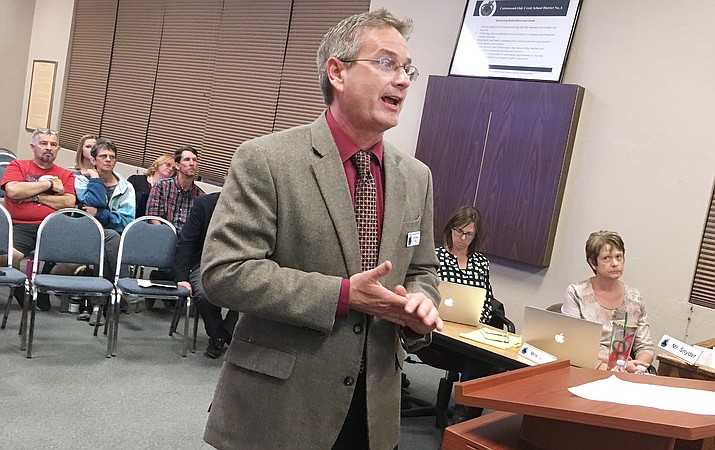 Originally Published: April 23, 2018 11:02 a.m.
Cottonwood-Oak Creek Superintendent Steve King announced Monday that all campuses within the school district will be closed Thursday as educators throughout Arizona will stage a walkout in protest of school funding policies in Arizona.
There has been no decision yet on whether classes will resume Friday, April 27, said Tricia Winters, executive assistant to the superintendent.
The district, Winters said, is "Hoping to provide 24-hour notice moving forward."
In a letter sent to all parents in the district Monday, King said, "I have been meeting with leaders throughout the Cottonwood-Oak Creek School District and after much consideration I have determined that there will not be enough of our certified staff (teachers) reporting to school on Thursday, April 26th, 2018 to safely keep our schools open."
As a result, "All COCSD schools will be closed on Thursday, April 26th, 2018," the letter continued.
King urged families to make plans for how they will manage the school closure.
King emphasized the following:
All schools in the district will be closed – students and families will not have access to buildings or fenced areas.
Bright Bears at DDB and Capser for currently registered students at OCS preschools will remain open.
Extracurricular student programming (including clubs, activities, performances, celebrations, field trips) will be suspended and may be rescheduled if time permits.
All single-day field trips will be suspended.
All transportation services will be suspended.
Weekday indoor facility use by outside organizations will be canceled or rescheduled. Field use will continue as scheduled. Saturday and Sunday facility rentals will continue as scheduled.
District-level end-of-year celebrations will be held as scheduled.
"These plans will be reviewed regularly and updated as needed," King said. "Additional information and updates will be coming soon. We will continue to share information via our notification system (SchoolMessenger), so please ensure your contact information is up to date in the school office. Information will also be posted on the district website (www.cocsd.us), and district Facebook page. Please continue to monitor your phone and e-mail for additional instructions."
More like this story