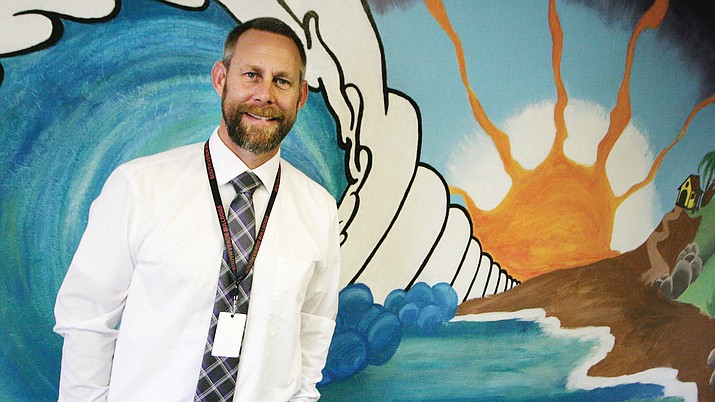 Originally Published: April 26, 2018 2:37 p.m.
CAMP VERDE – Three years ago, Steve King left his position as principal at South Verde High School to assist – then succeed – Barb U'Ren as superintendent at Cottonwood-Oak Creek School District.
Since then, South Verde has been without a full-time principal.
Until now.
Brian Tankesley, in his fourth year at Camp Verde Unified and his 11th year as an educator, is administrator-in-charge Danny Howe's choice to lead South Verde.
Howe, who has served as principal at South Verde the past two years – while serving as principal ta the district middle school and accommodation school – selected Tankesley to succeed him at South Verde for the 2018-2019 school year. Tankesley has served as South Verde's Lead Teacher since July 1, 2017.
To Howe, the school's new principal is a "good relationship builder."
"Kids know he cares about them," Howe said. "That's what has helped him be successful."
In 2015, Tankesley began his Camp Verde Unified career as a seventh-grade science teacher, golf coach and middle school soccer coach.
As principal, Tankesley said his primary goal is to "ensure South Verde is a safe place for students and staff."
"My job has been made easy, as the staff here at South Verde have already laid the foundation we need to create a meaningful environment for our students," Tankesley said. "My plans will continue to foster a safe yet rigorous educational environment where students will grow not only academically yet socially and emotionally, preparing them for the next phase in their life."
With his principal's certificate, Tankesley is close to finishing his doctoral studies in organizational leadership with a K-12 emphasis.
Tankesley's promotion was approved April 17 by the school district's governing board.
-- Follow Bill Helm on Twitter @BillHelm42