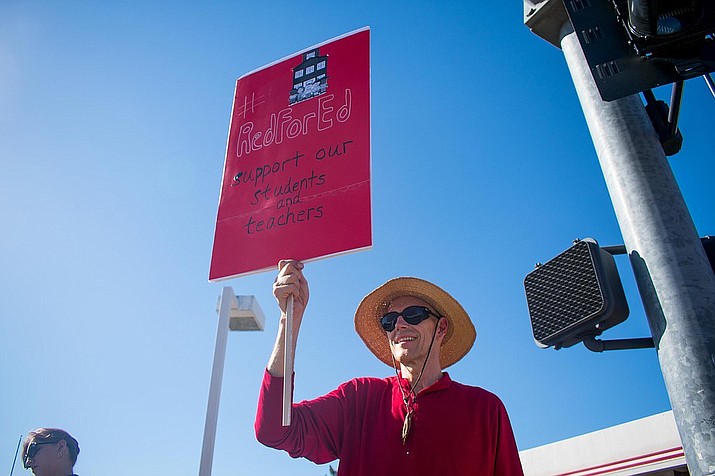 Originally Published: April 27, 2018 3:41 p.m.
Schools across the Verde Valley will remain closed through Monday -- some indefinitely -- as educators statewide demand more funding for public education.
The Arizona Republic reports that 840,000 of the state's 1.1 million public schools students will be affected by closures.
In a letter to parents, Cottonwood-Oak Creek Superintendent Steve King stated the district will remain closed until "adequate staff is available to operate the school safely."
He continued: "During this difficult time, we will continue to keep families and the community regularly updated through School Messenger, the district Facebook page and social media."
Lunches will still be provided as well as preschool at Bright Bears and CASPER, King stated. Movies will also be offered at the district office at 9 a.m. and 1 p.m.
Sedona-Oak Creek Unified School District Superintendent Dave Lykins announced in a letter to parents that the district would be closed indefinitely.
"We have been carefully monitoring our school staffing and have determined that there will not be enough certified staff (teachers) reporting to school Monday."
Lykina said that any school days missed may be added to the end of the school calendar.
American Heritage Academy Principal Lance Barnes also told The Verde Independent that both AHA campuses will be closed Monday.
According to Arizona Educators United, the grassroots group organizing the walkouts, the demands from teachers are:
20 percent salary increase for Arizona teachers in order to create competitive pay with neighboring states.
Competitive pay for all Education Support Professionals.
Permanent certified salary structure which includes annual raises.
Restore education funding to 2008 levels.
No new tax cuts until per-pupil funding reaches the national average.
-- Follow Kelcie Grega on Twitter @KelcieGrega