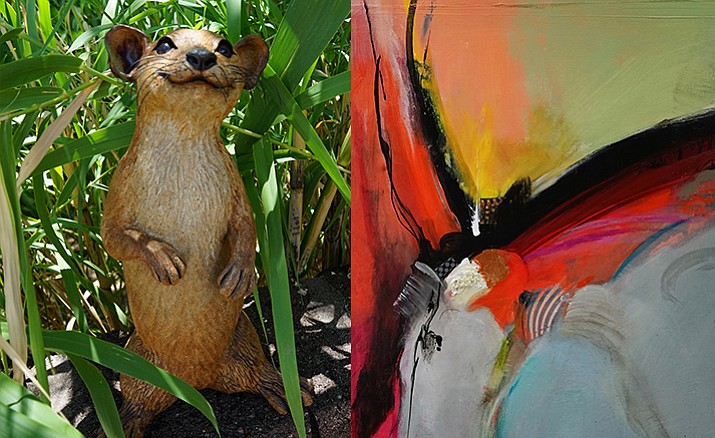 ---
---
The purest connection someone can make with art is through the soul. That moment when art communicates through a deeper level of understanding is when the audience can truly connect with it. This May, Creative Gateways explores the soul's connection within artwork in their new exhibit, Notions of the Soul. Join them for a lively opening reception on Friday, May 4th, from 5-8 p.m. during 1st Friday in the Galleries.
In her radiant "Intention" series Pilisa Rainbow Lady skillfully weaves her thoughts and emotions into her work with fused glass. Each piece in this series holds an intention, such as love or abundance, that is magnified by the glass and gracefully reflected in its design. In addition to the pieces available in the gallery, she also does commissions that are uniquely created for the individual and has recently expanded this series into treatment bowls, sconces and architectural elements for use in spas.
Husband and wife duo, Michael and Sumati Colpitts also create personal ties in their pieces. Michael imbues his art with the overwhelming sense of motion and joy. In his piece "Flight" the gestural strokes upward give the audience a sense of elevation and release from any burdens. His work in abstract painting connects with each person in a different way, as there is never a correct way to view his pieces. Sumati has a unique but direct method of connecting souls in her animal figures. The eyes, which are made from the highest-grade taxidermy glass, are what become the windows to the animal's spirit. These finishing touches within each piece personify their intellect and openness to the audience, creating a long-lasting effect.
Join Creative Gateways on Friday, May 4th, from 5-8 p.m. for the opening reception of Notions of the Soul. Meet all the resident artists while browsing the gallery space, exploring the studios, and enjoying appetizers and beverages.
Creative Gateways is a collective of artist studios and shared gallery space in Sedona, Arizona. Founded in 2016 by Pilisa Rainbow Lady, the working studios are open to all, and visitors are welcome to drop in at any time to meet the artists and engage with the creative process. Their intention is to create an open community where cross-pollination of ideas and spontaneous collaborations can flourish. The gallery space showcases the innovative and lively work that results from this very special environment, for visitors to discover, explore, and take home with them. Creative Gateways is located at 45 Birch Blvd in Sedona and is open 7 days a week from 10-5 p.m. For more information about Creative Gateways, please visit www.CreativeGateways.com or call 928-862-4440.