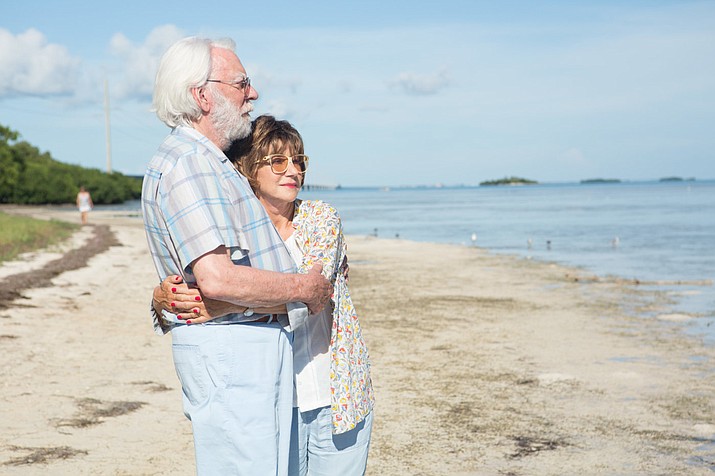 ---
---
We have here the type of film that seems to be hard to find these days. The Leisure Seeker is about an elderly couple who have been married for almost a half-century. They are still in love, having raised two children who are now adults. They have problems which motivate them to put some spark into their lives before the end — which they realize may not be far away.
John and Ella Spencer live in Massachusetts. They decide to get into their well-aged and used motorhome (dubbed 'Leisure Seeker') and make the trip to Key West, Florida, to visit the legendary home of Ernest Hemingway.
John is a retired English professor who is slipping away into Alzheimer's Syndrome. Ella, his devoted wife, tries as hard as she can to keep him on track. He drives the camper; she never learned how. The Leisure Seeker takes place entirely on the road, with occasional scenes of their two progenies trying to figure out where Mom and Dad are and how to get them safely home.
John is played by Donald Sutherland and Helen Mirren is Ella. Both are wonderful in this film. Mirren, especially, is captivating in her portrayal of a wife struggling to keep her beloved husband from losing all awareness of himself and his life. As the film progresses, John sinks deeper into forgetfulness and confusion.
On their journey, they meet other traveling families and many people who help them when they have a problem. Like a flat tire. John often does not hesitate to entertain people with quotations from Shakespeare or Hemingway or other literary giants whose work he spent years teaching to his classes. In one scene they are in a diner eating lunch and he is quoting from Hemingway's "The Old Man and the Sea" to the young waitress serving them. She is smiling and when Ella tries to save the girl from endless quotes, the girl simply continues quoting from the book. She reveals she has an advanced degree in literature, which delights John. That is one of several upbeat and humorous scenes among the painful views of John's plight. At times, it appears that John may be too shaky behind the wheel, but they do make it to Florida.
One of the problems that arises is when John has lost more and more of his clarity and he starts talking about an old girlfriend he had before he married Ella. That causes some tension between them, especially when it is apparent he doesn't remember Ella's name.
The supporting roles are well cast with Janel Moloney and Christian McKay as their daughter and son. The Leisure Seeker is an excellent film representing the rewards and the trials of aging. And you can't beat the acting of the lead players.
The Leisure Seeker is at Harkins Sedona 6 theater.