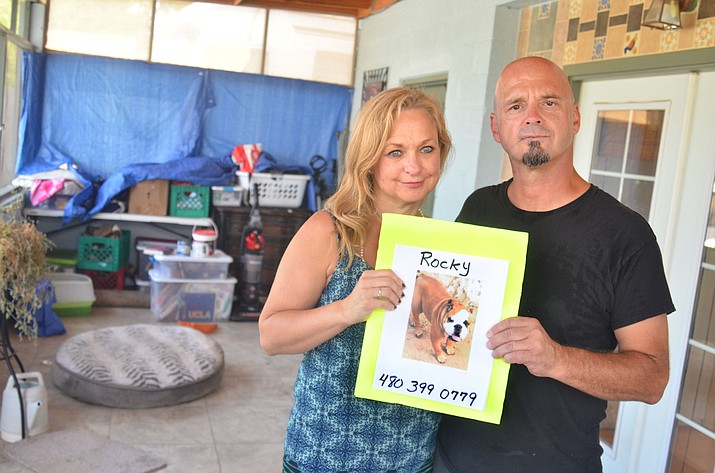 Originally Published: August 2, 2018 11:30 a.m.
Rocky is out there, and his owners are hoping the English bulldog makes a break from his captors
"I never would think someone would go blatantly steal someone's pet," Todd Franco said at this home Tuesday.
He and Dee Dee Perkins were taking a break from combing Cottonwood for their missing pet. They were also putting up posters all over town.
The brown and white dog was "reported stolen" near East Aspen Street on July 23, states a Cottonwood Police Department report.
"He was a pure English bulldog," said Perkins.

The dog was on their front porch with the front door closed when Rocky disappeared, Perkins said. People walk in the alley near their house, Franco said.
The Cottonwood Police Department rarely get reports of stolen pets from local homes, explained Sgt. Monica Kuhlt. She said the only instances she remembers of pure-bred dogs being stolen in Cottonwood occurred at the pet stores.
Perkins said she believes that some people do take bulldogs and resell them, but the couple is not giving up hope in finding Rocky.
They have posted flyers, knocked on doors of residences and businesses, talked to people by word of mouth, and walked the all of the area including the Jail Trail and the Dog Park
Todd said he's contacted the vets in town. And all the animal shelters in the Verde Valley, Perkins said.
"We know he's out there, and someone has him," Perkins continued. "And Rocky, if he has the opportunity, he'll burst out."
Sgt. Kuhlt recommends that dog owners have "their dog chipped (it doesn't really help in prevention of theft but is certainly a valuable piece of evidence in determining ownership); security cameras; secure area outside such as a backyard or dog run; or at least a six-foot fence (better if is solid to reduce visibility into the secure area."
The couple said Rocky is very "intelligent," and understands things very well.
"We're not giving up," Perkins said. "I feel him. I feel like he's close. That's the worst thing."
Please call 480-399-0779 or the Cottonwood Police Department if you know anything about Rocky's location.