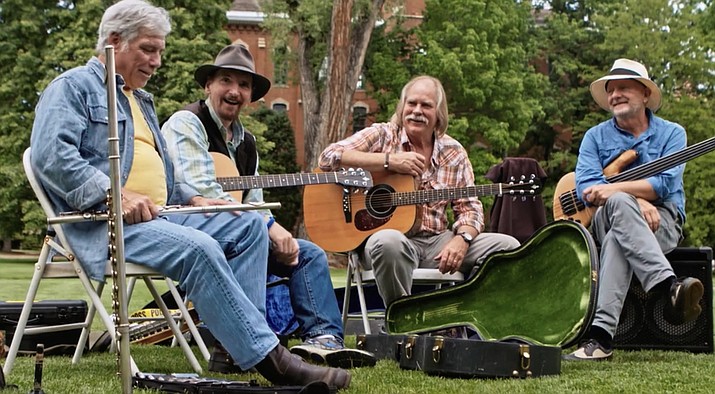 ---
---
The Sedona International Film Festival is proud to present the Northern Arizona premiere of "40 Years in the Making: The Magic Music Movie" on Tuesday, Aug. 14. There will be two shows at 4 and 7 p.m. at the festival's Mary D. Fisher Theatre.
Magic Music is one of the most fondly remembered bands of the Boulder Revolution. Living in a makeshift camp up in the mountains in the early 1970s, they would delight local residents and university students with their original songs, acoustic instruments, and light harmonies; their growing popularity brought them to the brink of success more than once. Unfortunately, they never signed a record deal and eventually broke up in 1975.
Four decades later, one of their greatest fans, Boulder alumnus and acclaimed director Lee Aronsohn, tracked down the original Magic Music members. Making a dream come true for himself, fellow fans, and the band, he brought them together — in Boulder — for a sold-out reunion concert that finally preserved Magic Music for posterity.
The founding members of Magic Music were carefree young men, free spirits who came together because they loved music.
The musicians may have changed from time to time — the group was fluid — but the sound and the mystique were always the same. Crowds gathered to hear their signature harmonies and simple, yet poetic, lyrics whenever and wherever the band played.
Success, their devoted listeners believed, was just a song away — they predicted that Magic Music would catapult into the world of best-selling records, fame, and fortune, and the band's early followers would be able to say, "I knew them when …"
Fans, including Aronsohn, agreed that Magic Music was the epitome of Rocky Mountain cool. "I wanted to be a high school hippie," Aronsohn recalls. "But these guys were the real deal."
Aronsohn brings the band's always colorful — and sometimes poignant — history to life in his documentary film, "40 Years in the Making: The Magic Music Movie."
Aronsohn is an award-winning television writer, composer, and producer, with a resume of blockbuster shows, including "Two and a Half Men" and "The Big Bang Theory."
"40 Years in the Making: The Magic Music Movie" will show at the Mary D. Fisher Theatre on Tuesday, Aug. 14 at 4 and 7 p.m. Tickets are $12, or $9 for Film Festival members. For tickets and more information, please call 928-282-1177. Both the theatre and film festival office are located at 2030 W. Hwy. 89A, in West Sedona. For more information, visit: www.SedonaFilmFestival.org.