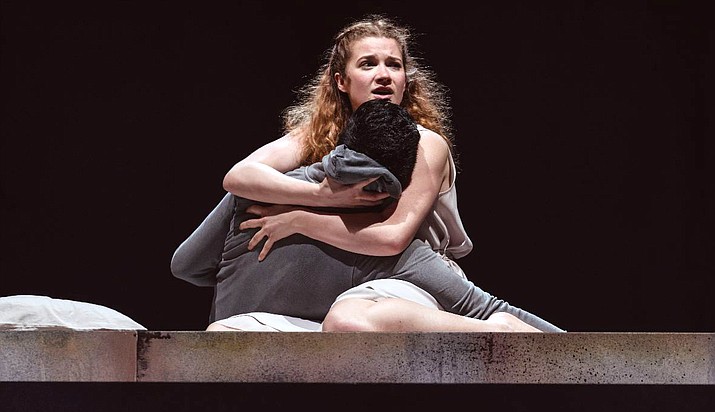 ---
---
The Royal Shakespeare Company's extraordinary new production of "Romeo and Juliet" makes its Sedona big-screen debut on Sunday, Aug. 12. The Sedona International Film Festival hosts the high-definition premiere of William Shakespeare's renowned play from its home in Stratford-Upon-Avon.
There will be one show at 3 p.m. at the festival's Mary D. Fisher Theatre.
What if your first true love was someone you'd been told you must hate?
Set in a world very like our own, the Royal Shakespeare Company's "Romeo and Juliet" is about a generation of young people born into violence and ripped apart by the bitter divisions of their parents.
The most famous story of love at first sight explodes with intense passion and an irresistible desire for change, but leads all too quickly to heartbreaking consequences.
"The tale of star-crossed lovers is brought into dazzingly sharp relief. From the moment we meet Romeo (Bally Gill) and Juliet (Karen Fishwick), we believe in them as a pulsing flesh and blood couple." — Evening Standard
"This must be the most fleet-footed account of 'Romeo and Juliet' since 'West Side Story'. Erica Whyman has done something bold, which is incorporate into the company a handful of pupils from schools across the country; their freshness rubs off onto the rest of the cast." — Daily Telegraph
"Youthful and energetic take on Shakespeare's tragedy." — What's On Stage
"A cracking pace … a bustling show." — The Times
The Royal Shakespeare Company (RSC) is one of the world's best-known theatre ensembles. The Company focuses on works by Shakespeare, other renaissance dramatists and contemporary writers.
The RSC is dedicated to attracting and inspiring the best artists both on stage and behind the scenes, to produce performances of the very highest standard.
So, wherever you experience the RSC, you experience work that is made in Shakespeare's home town.
Shakespeare has been performed and celebrated in Stratford for centuries and the RSC has trained generations of the very best theatre makers since the Company was founded in 1961.

The Royal Shakespeare Company pioneers contemporary approaches to Shakespeare's plays, as well as staging the work of those who inspired him and the work of today's playwrights.
"Romeo and Juliet" will be shown at the Mary D. Fisher Theatre on Sunday, Aug. 12 at 3:00 p.m. Tickets are $15, or $12.50 for Film Festival members.
Tickets are available in advance at the Sedona International Film Festival office or by calling 928-282-1177. Both the theatre and film festival office are located at 2030 W. Hwy. 89A, in West Sedona. For more information, visit: www.SedonaFilmFestival.org.