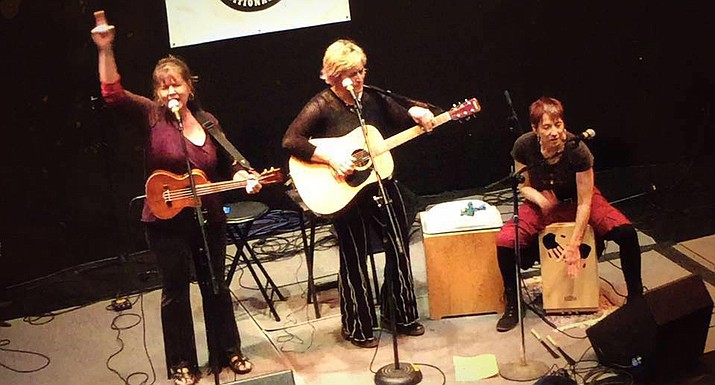 ---
---
August keeps rockin' with Christy Fisher & Cattywampus rockin' the house at Vino Di Sedona, Wed, Aug 15, 7-10 PM, Christy will be leading a fun blend of acoustic pop, and original songs by Christy Fisher (vocals, ukulele, keyboard).
You can listen to amazing, upbeat music by guitarist/singer Tim Young Thursday, Aug 16, 7-10 p.m. Before moving to Sedona, Tim had a 30-year music career in New York City where he performed hundreds of shows and released three CD's. He was raised in the heyday of AM top 40 radio and the Folk music boom, his inspirations are everyone from Bob Dylan, Joan Baez, and Arlo Guthrie to The Beatles, Sex Pistols, Ramones, Cars and Nirvana.
Saffire, Sedona's best rock trio, performs at Vino Di Sedona on Friday Night, Aug 17, 7-10 p.m. Saffire is a straight-up quality Rock & Roll trio with a wide and far reaching repertoire. Their sound is authentic and driving; featuring complex rhythms, soulful melodies and spirited grooves. Though newly formed this year in the Verde Valley, the three members have a tight chemistry in their love for music. Classic tunes from the last several decades are covered in an original and very engaging way. "It is so much fun to be playing the songs I grew up loving," says Gina Machovina, classical guitarist/singer and songwriter for Saffire. "But even more enlivening for me is the focus and attention we are giving to my music compositions. They are really taking shape in the best way possible."
Saturday, Aug. 18, brings three of Sedona's most loved and talented musicians to Vino Di Sedona, Darius Lux, David Harvey, and Saith. Music begins with Wine Tasting and international singer-songwriter Darius Lux, 3:30-6 p.m. Darius is an award-winning artist who specializes in classic, uplifting pop with soulful vocals. Lux plays classic covers from Van Morrison to John Mayer, and his original songs connect with the heart through inspiring themes that range from empowerment to romance. His smooth voice and looped guitar stylings create an earthy blend of popular music, rock and reggae that you can relax or dance to. Darius' life has been one of expansive adventures. Originally hailing from London, he's been creating music almost as soon as he could talk. His influences range from Sting, Otis Redding and U2, to One Republic, Jack Johnson, and Jason Mraz. For more information visit dariuslux.com.
Saturday Night brings music by David Harvey and Saith (Näthan Gangadean). David performs classic rock covers and originals, including songs from his CD "Ten Years Running." Saith is a local musician, singer, music producer and spiritual hike guide in Sedona.
Don't miss Sunday-Funday with Yarrow at Vino Di Sedona on Aug 19, 6-9 p.m. Yarrow was formed in 2011 when three musicians, Patty and Tom Hoisch and Patricia Fonseca, shared a desire to push the boundaries of the familiar. Recognizing how diversity in their backgrounds could allow their collaboration to become larger than the sum of its parts, they began to cross folk and rock music with classical music and poetry. The result is a continually evolving mix of electric cello, acoustic guitar, djembe, harmonized vocals and poetic lyrics in the Indie genre, offering many original songs and a few familiar favorites with unexpected twists.
Music Monday, Aug. 20, 6-9 p.m., features 2017 Northern Arizona Blues Challenge winner D.L. Harrison. D.L. is an Arizona singer-songwriter who delivers a high-energy rock and blues show.
Sedona's best Open Mic night, hosted by Dan Rice is every Tuesday, 6-10 p.m., at Vino Di Sedona. Each musician is allotted an amount of time, or number of songs, and every week brings a variety of new talent along with regulars like KB Bren, Jim French, Walt Young, Randy J, Lisa Hart, Tim Young, and Dave Rice who frequently play at Open Mic.
Vino Di Sedona Fine Wine and Craft Beer, is located at 2575 W SR 89A in West Sedona. For more information or to see the full calendar of events, visit www.VinoDiSedona.com. 928-554-4682