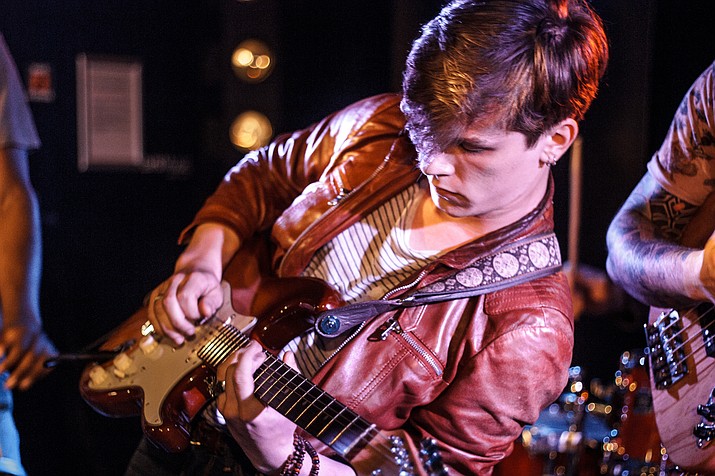 ---
---
Come celebrate a special international night on Friday, August 24, when the romance of France mixes with the Old West at Blazin' M Ranch in Cottonwood.  World-class musicians with the re-known Voila Tour will join in for a fun and entertaining evening of Cowboy, French, Rock n' Roll  & Blues music. This unique blend of two continents with French and American musicians will provide a memorable evening for all who attend and may just become an annual signature event for years to come.
This is the first year the Voila Tour will co-produce an event with the Blazin' M and its second year bringing amazing talent to Sedona, the Verde Valley and Prescott in a week long French Festival at several other locations throughout North-Central Arizona during their two week tour.
Prior to dinner, guests will enjoy the mix of Gypsy, Blues and French music by recording artist, CadiJo, an international award winning singer-harmonicist, scheduled on the outside stage in the courtyard, along with guitarist, Eddie Dhaini, performing on stage, strolling the courtyard and performing in the adjacent Copper Spur Saloon.
After enjoying the delicious Blazin' M all you can eat BBQ dinner, there is a full line up of some of the best in the West and France's entertainers on stage. Featured Country, Rock Blues musicians will be famous and amazing Chris' n 'Lo, French keyboardist, Slim Batteux with his band, plus young, incredibly talented guitarist, Swan Vaude and rising star vocalist, Cheyenne. The evening will also include the popular Blazin' M Cowboys stage show along with Sedona's popular entertainment duo Tom & Shondra. At the end of the evening, French singer, Frankeur, with his amazing vocals along with all of the musicians from the evening's event will jam together on stage for its final international music exchange.
Admission is the normal price and includes the bonus of all the pre-show entertainment, dinner and show and regular ranch activities. Shopping, saloon, shooting gallery and Old Tyme Photos are also available. For reservations, call the Blazin' M Ranch at (928) 634-0334 or visit BlazinM.com.  Reservations are highly recommended.
About Blazin' M Ranch
For more than 20 years, the Blazin' M Ranch has provided visitors an Old West experience to remember. Featuring a mouth-waterin' BBQ chicken and ribs chuckwagon supper followed by a toe-tappin, knee-slappin' hour-long Western stage show by award-winning musicians, it is a must-do attraction in the Sedona/Verde Valley region.
Before dinner, visitors will enjoy the Western town featuring a museum, Old-Tyme photo studio, shooting gallery, ropin' lessons, tractor pull, saloon and Western shops that line the boardwalk. Blazin' M Ranch is located 20 minutes from Sedona, adjacent to Dead Horse Ranch State Park in Cottonwood, 1875 Mabery Ranch Road.