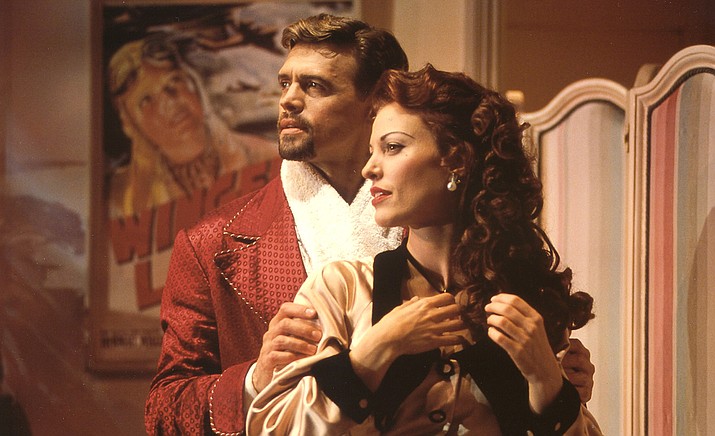 ---
---
The Sedona International Film Festival is presenting the Great Stage on Screen series from London's most prestigious theater companies. The series continues with "Kiss Me, Kate" showing in Sedona on Sunday, Sept. 2 at 4 p.m. on screen at the festival's Mary D. Fisher Theatre.
Great Stage on Screen is a compilation of past performances filmed on the stages of the National Theatre of London, the Royal Shakespeare Company, Broadway and London's West End and features some of the world's biggest stars.
Filmed in HD at the Victoria Palace Theatre in London, "Kiss Me, Kate" is one of the most sparkling musicals of the golden age of Broadway. With Cole Porter's music and Sam and Bella Spewack's hilarious book — a take on Shakespeare's "Taming of the Shrew" in a 1940s theatrical context — it was a hit from the outset.
The cast includes: Brent Barrett, Rachel York, Nancy Anderson, Michael Beresse, Nicolas Colicos, Teddy Kempner, Jack Chissick, Kaye E. Brown, Nolan Frederick, and Colin Farrell.
The story of "Kiss Me, Kate"
Divorced Broadway stars Fred Graham and Lilli Vanessi agree to star in a musical adaptation of William Shakespeare's "Taming of the Shrew" alongside rising young actors Lois Lane and Bill Calhoun. Backstage complications pile up due to a romantic misunderstanding between Fred and the soon-to-be-remarried Lilli, while Bill's gambling debts cause a pair of lunk-headed mobsters to become part of the show.
Cole Porter's "Kiss Me, Kate" will be shown at the Mary D. Fisher Theatre on Sunday, Sept. 2 at 4 p.m. Tickets are $15, or $12.50 for Film Festival members. Tickets are available in advance at the Sedona International Film Festival office or by calling 928-282-1177 or online at www.SedonaFilmFestival.org.
Both the theatre and film festival office are located at 2030 W. Hwy. 89A, in West Sedona.