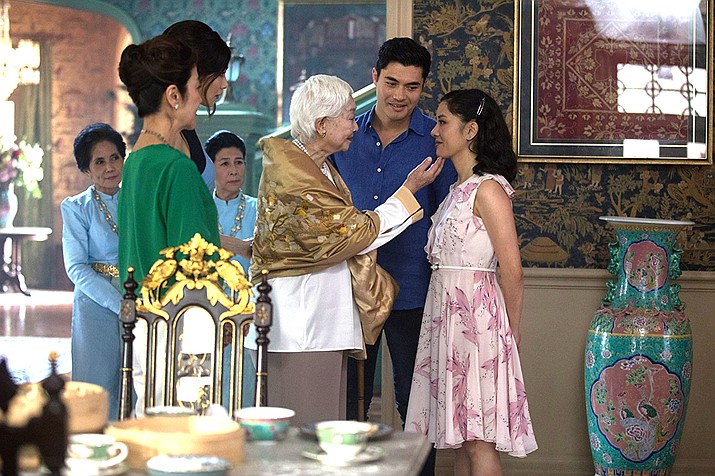 ---
---
Crazy Rich Asians is a pleasant film that has some very nice features in it. The entire cast are Asian actors, the music background and for dancing is all western, familiar and modern. Most of the story takes place in Singapore and we get spectacular views of the structures that make Singapore unique in the modern architectural world.
The story here is interesting and well played, but not very original. A young couple are very much in love in America. She, Rachel (Constance Wu), is a college professor of economics, born and raised in America. She is fluent in Chinese from her mother's influence. He, Nick (Henry Golding), is handsome, smart and seems to be financially comfortable. Nick was born and raised in Singapore and moved to the United States a couple years ago. Rachel and Nick are a very happy couple, but marriage is not their first priority at this time.
Nick gets a message from Singapore telling him that his best friend is about to be married and he is the designated best man. Without hesitation, he decides he must take Rachel with him.
They board a jetliner, the largest Rachel has ever seen, and she is taken aback by their accommodations — private cabin, luxurious and personal service including food and drink. Rachel is dazzled and Nick enhances that feeling when he tells her that this is his family's normal mode of travel.
In Singapore, she meets his family and friends. She learns that his family is one of the richest families in the world. He has siblings and cousins who live, work and play at a level that is strange to Rachel. Rachel finds one of her close friends from college, Peik Lin Goh (Awkwafina), who helps Rachel navigate the super upper class of Nick's family — and provides a good deal of humor in her personality portrayal.
Nick's mother, Eleanor (Michelle Yeoh), is a loving parent, but we learn that she feels Rachel, not wealthy by any measure, is not suitable for her family. She opposes the relationship between Nick and Rachel.
The events leading up to the wedding are fraught with uncertainty for Rachel. Many of the guests and friends (many hundreds of them) follow Eleanor's attitude toward Rachel. Further, Nick has the feeling he should remain in Singapore, his real home, and live there with Rachel. Rachel wants to go home to America. We hope, as we watch Crazy Rich Asians, that love prevails!
This story has a familiar ring to it when we think of films like The Best Exotic Marigold Hotel (2011) and many others over the years. Crazy Rich Asians keeps our interest, supported by the settings and the environment and, of course, the performances by the cast.
Crazy Rich Asians is at Harkins Sedona 6 Theater.