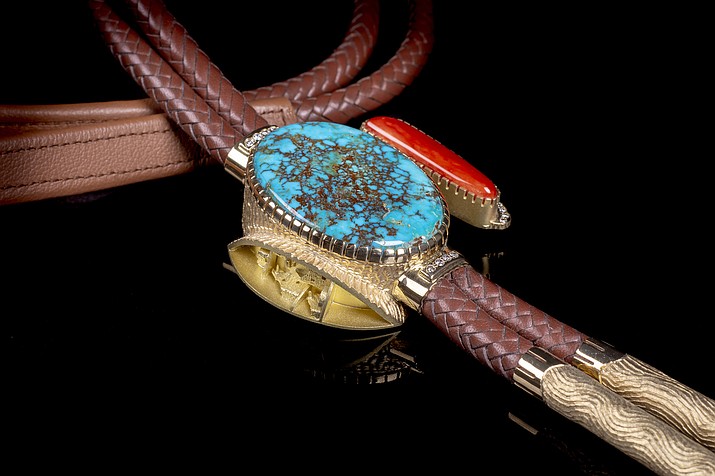 ---
---
With extraordinary vision and exceptional skill Alvin Yellowhorse crafts some of the world's finest Native American jewelry available today.
During Sedona's 1st Friday on Dec. 7, visitors to Turquoise Tortoise, a Bryant Nagel Gallery, can meet the artist at an opening reception from 5–8 p.m. as the exhibit for award-winning jeweler Alvin Yellowhorse opens. The reception will feature a brief interview with Yellowhorse at 6:15 p.m.
Most of Yellowhorse's life has been lived in northeastern Arizona, land rich with Anasazi and Zuni influence, with pictographs and petroglyphs along canyon walls, all of which inspire contemporary designs from Alvin Yellowhorse.
He learned from his father, Frank Yellowhorse, the basics of silversmithing while still a young child. Alvin learned to cut fine stones and to work with metals. He mastered the technique called "channel inlay" (the cutting of turquoise & other stones into precise little pieces, assembled into intricate designs then ground flush, together, before being polished) and then Alvin Yellowhorse created a whole new technique for which he is widely credited: "corn row wave inlay" in which stones are individually cut and rounded before being set. This method of inlay is much more time consuming with each stone finished individually before placing into their gold or silver setting.
Honoring the ancient ones of his culture while innovating new techniques are what distinguishes Alvin Yellowhorse. Bola ties, rings, cuffs, belt buckles, earrings, pendants are all hand crafted in his shop: He melts and pours precious molten metals, strategically hammers small intricate pieces into shape and, finally, cuts and inlays stones, from tiny to large, completing each one-of-a-kind creation.
One such masterful award-winner is a slide-through bola tie with a center stone of Candelaria turquoise (mined over 40 years ago) and surrounded by 32 fine cut diamonds. To one side sits an elongated Red Mediterranean coral while on the other side Yellowhorse has intricately replicated a miniature Anasazi village using 6 ounces of 18k gold ingot. With this exceptional bola, Yellowhorse's creativity is proven to have reached undeniable new heights.
"As I continue to come up with unique ways to design jewelry inspired by my ancestors and land," Yellowhorse notes, "I will always love making my jewelry creations. It's a gift that I am able express my inspirations through what I do."
Alvin Yellowhorse has been recognized in Smithsonian magazine, Cowboys and Indians magazine, and The Artbook Arizona. He has a track record of top placements in prominent art shows including the 2018 Santa Fe Indian Market, First Place: Contemporary Jewelry/Ketoh and Bolas.
The limited exhibition runs through Dec. 16.
For more information, visit www.Facebook.com/TurquoiseTortoiseGallerySedona; or follow Instagram.com/TurquoiseTortoiseGallery. Turquoise Tortoise Gallery, 928-282-2262, www.TurquoiseTortoiseGallery.com, located at Hozho, 431 S.R. 179, Sedona. Open Daily: 10 a.m. to 6 p.m.