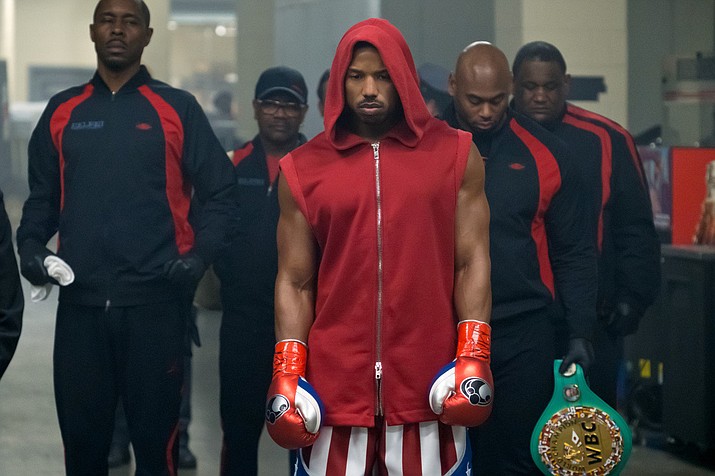 ---
---
There is always a bit of concern that any film with Sylvester Stallone as Rocky Balboa, simply rehashes the Rocky film genre. And this film is like that. It might well be named Rocky VII, or whatever might be the appropriate suffix.
In Creed II, there is no plot turn that we haven't experienced before in the other entries. I did fully enjoy and appreciate Rocky (1976) for its novelty and the performances by the virtually unknown Stallone and Carl Weathers as champion Apollo Creed. Then the film makers kept making sequels with little novelty in the story. A minor, but indicative point, is the way Rocky appears in this and other chapters. After 42 years, he is still wearing the standard gray sweatshirt, black jacket and that 'signature' hat, even at ringside. Surely, he can afford a new hat, and we would not forget who he is.
Apollo Creed's son, Adonis (Michael B. Jordan), has had a difficult youth, including some prison time. This was shown in the first Creed movie in 2015. He got himself straightened out and became a substantial business person, although his passion was for prize fighting. In this film, he seeks out Rocky to train him, but Rocky resists the offer. Rocky has become the owner of a restaurant called Adrian's. That is his main interest. He has a son, conceived with Adrian, but they are not in touch at all.
Rocky decides to take the job of trainer for the son of Apollo, out of love and respect for his old friend. Apollo died before Adonis was born.
Adonis then goes through the series of training and fights against minor professionals until he is recognized as a top-flight pro himself. He is given the chance to fight the world champion, Danny Wheeler, for the title. He has no problem defeating Wheeler and is crowned World champ.
Now Adonis is challenged by Viktor Drago from Russia. He is the son of Ivan Drago, the monstrous heavyweight who seemed unbeatable when he faced Rocky in #IV. After taking a mauling from Drago, Rocky managed to win the bout. Now we have the protégé of Rocky facing the same situation with the son of Ivan. Viktor is bigger and more intimidating than his father. And Ivan is in Viktor's corner managing Viktor and urging him to destroy Adonis. The rest of the story is about the same as previous entries in the Rocky domain.
All that stated, the film is well done and evokes emotion. Jordan, as Adonis, and Tessa Thompson as Adonis's love, Bianca, are very effective here. Thompson sings a couple songs which is a pleasurable break from the pugilistic scenes that dominate Creed II.
Stallone plays his part in a satisfactory manner, showing that Rocky is still the same soft-spoken, pugilistic sage who can guide Adonis to glory. In the final fight scene, the background music is the same as in the original chapter. And Rocky is bouncing that ball as he walks into the locker room. Lest we forget.
Creed II is at Harkins Sedona 6 Theater