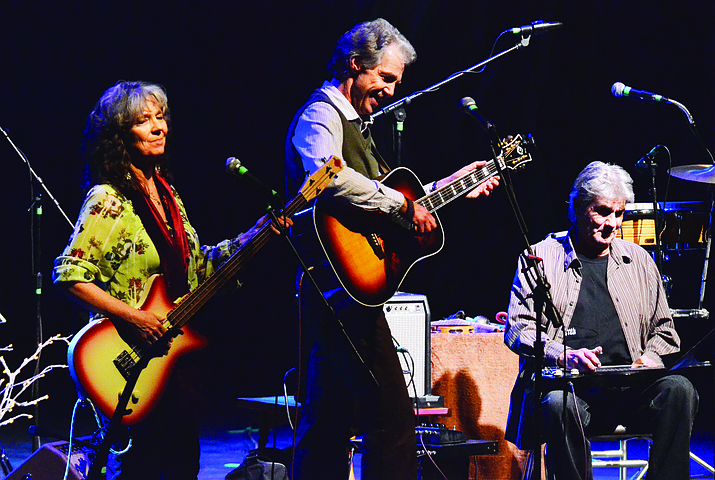 ---
---
In a nice way, John Ziegler asked for the magazine cover to promote his last show of Circle of Friends at Mingus Union High School Dec 16.
Not the cover of Rolling Stone.
Kudos would do just fine, said Ziegler.
And he makes a good case.
Many talented musicians will join Ziegler Sunday, Dec. 16, for the last of 25 consecutive years of the Circle of Friends Holiday Concert.
Some will be from his legendary band Major Lingo, and his latest band, the Johnny Lingo Trio.
But joining the concert this year will be members from the local band most likely to take over Major Lingo's role as the Verde Valley's best feel-good band – Keith Okie and Rebel Soul.
Ziegler said that 25 years ago, Linda and Herb Trubitz, the owners of Mount Hope Foods, asked him if he'd like to put on a Christmas concert.
"We really like Christmas," the couple told him, Ziegler said. And they said they would help him rent a hall and whatever else he required.
"I couldn't be more grateful than to spread Christmas energy and holiday energy around that time of the year," he said. The couple still sponsors the holiday-benefit show for Meals on Wheels, he said.
Sharing 25 years' worth of memories from his cozy and comfortable Cottonwood home, Ziegler carefully reviews and tweaks the Circle of Friends set list resting on a music stand in the middle of his living room guarded by two cuddly dogs.
The life-long professional musician was busy preparing for the big show at Mingus last week when performers filed into his house to rehearse songs with Ziegler.
He said there is a lot of planning and build up before each year's performance.
Ziegler's most famous band, Major Lingo, played its final show on Dec 22, 2012, at Spook Hall in Jerome after being together for 30 years almost to the day. His regionally known band performed "world music" influenced by rock, reggae, British Isles folk, North African and Asian motifs, blues and funk.
Ziegler said he did the first Circle of Friends show in Jerome in a small church "Me, myself and a couple of friends."
After Jerome, the show got bigger and moved to the Cottonwood Civic Center, but the show eventually outgrew that facility.
"So we moved over to Mingus about five or six years ago," he said.
Mingus Union High School requires certain funds and insurance, but no charge to see the one performance of this rare event. The donations collected go to Meals on Wheels.
There will be Christmas songs at the forefront: "Little Drummer Boy, "White Christmas," "Oh Holy Night," "Silent Night," "Good King Wenceslas," "Two-Step Around the Christmas Tree" and others, some still a secret, he said.
There will also be other songs by John Lennon and the Dixie Chicks. "Songs about love. We do a real well-rounded bunch of tunes mostly geared toward holiday, gospel, seasonal, and the eclectic."
Other musicians joining Lingo and Rebel Soul members will be local pedal steel musician Bill Bassett, a member of the Greater Arizona Country Music Hall of Fame and one of the Blazin' M Ranch singing cowboys.
Allissa Kueker of the Desert Hot Tub Club band will be singing. Also, Sarah Garrett started singing in the show when she was a teenager singing Silent Night and Here Comes Santa Claus. She's been in 19 shows, he added.
"The Circle of Friends is a way for old and new friends to gather and share their music with the community," Ziegler said.
The two-hour concert is free and doors open at 4:30 with refreshments and the concert starts 5:30 pm.
Mount Hope Foods will match donations, dollar for dollar (cash only), with all the proceeds going to the local Meals on Wheels program. Call 928-634-8251 for more information.
Performing will be: Kirk Burnett & Tina Reichow of Johnny Lingo Trio, Tory Campbell & Jason Teague of Rebel Sol, Sally Stricker of Major Lingo. Alissa Kueker of Desert Hot Tub Club, Bill Bassett of Blazin' M Ranch, James Ball and the MUHS Choir and James Reed, juggler extraordinaire, are also coming to perform at the show, Ziegler said.