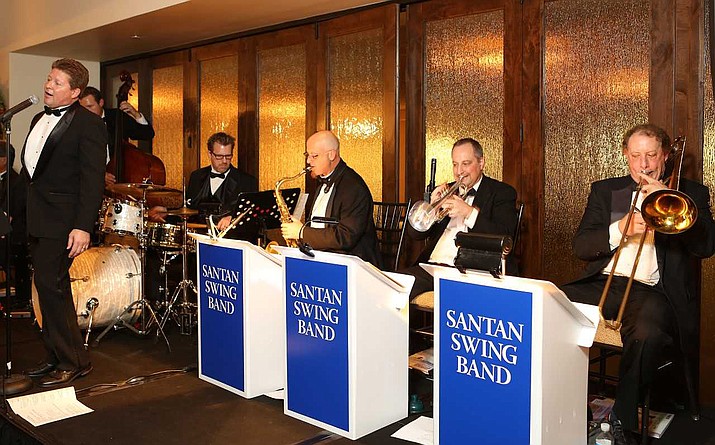 ---
---
The Phillip England Center for the Performing Arts Foundation hosts an Almost New Year's Eve Big Band matinee concert Dec. 30, 3 p.m., 210 Camp Lincoln Road in Camp Verde. This is a benefit concerts to raise funds for upgrades to this school facility in audio, video and lighting.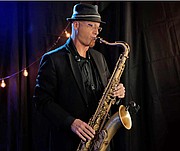 This matinee concert features the Santan Swing Band.
Kurt Finchum (trumpet) founded the Santan Swing Band in 2009 which has been entertaining audiences throughout Arizona ever since. Featuring the classic sounds of Count Basie, Duke Ellington, Glenn Miller, Woody Herman, and Frank Sinatra, the band is comprised of some of Phoenix's finest musicians.
Kurt is a long-time veteran of the Phoenix music scene and has performed with many artists including Lou Rawls, Wayne Newton, Linda Rondstadt, Johnny Mathis, Steve Lawrence & Eydie Gorme among others. In 1999 he recorded the Phoenix Suns theme song which featured Sam Moore (of Sam & Dave) along with Billy Preston and the Tower of Power horns. Kurt has also worked with several of the legendary big bands, including the Smithsonian Jazz Masterworks Orchestra, the Harry James Orchestra, the Jimmy Dorsey Orchestra, and the Dorsey Brothers Orchestra.
John Lewis, on drums, is a Los Angeles-based musician has recorded, toured, and played with many great entertainers, composers, and musicians: Melissa Manchester, Natalie Cole, Willie Nelson, Placido Domingo, Paula Abdul, Marvin Hamlisch, and many more.
On saxophone will be Scott Zimmer, who has performed and recorded in a variety of musical styles ranging from commercial to jazz to classical. As an educator, he currently teaches courses in music humanities at Paradise Valley Community College, music humanities at the University of Arizona North Valley, and saxophone at Grand Canyon University. Dr. Zimmer holds a Doctorate of Musical Arts degree in Saxophone Performance from Arizona State University. He also holds a Masters degree in Saxophone Performance from the University of Oregon.
Trombonist Doug Robinson studied at Arizona State University and Mesa Community College and has performed with dozens of legendary artists, including Linda Ronstadt, the Ink Spots, the Mills Brothers, Sammy Davis, Rosemary Clooney, the Temptations, the Four Tops, and many more. For several years he toured the United States and Japan with vocalist Bobby Caldwell, and also played the world premiere of The Harlem Nutcracker under the direction of Duke Ellington expert David Berger.

Bassist Michael King has been living and playing music in the Valley of the Sun for almost his entire life. After moving from LA at a young age, he began to study the violin, progressing quickly and winning scholarships to college. After graduating with a performance degree in Viola, he decided that the bass was more to his liking. Since then, this in-demand player has worked with diverse artists such as Armand Boatman and Margo Reed, to Bob Newhart and Nils Lofgren of the E Street Band. Mike was the first call bassist in Phoenix for touring Broadway shows from 2010-2015, and he performed with David Foster for Muhammed Ali's Fight Night.
Pianist Dave Henning was trained at the Cleveland Institute of Music and Case Western Reserve University. Dave has been a regular on the Phoenix jazz scene since arriving in 1997. Dave stays busy playing in a variety of settings: big bands, small combos, salsa bands, and contemporary jazz groups. Dave has been recognized as one of Phoenix top pianists in numerous KJZZ polls.
On vocals will be Vito Maynes. He performs in the timeless style of Frank Sinatra and has been involved in music most of his life. Vito has experience in a wide variety of musical styles, but among all the different types of music he has experimented with, Big Band was the genre that he connected with the most. Vito has recently released his second full-length album entitled "Love is Better Than a Dream."
During the intermission, members of the Camp Verde student Theater League will be offering refreshments.
The Phillip England Center for the Performing Arts Foundation is a nonprofit performing arts organization. Its mission is to support the Phillip England Center for the Performing Arts in presenting a rich array of culturally diverse arts programming for the Town of Camp Verde and North Central Arizona in order to educate, enlighten, enrich and entertain students, residents and patrons of all ages, while providing leadership and support to advance cultural/performing arts and nourish appreciation for various art forms in the community.
For additional information on the Foundation and to purchase tickets, visit their website at pecpaf.org or by email at pecpaf@pecpaf.org.