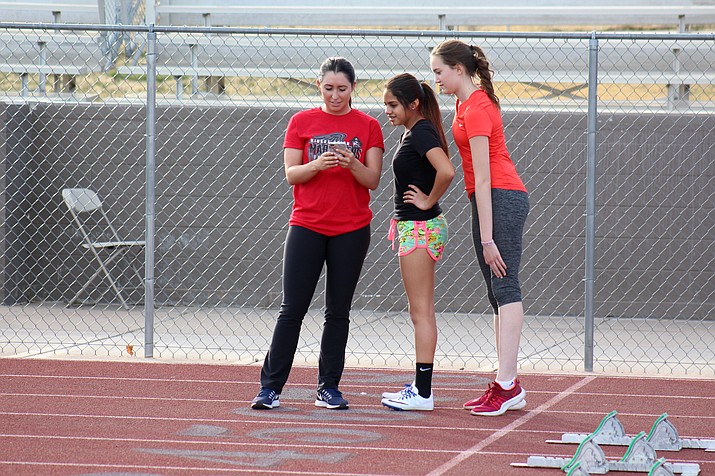 Originally Published: February 3, 2018 1:59 p.m.
The new Mingus Union track and field head coach is a familiar face.
Mingus Union alumnae and teacher Molly Westcott is heading up the Marauders' program now.
"It's really awesome," Westcott said. "It was a little different at first, I was coaching last year as an assistant, so I got a feel with the sprinters and stuff. But it's been great so far, we've done winter track since November and it's been awesome so far, I love it."
Westcott graduated from Mingus Union in 2010 and then went to Yavapai College and Grand Canyon University.
Last season she coached sprinters for the Marauders. Last year's track and field head coach Yancey DeVore became Mingus Union athletic director after the season.
"I think Molly Westcott's going to do a fantastic job with that track program," Yancey DeVore said. "It's nice to have somebody younger, a teacher in there and bringing some new ideas and she's really motivated and she's gonna do a great job. I'm really thankful to have her."
Senior Hannah DeVore it is a change for her, since last year's coach was her dad, but they have similar styles so it isn't a big adjustment.
"Last year I kinda had her as a coach, so it's not like a huge change," Hannah DeVore said. "I think she's doing really well, pushing us a good amount and we're still having fun. So I think she's doing really well, with a good balance."
In 2010 at the 4A-II state meet, Westcott finished 12th in the 100 meters and fourth in the high jump. In high school Westcott competed in the 100, 200, 4x100, high jump, long jump, triple jump and discus and also played volleyball.
Yancey DeVore said her experience in so many events does help her coaching.
"And she was an athlete herself and she's doing a good job planning even the winter work outs that they were doing and I think the track team will really benefit from having her there," Yancey DeVore.
He coached after she graduated but he did have her in one of his social studies classes.
Westcott also went to Clarkdale-Jerome School.
"She can relate to what we're going through," Hannah DeVore said. "She just has a different perspective. Not that my dad is bad obviously, I think that he's a really great coach, it's just like a fresh perspective."
Westcott said the kids like that she went to Mingus Union.
"They love it, they always ask about it," Westcott said. "They're like 'what did you do?' and 'what was it like when you were here?' and of course when I was here we had a dirt track and the field was grass (laughs), so it's a lot different now and so there's always asking questions about that but I think they really enjoy it."
Westcott returned to town in September 2016 and started student teaching at MUHS January 2017.
Now she teaches English.
"Oh it's awesome, I love it," she said about teaching at her alma mater. "It's great, I have a lot of kids from my class that are out here for track, so that's nice (laughs)."