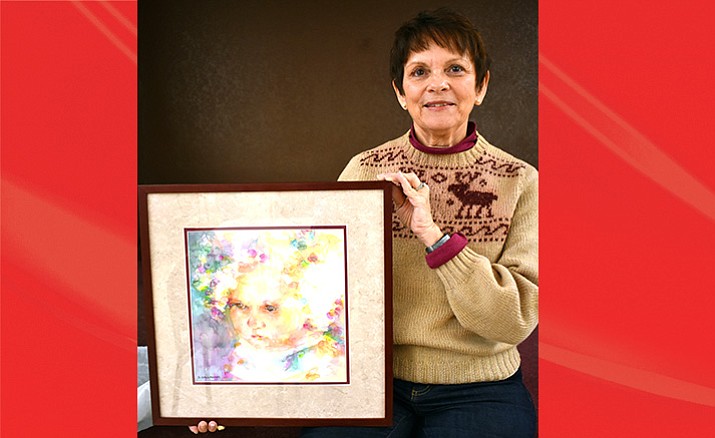 ---
---
Deborah Gallagher has been voted as the Artist of the Month Jan/Feb 2018 by the members of the EL Valle Artists Association.
Deborah began her art education when she took her first art class at the age of 12.  In 1970, she graduated from The University of Portland with a Fine Art degree.  We all know it can become necessary to set aside endeavors we truly love to manage the demands of life.  Such was the case for Deborah, but she used her creative energy to find ways to keep art alive.   Working as an elementary classroom teacher in an environment without a designated art teacher, she brought art to her students by integrating art activities throughout the regular curriculum.  Not only did she manage to keep art alive for her students, but for herself as well.
In essence, her mother-in-law, an accomplished watercolorist, became a mentor.   She encouraged Deborah to try watercolors.   They painted plein air side by side, experimented, and attended workshops.  It helped to define Deborah's preference for watercolor or acrylic.  While she is drawn to many subjects, she considers portraits to be a favorite.   Capturing the essence of the individual reflected within the eyes is especially important to her.  Color, collage, layers of glazing and pen & ink are all part of her process.   Deborah believes art should be fun, relaxing, and a reflection of the artist.   This is success to Deborah.
Deborah currently shows her work in the Hart of Arizona Gallery in Old Town Cottonwood.  She also exhibits through opportunities provided by the EL Valle Artists Association, NAWS, the City of Cottonwood, and Camp Verde.   Her painting titled "So Intent"  is hanging in the Cottonwood Library.
The EL Valle Artists Association welcomes all to their monthly meetings.  If you are an artist looking for the camaraderie of other artists, please feel free to learn more about EVAA by visiting elvalleartists.org.  Information on the organization's mission, meetings, art events, and workshops can be found on their website.  For more information, call 928-634-0076.