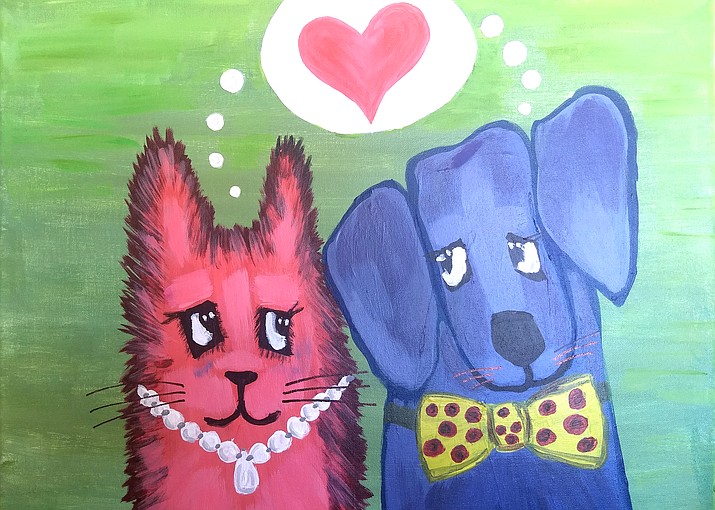 ---
---
Looking for a way to extend the fun of Valentine's Day into this coming weekend? Then look no further than Epiphany on Pima, the newest paint and sip party in Northern Arizona.
If You Go ...
• What: Paint-N-Party, a-paint-along (and sip) for fun event
• When:
Friday, Feb. 16 at 6:30 p.m.
Saturday, Feb. 17 at 6:30 p.m.
Sunday, Feb. 18 at 3 p.m.
(Party is usually 2 -2.5 hours.)
• Where: 3 Kings Kasbar & Epiphany, 102 East Pima Street (Old Town Cottonwood Pima at Main Street), in Cottonwood
• How Much: $35 per person includes your own painting plus one beverage (house wine, well cocktail, select beer, soda, or a non-alcoholic beverage.) *Please note: tax and gratuity are not included.
• More Info: 928-639-4433; info@3kingskasbar.com; www.3kingskasbarcom; or Facebook: https://www.facebook.com/3kingskasbar/
Whether you are looking for something entertaining, new, and fun to try or you are planning an event (such as the perfect date night, a bachelorette party or a girls' night out), Paint-N-Party is where you will want to be.
Epiphany on Pima hosts a Paint-N-Party this Friday, Saturday, and Sunday.
Paint-N-Party is a safe, judgement-free zone where you are encouraged to be creative. You can do this: it's easy and fun to create art. Guided by your patient, professional art instructor, you will learn simple techniques which can turn your artistic ability from "Oh?" to "Oh wow!" Our easy system for teaching painting is designed to take you step-by-step so that you can paint a beautiful work of art which is ready to hang in your home. Not only can you be proud of your creativity, but you'll also be reminded of all the fun you had at Paint-N-Party this weekend.
At one of our three parties this weekend, you will create your version of this darling cat, dog, and Valentine's heart. Call for reservations to select the night we paint this, or pick a night this weekend when we paint a different moody or whimsical subject. At the end of the night, you get to take home your art.
We provide everything you need—the canvas, the paints, the paintbrushes, a wonderful instructor, and a drink. All we ask is that you bring your spirit of adventure (and your admission fee).
Epiphany on Pima's Paint-N-Party events are quickly becoming known for being one of the most enjoyable experiences for locals and visitors alike. Call 928-639-4433 to make your reservation.