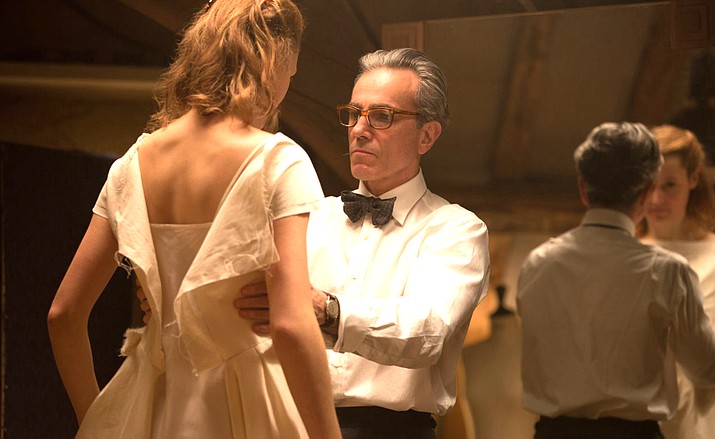 ---
---
Daniel Day-Lewis has announced he is retiring from motion pictures. Once again, as he gives us his valediction in this film, we see why he has been so renowned on screen.
I don't count this as his best or near best film but he turns in an awesome performance as the central character, Reynolds Woodcock.
Woodcock is a dressmaker in London in the mid-1900s.  He creates fashions for celebrities, royal family members, the upper level of wealthy British society, etc.  They come to him because they know he is the best, and he knows that also.
His personality is a mirror of that position.  Woodcock has no other interest in his life besides making sure that every dress he creates is a world class wonder that keeps bringing him clients from London's upper crust of society.
When he is eating breakfast, he is working and he barks at anyone who interrupts his train of thought.  That includes his sister, Cyril (Lesley Manville).
She is devoted to him and his career. She has no use for anybody else in his world, including and especially any of the beautiful models he deals with.  He has had a few romances, but only for his own pleasure and fulfillment.
Cyril tells him to get away for a few days to release some of the pressure he is feeling.  He does that and on the way, he stops at a restaurant for breakfast — a very elaborate spread of dishes. 
The waitress, Alma (Vicky Krieps), is very patient with him and it is clear that he finds her especially attractive. 
Our first impression is that she is clumsy and a bit simple in mind. He asks her out for dinner. They get together and a romantic liaison begins. They proclaim their love for each other.
And we learn she is not simple-minded at all. Cyril develops a liking for Alma and she sees the good influence Alma has on her brother.
Their relationship gets stronger as she accepts her position of subservience to his narcissism and his bursts of anger when he is interrupted in his work.
Then he oversteps the line of tolerance and it looks like it might be the end of their affair. Alma devises a plan, which she executes, that puts Reynolds in need of her care and attention. 
He also tones down his temper tantrums, and life becomes sunny again for them for a while.
There are many other players in the film, but these three — Reynolds, Alma and Cyril — carry the story, and they are very good. 
Day-Lewis is remarkable, as always, changing from a self-absorbed character to a loving mate and then to an unapproachable adversary. 
Phantom Thread moves along slowly at times, and we wonder how it will end. When it does and we find out, we might proclaim, "Viva Alma!"  
Phantom Thread is at Harkins Sedona 6 Theater.