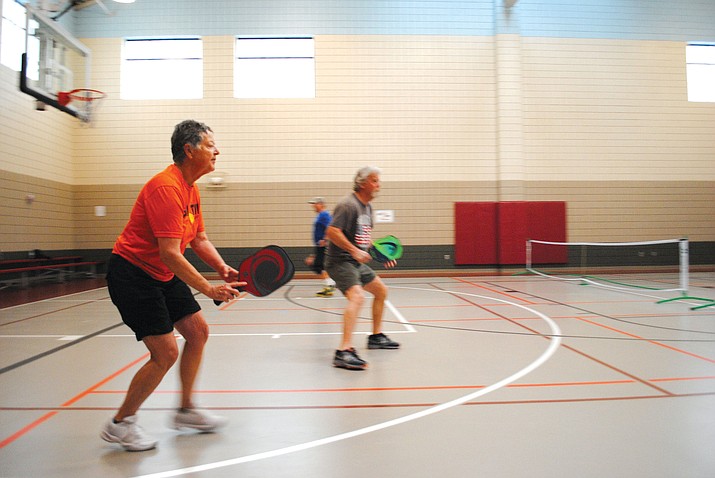 Originally Published: February 15, 2018 4:34 p.m.
COTTONWOOD – Cottonwood City Council members found themselves in quite a pickle Tuesday night.
"I don't think I've ever seen so many people at a work session," said Mayor Tim Elinski to a standing-room-only crowd.
The back of the room cheered and clapped in recognition.
A pack of passionate pickleball players came to show their adamant support of the Cottonwood Recreation Center.
As Cottonwood works to iron out its budget for 2019, potential cost-cutting items have come up for discussion.
One of which was to privatize the rec center.
After hearing this, pickleball aficionado Terri Clements rallied as many players as she could and encouraged them to attend the work session that was dedicated to budget discussions.
About 20 enthusiastic pickleballers were present to give their unwavering support.
Clements, along with a few others, spoke before the council to emphasize how vital the rec center is to the community.
The pickleball posse reacted to each speech with both applause and vocal encouragement.
City council unanimously agreed that privatizing the rec center was off the table.
"For me, it never was on the table," said Council Member Tosca Henry. The council nodded in agreement.
After a revenue and cost-cutting presentation, the council directed staff to explore a sales tax increase; fees; consolidating services; getting outside agencies to be more competitive when asking for financial support; and merit levels for employees.
Elinski joked that they will also explore a pickleball tax.
The addiction
Clements said she got hooked the very first time she played a few years ago.
A friend who was recovering from heart surgery recommended it to her.
"I said 'pickleball? That's kind of a silly name for a game,'" recollected Clements.
But she bought a paddle the same day she gave it a go.
Part of the addiction is that every age can play it, surmised the pickleball enthusiast.

"You can play with an older person, you can play with a younger person, and still have that competitive game," explained Clements.
Because it is so popular at the rec center, you almost never see singles, which means a smaller portion to defend.
"I have a new hip. I can play even with a new hip. Deb has two new knees. Even if you have some handicaps that might limit your activity for other things, you can still play pickleball," she said.
Cottonwood players age in range from 12 to 82. And it's growing rapidly. Clements just learned that the sport grows by 27 percent each year. Newbies come in each week. About 100 people are on the pickleball email list.
"We've worked really really hard to build this sport in Cottonwood," she said.
"So that's why we went [to the worksession] because we heard on the agenda was the cost-cutting measure of perhaps privatizing and selling off the rec center. We are adamantly against that. We wanted to tell the town council, because we know that there have been some bloggers in this city who think it ought to be privatized. So we wanted to be a countervailing voice," she explained.
The pickleballers are happy with the reception of the Council.
"We are pleased that they listened to us. Heard our concerns. They seemed to be responsive," she added.
Bottomline, pickleball is fun for its fanatics.

"We have a ball. We laugh. I mean, we have some people that are kind of crazy competitive, but you know, for the most part, its people out here, having a good time, getting exercise, making friends."
For more information about pickleball or the Rec Center, call 928-639-3200 or visit https://cottonwoodaz.gov/285/Cottonwood-Recreation-Center.
The Cottonwood Recreation Center is located 150 S. 6th St. in Cottonwood.
More like this story