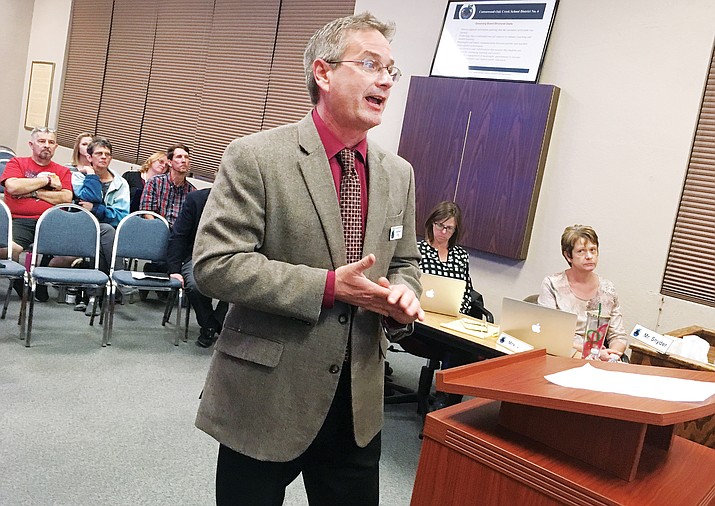 Originally Published: February 17, 2018 3:20 p.m.
COTTONWOOD – Steve King says that Tuesday's discussion of the Cottonwood-Oak Creek school board will be a matter of "what we know, what we don't know and what we want to know."
At 6 p.m. Feb. 20, the Cottonwood-Oak Creek School District's governing board will listen as the district's superintendent, as well as business manager David Snyder, provides additional information about the upcoming realignment of three schools into two K-8 schools.
On Feb. 6, the board voted 5-to-0 to support King's – the district's – plan to convert K-2 Dr Daniel Bright School and grades 6-8 Cottonwood Middle School into two K-8 schools, and to use the campus of Cottonwood Elementary School as an early childhood education center.
King outlined proposed details of the realignment before the board reached its decision, but both he and the board agreed to schedule a study session to go through those details.
"I want this to be a discussion," King says of the Tuesday study session. "I want to hear what the board would like for us to do, a good general discussion."
The C-OC school board will also discuss a timeline of events relating to the realignment, as well as ask both King and Snyder questions regarding efficiencies related to the realignment.
At 6 p.m. Tuesday, Feb. 20, the Cottonwood-Oak Creek School District's governing board will meet at the District Office, located at 1 N. Willard St. in Cottonwood.
A copy of the agenda will be made available no later than 24 hours prior to the meeting. The agenda can be found at www.boarddocs.com/az/cocsd/Board.nsf/vpublic?open.
Call 928-634-2288 for more information.
-- Follow Bill Helm on Twitter @BillHelm42