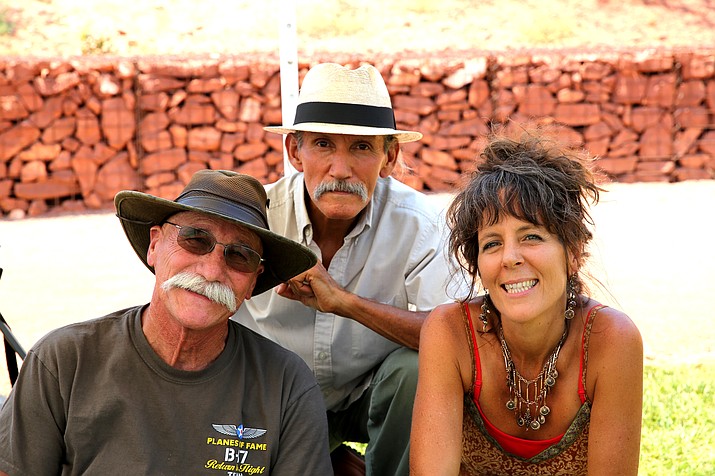 ---
---
Vino Di Sedona is the place to be to hear live music seven nights a week.
On Wednesday Feb. 21 from 7-10 p.m., August West will be playing all your favorite classic rock tunes and some newer hits too. August covers songs by the Beatles, the Stones, Van Morrison, America, Simon and Garfunkel, Tom Petty and many more. August is best known for performing with his band, American Beauty.
Sedona's best rock trio, Saffire, will perform at Vino Di Sedona on Thursday, Feb. 22 from 7-10 p.m. Saffire is a straight-up quality rock and roll trio with a wide and far-reaching repertoire. Their sound is authentic and driving; featuring complex rhythms, soulful melodies and spirited grooves. Though newly formed this year in the Verde Valley, the three members have a tight chemistry in their love for music. Classic tunes from the last several decades are covered in an original and very engaging way.
The most rockin' night of the month in Sedona is Final Friday Beatles Night with Tommy "Rocks" Anderson from 7-10 p.m. You can sing along to all your favorite Beatles songs with one of Jerome's finest musicians Tommy "Rocks" Anderson. Tommy is an acoustic rock musician who has performed on stages throughout Arizona. Tommy combines a mix of classic rock, pop, reggae, R&B and original songs along with the best of the Beatles to create truly memorable shows.
Saturday, Feb. 24, wine tasting at Vino Di Sedona is paired perfectly with music by Paolo, from 3:30-6 p.m. Paolo is an accomplished vocalist/pianist known for putting a delicious twist of romance back into jazz. His audience loves to hear his new arrangements of the great romantic songs of the past. His musical style is a modern blend of breathy vocals, rich harmonies and soulful rhythms.
Saturday, Feb. 24 brings Sedona sensation Robin Miller from 7-10 p.m. Robin Miller is adored for his gutsy blues and power rock guitar playing, as well as his singing and his prolific songwriting, honed by over forty years of professional experience. His love of playing and singing is contagious. He's a diverse musician who incorporates many styles, but his fiery guitar solos, and his rich and bluesy rock vocals always get the crowd feeling energized.
It's Sunday-Funday with Jim French and Friends Open Jam. Jim always invites top quality musicians; you will be amazed to learn they do not regularly perform together. Other musicians are welcome to attend and join in, or even play a few songs solo, audience members are welcome and encouraged to come enjoy the music too. Jim's Open Jam is Sunday, Feb. 25 from 5-8 p.m.
Music Mondays continue at Vino Di Sedona with Randy J on Feb. 26 from 6-9 p.m. Born in Orlando, Florida, Randy J moved to Los Angeles in 1987 and shortly thereafter began composing music for film trailers and TV spots. He returned to Orlando and formed his band the Tarantulas in 1995. Now a Sedona resident, and known for his 50s and 60s surf guitar sound, Randy performs as a solo artist and with The Tarantulas.
Every Tuesday night at Vino Di Sedona Dan Rice hosts the area's best Open Mic. Each musician is allotted time to play, and it's a fun night for all. Musicians and audience members get to hear different musicians performing a variety of genres; all music styles are welcome. Open Mic starts at 6 p.m. and runs until 10 p.m.; musicians are encouraged to arrive early.
Vino Di Sedona is located 2575 State Route 89A, in Sedona. For more information, call 928-554-4682.