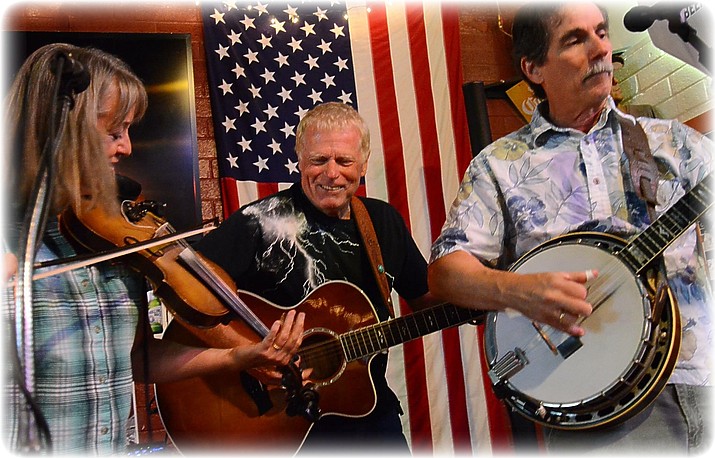 ---
---
The Grasshopper Grill, at the corner of Page Springs and Cornville Roads, this week features live entertainment Tuesday, and Thursday through Saturday. Starting at 5:30 p.m., the region's most popular and talented singers, songwriters, instrumentalists and bands cycle through this locals' favorite Cornville restaurant and bar.
The entertainment week kicks off Tuesdays with the relaxed style of Rick Busbea, offering up a great mix with a focus on covering favorites like Kenny Chesney and Jimmy Buffet.

Thursday, February 22 it's acoustic rock musician Tommy 'Rocks" Anderson. Tommy combines a mix of classic rock, pop, reggae, R&B and original songs along with the best of the Beatles to create truly memorable shows.
Friday, February 23, it's acoustic artist Dan Vega. No longer new to the Grasshopper lineup, Dan brings three sets of music from nearly every popular genre.

Saturday, Feb. 24, Thunder & Lightnin' returns to their monthly slot at The Grasshopper Grill. This trio built its popularity on weekly shows here. They have since expanded their reach throughout Arizona as evidenced in last year's 77 performances. The grassy Roots Americana combo is coming hot off December's standing room only CD release party, and last week's video shoot concert in Phoenix. Featuring Rob Gibb's banjo-guitar and harmonica work, Belita Mullinax's up-the-holler fiddle authenticity and Steve Estes' alternately orchestral and percussive work on 12-string guitar, expect a tight precise musical presentation, clean harmonies, and a lot of fun chatter between players and audience. Seats for Thunder & Lightnin' often fill up quick, so reservations for parties of 3 or more are advised.
The Grasshopper Grill is open from 11 a.m. to 9 p.m. daily, located 1160 S. Page Springs Rd., in Cornville. For more information, call 928-649-9211.