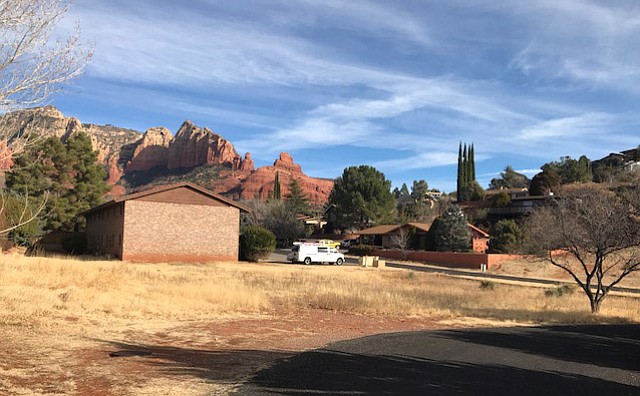 Originally Published: February 22, 2018 2:06 p.m.
The Verde Valley Habitat for Humanity is building their hopes high this year as they plan five homes in the Verde Valley.
The best news is that they are still taking applications from possible homeowners for all the homes, three in Sedona and two in Rimrock.
Three homes will be built in a quick "Blitz Built" method by six local builders in two weeks; and two homes will be built in the tradition two-month construction by volunteer builders.
We've never done a Blitz Build before, explained Verde Valley Habitat for Humanity Executive Director Tania Simms. "Blitz Build is essentially where you just build a lot of houses in a very short time."
Simms also said five homes in one year would be would be a first for their affiliate.
"We're going to do three houses in 14 days in Sedona," John McTurk. Fund Development and Communications Director McTurk said. "It's Uptown Sedona, Peach Lane," he added.
Simms said they have already purchased the quarter-acre lot in Sedona through fundraising for the three houses. Blitz Build is a Habitat International program, however, the Verde Valley Habitat for Humanity does not get any funding from Habitat International for the Blitz Build project.
"So everything we do, we raise the money for," explained McTurk.
Habitat International does connect the local project with national sponsors for roofing or flooring materials.
"We decided we're going to do a Builder's Blitz," Simms continued. "The Builders Blitz means that the building community builds the homes."
Simms said she went out to the construction community, and said: "hey will you get involved and help us build these three homes?"
Six general contractors/builders have stepped up and said yes, Simms said.
Those six contractors will go out and find subcontractors, like plumbers and electricians, and hopefully get them involved with the blitz, she said.
The builders are donating time and resources to the Blitz Build, Simms said. But there are still going be things VVHH will have to pay for so they will have to fundraise.
McTurk estimated that they will have to raise about 50 percent of the build in cash.
Some things will have to be paid for and some will be donated in 'in kind' materials," Simms said.
They have not determined the construction cost yet of the three houses so they don't know how much they will need to raise.
There is a need for affordable home ownership in the Verde Valley, and Sedona recognizes this, Simms said.
The Sedona City Council has made it a priority this year to focus on affordable housing, and one of them is home-ownership, she continued.
Simms said she is working with the City of Sedona, with the Sedona building community and with individuals who want to offer affordable housing in Sedona.
The VVHH has not selected owners for the Sedona homes and they are still taking applications from qualified families, she said.
Rimrock project
Simms said they are still looking for applicants for the two homes they are building this year in Rimrock. They recommend that interested people attend an application workshop with the VVHH.
The first home will be started in Rimrock in a couple months and the second home at the end of the year, Simms said.
Unlike the Sedona Blitz Build homes, these homes will be built in a traditional Homes for Humanities way - in which the construction is planned over a year and the construction takes a few months, Simms said.
If things work out, Simms said the VVHH has property in Cottonwood for a possible house location in the future.
There is a workshop on Feb. 24 in Sedona and another in March to see how to apply and if a person qualifies, she said.
"VVHH is looking for donors, volunteers and committee members for the Blitz Build," she said for the Sedona project. "They need help with the fundraising, and people to come out and actually build during the Rimrock projects," she said.
Anyone interested in donating, volunteering or attending workshops should contact the VVHH in Cottonwood at 928-649-6788.
Verde Valley Habitat for Humanity is located 737 S. Main St. in Cottonwood.