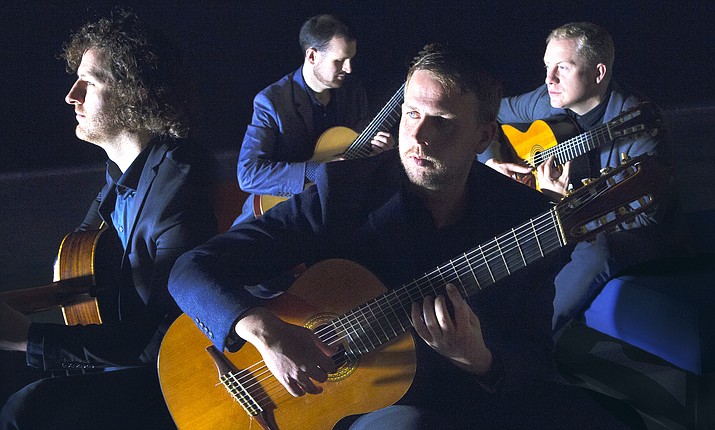 ---
---
They may play traditional classical Spanish-style guitars, but they're not your standard guitar ensemble. The Dublin Guitar Quartet will make its Sedona debut Sunday, March 11, at 2:30 p.m. at the Sedona Performing Arts Center, located 995 Upper Red Rock Loop Road on the campus of Sedona Red Rock High School. The concert is made possible with support from Victoria and Dan Bresnan, and Loren and Jan Haury.
Described as a "quartet with a difference" by the Irish Times, the Dublin Guitar Quartet is the first classical guitar quartet entirely devoted to new music. Since its genesis, the quartet has expanded the genre's repertoire by commissioning new works and adapting modern masterpieces. By using 8- and 11-string guitars, the quartet has created an original catalogue of arrangements by composers including Philip Glass, Steve Reich, Arvo Pärt, and György Ligeti.
DGQ members include Brian Bolger, Patrick Brunnock, Tomos O'Durcain and Chien Buggle, who, with the help of eight and eleven-string guitars, has created an original catalogue of arrangements by composers Philip Glass, Steve Reich, Arvo Pärt and György Ligeti. The DGQ has performed at the prestigious chamber music venues worldwide including Wigmore Hall in London and the Huddersfield Contemporary Music Festival and in the US including Brooklyn Academy of Music, The Philips Collection in Washington D.C., Celebrity Series Boston, Symphony Space and Lincoln Center in New York and Shalin Liu, Rockport MA.
Since its formation at the Dublin Conservatory of Music and Drama, the DGQ has worked to expand the limited repertoire by commissioning new works and adapting modern masterpieces from outside of the guitar repertoire.
The Sedona concert will feature works by many of this generations leading composers including Gongon by Los Angeles Guitar Quartet founder William Kanengiser, Chimurenga by Dublin Guitar Quartet founding member Dave Flynn. Of particular note is Book of Leaves by the dynamic Rachel Grimes who is heralded as "one of American independent music's few truly inspired technicians" by WIRE magazine. Grimes is a pianist, composer, and arranger based in Kentucky. She has toured worldwide as a solo pianist, and her work has been performed by such artists as A Far Cry, Longleash, Amsterdam Sinfonietta Trio, Dublin Guitar Quartet and the Portland Cello Project among many others.
The concert will also feature the Saxophone Quartet by the award winning American composer Philip Glass, Aheym by Bryce Dessner, Songs in Honour of the Virgin Mary by Urmas Sisask, Changing the Guard by Nikita Koshin and Quartet by Marc Mellits.
DGQ's work has captured the attention of many of the world's leading composers. Recent activity includes a release on Philip Glass's Orange Mountain Music label and a new 55-minute commission by Michael Gordon. The quartet performed alongside the Grammy-award winning Los Angeles Guitar Quartet, Conspirare and the Texas Guitar Quartet in a premiere of How Little You Are by Nico Muhly in Austin, Texas in 2015. DGQ is also included on a recent recording performing Arvo Part's Summa.
In performance with cellist Ivan Moneghetti and bassist Malachy Robinson The DGQ are developing the electric side of the guitar quartet repertoire with works like Nagoya Guitars and Electric Counterpoint by Steve Reich, and a recent commission for electric guitar quartet, Amplified by Michael Gordon. This was premiered at the David Lang/Bang on a Can curated festival of new music at the National Concert Hall, Dublin in February 2015. The US premiere took place at the Brooklyn Academy of Music (BAM) in December 2017.
Purchase tickets in advance at www.ChamberMusicSedona.org. There patrons can keep up to date on concert related details. Its final concert is Sunday, April 8 when the German-based Faure (Piano) Quartet makes its Sedona debut including four in-school concerts, Salon Musical and 2:30 p.m. matinee at the Sedona Performing Arts Center.
Chamber Music Sedona's 35th Season is made possible with support from the City of Sedona, and The Arizona Community Foundation of Sedona. This project is supported in part by an award from the Arizona Commission on the Arts, an agency of the State of Arizona.