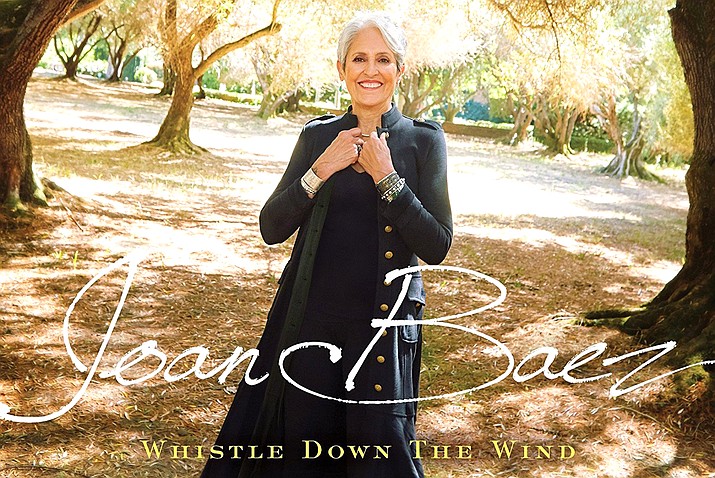 ---
---
Joan Baez – Whistle Down the Wind
Joan Baez Records
Whistle Down The Wind is Joan Baez's first new album since the Grammy nominated Day After Tomorrow (2008).
Produced by Joe Henry (Bonnie Raitt, Allen Toussaint and many others) Whistle Down The Wind features songs by Tom Waits, Josh Ritter, Mary Chapin Carpenter, Eliza Gilkyson and others.
Whistle Down The Wind, Baez's first studio album since 2008's Day After Tomorrow, embodies the kind of selfless, galvanizing work she mentions. The timely collection is concerned about the lingering negative reverberations from global discord, and the ways this friction trickles down and inflicts personal pain. But in a radical move, Whistle Down The Wind gives people permission to envision and seek out a better world, and beseeches them to "be of good heart" while doing so.
Tracks include: Whistle Down The Wind, Be Of Good Heart, Another World, Civil War, The Things That We Are Made Of, The President Sang Amazing Grace, Last Leaf, Silver Blade, The Great Correction, I Wish The Wars Were All Over.
Lucius – Nudes
Mom+Pop Records
Lucius is releasing a fully-acoustic record, NUDES, to be announced on Jan. 19 and released on March 2. This 10-song album is a collection of reimagined fan favorites including Until We Get There and Tempest, as well as several new songs and covers, all recorded at the famed Electric Lady Studios. The album features guests Nels Cline (Wilco) and Roger Waters and includes covers of songs originally recorded by Gerry Rafferty and Tame Impala.
From the Lucius website: Amidst nearly every performance over the past few years, we've had the opportunity to strip away everything - be it at the center of the crowd, on stage around one microphone, or in tiny, unexpected rooms around the world - all in an effort to share and create an intimate, heartfelt connection with our audience. It is these moments that have inspired our newest recording project, NUDES. It is a record paying homage to what has been, and a hint at what's to come.
Tracks include: Woman, Right Down The Line, Tempest, Something About You, Neighbors, Eventually, Until We Get There, Million Dollar Secret, Feels Like A Curse, Goodnight Irene.
Sunflower Bean – Twentytwo in Blue
Mom+Pop Records
The first track off the album, I Was A Fool, has gained over one million streams and received press praise from The New York Times, Billboard, Entertainment Weekly, Pitchfork, MTV, NPR. The follow-up track, Crisis Fest, is a call to millennial arms, melding pop shimmer and drive with the personal and political.
Twentytwo is only one example of a gentler side of Sunflower Bean thats on display on the new album.

While the trio remains a guitar band at its core, new and different textures shine on this new album.
Sunflower Beans diverse sound has allowed them to tour alongside DIIV, Best Coast, Pixes and Wolf Alice. Their 2018 is filled with headline shows, festivals and a tour with Sleigh Bells. The New York times named them Spirited interpreters.
Tracks include: Burn It, I Was A Fool, Twentytwo, Crisis Fest, Memoria, Puppet Strings, Only A Moment, Human For, Any Way You Like, Sinking Sands, Oh No Bye Bye.
Anna von Hausswolff – Dead Magic
City Slang Records
Anna Von Hauswolff's new album Dead Magic, come out March 2nd, 2018 on City Slang.
When asked for her commentary on the content of the album, Von Hauswolff provided this quote from Swedish author Walter Ljungquist.
"Take a human death, a thin, pathetic outer contour that encloses a great, unknown silence.
It is in that silence, in an unknown, just imagine the center as the legend grows.
Ah yes! Therefore, there are no legends in our time. Our time is a time without silence and secrets, and without it there are no living legends."
Anna von Hausswolff is a critically acclaimed singer, songwriter, and pianist from Sweden who made her Top Five hit album debut with Singing from the Grave in 2010. Born on September 6, 1986, in Gothenburg, Sweden, she is the daughter of world-renowned sound artist Carl Michael von Hausswolff.
Tracks include: The Truth, The Glow, The Fall, The Mysterious Vanishing of Electra, Ugly and Vengeful, The Marble Eye, Källans återuppståndelse.