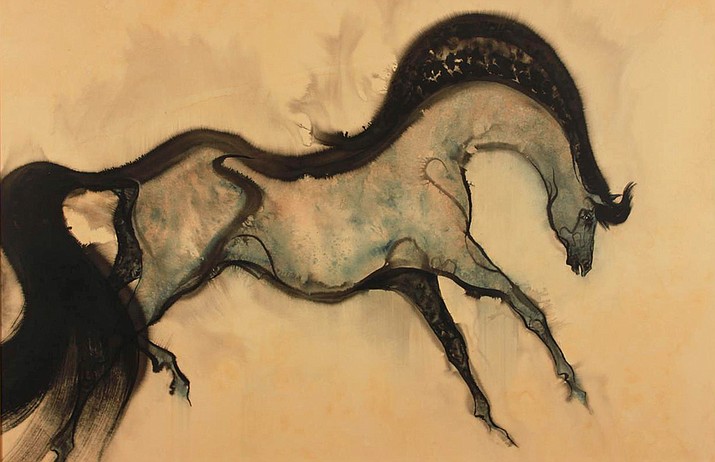 Originally Published: February 27, 2018 12:28 p.m.
The Verde Valley Archaeology Center has announced the opening of the Paul Dyck Art Exhibition on March 3.
Paul Dyck (1917-2006) was a local artist and descendant of Sir Anthony Van Dyck (1599-1641).
While in southern Alberta, his family lived with the Blackfoot Tribe, a situation that began Paul's life-long interest in the Plains Indian culture. During his lifetime, he lived among the Cheyenne, Blackfoot, Crow, Pawnee, Kiowa, Comanche, Zuni, Navajo, Hopi and Apache.
Paul was well known for his paintings depicting Native American life. He was given the name "Rainbow Hand" by the Sioux, among whom he lived for many years.
He largely painted on board in the Old Master tradition or utilized the Japanese Sumi-e ink techniques, but he also worked with acrylics and watercolor.
Paul became well-known as a painter and ultimately had 65 one-man exhibitions all over the country, including New York, Chicago, Los Angeles, and Tucson.
In 1984, the Sedona Art Center held a retrospective show of his works. His paintings are included in the collection of the Phoenix Art Museum, the Museum of Northern Arizona, and the Tucson Museum of Art.
In 2016, the Paul Dyck Foundation Research Institute of American Indian Culture donated three original paintings to the Archaeology Center.
As part of Arizona Archaeology and Heritage Awareness Month, the family has graciously loaned three additional paintings for temporary display.
The free exhibition opens on Saturday, March 3, and run through the month of March.
The Center is located at 385 S. Main St., Camp Verde.
The museum exhibits are open free to the public Tuesdays through Saturdays from 10 am to 4 pm.

Additional information on the Center's activities is available at www.vvarchcenter.org, or by calling 928-567-0066.