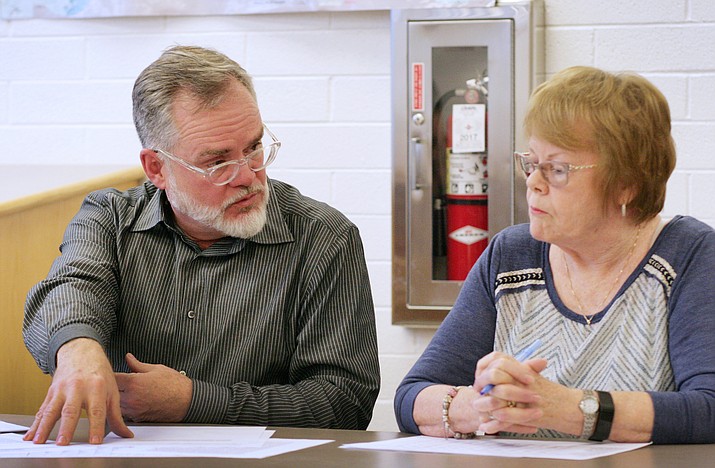 Originally Published: January 11, 2018 2:29 p.m.
COTTONWOOD – Though Cottonwood-Oak Creek's school board decided in December that it wanted consolidation/unification to go to the voters, at least one of the district's educators admitted Tuesday that he had not decided which way he would vote.
"What we need to do now is look at semi-concrete numbers," said Micah Swenson during Tuesday's Advisory Committee for Consolidation meeting at the Mingus Union High School library. "We want to make this an educated decision. This feels more emotional than logical."
Swenson, one of the committee members and an eighth-grade teacher at Cottonwood Middle School, spoke of the passion – and aggression – that came from committee members charged with finding facts to help the Mingus Union School Board, as well as the general public decide whether they are for or against the merger – consolidation and unification – of the two school districts.
An offer to update the Warner report
Committee member and Mingus Union Board Member Jim Ledbetter recommended that the committee accept David Bolger's bid for an update of the 2012 Warner Report.
At the time of the original report, consolidation talks were between Mingus Union, Cottonwood-Oak Creek and Clarkdale-Jerome school districts.
"That report was different because Clarkdale was in it, and I think they still should be," said committee member and Mingus Union School Board Member Anita Glazar.
Though Bolger authored the report, Cottonwood-Oak Creek's Janice Rollins said she believed the report could be updated internally.
"I personally feel like we have the expertise that the two boards and the business managers could give us the information we need," Rollins said. "I honestly believe that."
Consolidation Committee Chairman Dan Mabery said that the function of soliciting information "is that you have as much information as possible when you vote, not whether you have a vote."
"If we can get as much information as possible, the election will put it to bed one way or another for a long time," Mabery said.
Neutral corner
Committee members agreed Tuesday to hold future meetings at the Cottonwood Public Safety Building located at 199 S. 6th St.
The committee's next meeting is scheduled for 4 p.m. Tuesday, Jan. 23.
-- Follow Bill Helm on Twitter @BillHelm42