Festive learning, Bee's Amazing Adventure at Camp Verde schools
Dennis Goodwin Superintendent's Report, CVUSD
Originally Published: January 18, 2018 2:47 p.m.
The overall enrollment of Camp Verde Unified School District is 1537 as compared 1604 one year ago.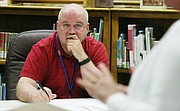 Current enrollment vs. same time last year: Elementary 656 vs. 699; Middle School 351 vs. 380; Camp Verde High School 471 vs. 467; Accommodations School 24 vs. 26: South Verde High School 35 vs. 32.
Our auditors are visiting us this week. Many departments will be busy answering their questions and verifying our transparency, accuracy, and compliance. 
On another financial note: We have been discussing with our insurance representatives changes in health benefits due to the changing national picture. It looks like we will be changing our health insurance provider but keeping the same claims manager. 
Our present provider was looking to raise costs considerably. What this means is we should keep most of the same providers with what we hope are reduced costs. We should find out the exact insurance costs within the next few weeks.
NHS is providing Tutoring on Mondays and Wednesdays in room 123 for any students that need a little extra help in a class.
Air Force and Army recruiters will be on campus at lunch this week.
Eighth grade orientation will be Monday, Jan. 22 from 9 a.m. until noon. We will welcome the CVMS and Beaver Creek eighth grade students on our campus. Tours for those students will be provided.
Math
Math has started out strong at South Verde as almost every student has progressed from first semester to second semester with passing grades.
This semester we changed things up by walking our students through at least one lesson a day which ensures all students will finish their class prior to the end of the semester.
Food Bank
Once again, South Verde students volunteered at the food bank this Wednesday. Since we are growing as a school, students are rotated each month ensuring that everyone gets a chance to take advantage of this great opportunity.
Kiwanis student of the quarter
The student of the quarter for the Kiwanis Club is Josephine Yazzie. On Jan. 24, Josephine and her teacher will attend an awards ceremony at the Days Inn at 6 p.m.
Enrollment
South Verde is growing. This week alone we had five students interested in attending South Verde.
By the end of the month we will have close to 40 students.
Students and employee recognition
Camp Verde Middle School would like to congratulate its Students of the Month: sixth grader Violet Chatlin, seventh grader Lidia Aguirre, eighth grader Bryce Seekins and athlete Thor Oothoudt.
CVMS would also like to recognize its employee of the month, as Donnie Shanks teaches Teen Leadership and coaches seventh and eighth grade boys' basketball.
Shanks DJs the school's dances and does many different things for the community throughout the year. We are proud to call him ours.
On Monday, Jan. 15, CVMS student Chandler Plante organized and presided over the seventh annual Martin Luther King Walk in Camp Verde.
His poise and public speaking ability was an example to everyone there. The keynote speaker was impressed as well and commented on his drive and his enthusiasm for public service. It was an impressive event.
On Tuesday, Jan. 16, the 2nd quarter awards assembly was held. Over 70 students were recognized for making the honor roll, 20 of which had a 4.0 grade-point average.
More than 60 students had perfect attendance. Awards were also given for athletics.
Bee's Amazing Adventure
Stacy De Vous from the University of Arizona visited all of the fourth grade classes this week and read a story called Bee's Amazing Adventures.
The main character, a bee, describes the different Arizona agriculture products such as cattle, cotton, and citrus and how each is used in Arizona.
Kenly Shanks, a fourth grader in Ms. Vargo's class, described the visit: "The lady that came to our class talked about bees and how they are responsible for pollination. She also talked about agriculture with fruit and veggies. She said in Arizona, with our temperature, we can grow all year. We also learned about farmers and their machines and also the 5c's like cotton." 
During the visit, each student was given a newspaper with information about distinguishing a fruit (seed bearing) from a vegetable (other plant parts like roots, leaves, or stems). The students had to fill in a diagram labeling the parts of a plant (leaf, seeds, fruit, stem, flower, and plant). The entire middle section included lists of vegetables available each part of the year. 
The last page described three careers in the agriculture field and spotlighted three different people — a food safety specialist, a beekeeper, and a farmer. 
Candy Cane Sale
Each year, Mrs. Howe's students hold a candy cane sale to raise money so they can adopt a family for Christmas.
This year, they sold 2,016 candy canes during the last two Thursdays before school for 25¢ each. They raised a total of $504 to spend on their adopted family, and then took a field trip to Walmart to shop for presents.
First Semester Awards Ceremonies
First semester awards ceremonies for the elementary school were held the week prior to winter break in the Phillip England Performing Arts Center.
Family and friends watched as elementary students in first through fifth grade received awards in reading, math, spelling, writing, citizenship, and perfect attendance.
Special awards were handed out to students in the fourth and fifth grades who achieved perfect scores on the math section of AzMERIT last spring.
Festive learning
​In Preschool, Mrs. Mazur's students had a grand time learning letters and baking prior to the Winter Break. They had a festive time of learning.
In Elementary, Mrs. Weir's students worked on writing letters and decorating their Gingerbread People.
In High School, Mrs. Anderson's students demonstrated their culinary and decorating skills as they prepared a feast for the staff and decorated their stockings prior to Winter Break.
The ESS Department had our Professional Learning Community on Friday, Jan. 12. We were honored to have Jay Johnson and Kim Rice from the Arizona Department of Education present to us this day.
Jay is the Education Program Specialist for Post School Outcomes Initiatives within the Exceptional Student Services Department. Kim Rice is the Educational Program Specialist for Exceptional Student Services and has a vast knowledge of Literacy and how to support students in K-12 classrooms.
The CVUSD Exceptional Student Services team participated in the half day training which focused on ways to help our students in Preschool through graduation with transition goals.
The team walked away with a deeper understanding of how to help our Exceptional Students achieve their goals for independence within the community and how to work toward college and career goals.
More like this story
SUBMIT FEEDBACK
Click Below to: