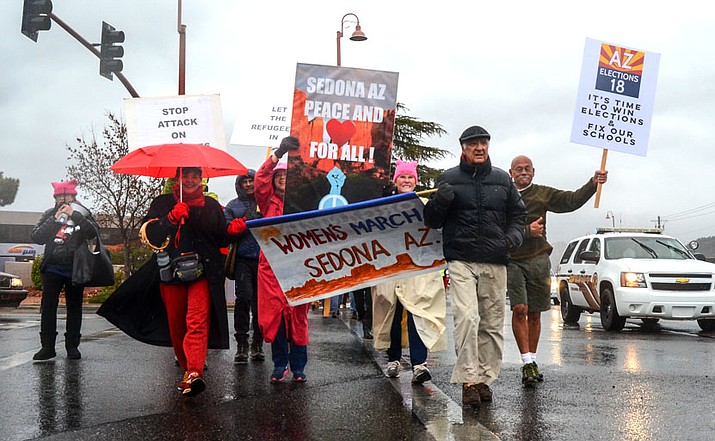 Originally Published: January 23, 2018 2:02 p.m.
SEDONA – Attendees of the Women's March were sure to grab their umbrellas when they left home early Saturday morning.
Hundreds people arrived for the mile-long Women's March at 10 a.m. despite cold rain showers. Sedona Police counted 500 marchers between Rodeo Road and Coffee Pot Drive, according to Sergeant Stephanie Foley.
The marchers gathered at Creative Gateways, an art gallery on Birch Boulevard. After guest speakers and a rendition of "Let it Snow" sang as "Let Him Snooze" (in reference to President Donald Trump) the crowd marched across the 89A and headed west. Gray clouds hid the red rocks from view.
Marchers were well-prepared with gloves, hats and rain ponchos. Many wrapped their signs in clear plastic to protect them the weather.
This year, the second country-wide Women's March is taking place during the height of the "#MeToo" movement, in which women are coming forward about their experiences as sexual assaults victims.
Organizer Kathy Kinsella said she was not surprised with the turnout, even in poor weather.
"I know people in Sedona are dedicated to what they believe in," Kinsella said.
Sedona traffic was briefly interrupted as marchers crossed the street. Sedona police assisted in directing cars to stop as the march moved through intersections along State Route 89A.
Kinsella said Sedona is lucky to have a community-minded police department.
"When we approached them [about the event] they didn't tell us how to do anything, they said 'how can we help you have the event you want to have and support your 1st Amendment rights?' They were wonderful," Kinsella said.
Many drivers honked in support as they passed by.
One woman, who wished not to give her name, said she participated in the march on behalf of indigenous women.
"It's about bringing awareness to women. Indigenous women are strong and we have powered through anything and everything… So I'm here marching for those women in my life who have been sexually assaulted, among many other issues," the woman said.
Native American women are at the greatest risk of sexual violence, according to the Rape, Abuse & Incest National Network, indigenous women are twice as likely to experience sexual assault or rape compared to other races.
One attendee of the march, Karen Steffen of Cottonwood, said she marches because she is unhappy with the way the government, specifically Congress and the President's Office, is being run right now.
"We just need a strong leader to support DACA, to support immigrants," Steffen said. "We were not happy with the last election, obviously."
Steffen says to her, the march is to motivate people to vote and participate in elections.
"I don't believe people felt like they had a voice in the last election. People didn't come out to vote. People didn't feel like their vote counted … Now, look at all the women now running for office – it's fantastic," Steffen said.
This year, many of the marches across the country are focused on 'Power to the Polls,' getting people out to vote.
"Since the presidential campaign, we've never heard such misogynist violent language toward women in recent years. We've seen a slip backwards and that needs to stop," Kinsella said. "It's not just about gender, race, religion – we're all in this together. Until there's language recognizing that, we have to speak out."