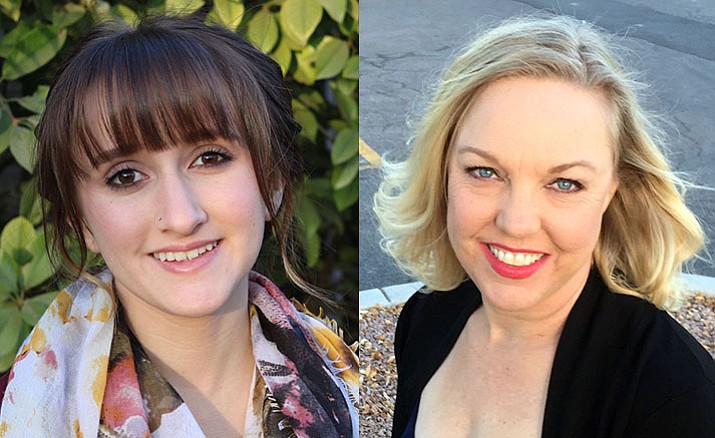 Originally Published: January 23, 2018 3:08 p.m.
CLARKDALE – For Savannah Windes of Camp Verde, it means two years at Arizona State University – and a desire to "help improve the quality of life in underdeveloped countries."
For Nichole Carabin of Clarkdale, it means finishing her education at Northern Arizona University so she then can educate young children.
Yavapai College recently announced that eight of its students have received 2018 All-Arizona Academic Team scholarship awards, which means they can earn their Bachelor's Degree tuition-free at the Arizona university of their choice.
Quality of life
An aspiring electrical engineer, Windes also looks forward to earning her Master's Degree before "pursuing my passions in the years coming."
"My passion of helping others slowly sprouted all through childhood, but ultimately grew throughout high school and into my first year of college," Windes said. "In this time, I accompanied many mission teams to reservations, bordering states, and Mexico, where I served the people of underdeveloped areas. "Continuing this work into my own city through various organizations, I realized that I wanted to have a career in which I could work for the better of the world and the people in it," Windes said.
Though Windes said she would "love to work hands-on in another country" in her "first years following graduation," she also is "an extremely family-focused person."
"I know I eventually want to raise a family in the states while also working with a program based out of the US that is involved with over-boarders work," Windes said. "Thus, I could take a couple weeks out of the year and overlook the international work of the organization."
Love of learning
Carabin has traveled many a professional road before she realized that education would be her destination.
She's worked retail, fast food, and as a waitress. But her life changed when she opened a child care program with her infant son's babysitter.
That was several years ago, the child care program. But it led to other child care programs she worked for.
Working with young children eventually led her back to college.
But when she began her coursework, Carabin's plan was to be a social worker. Until her friends and colleagues stepped in.
"My YC to NAU point person told me I needed to be a teacher," Carabin said. "I hadn't even considered it. So right after I talked to her, I reached out to my social worker and education friends and they all agreed."
Once she earns her Bachelor's Degree in both special and elementary education, Carabin hopes to teach in the Verde Valley and spend her summers serving as an educational and behavioral-health resource to families and school personnel.
"Every family deserves a good educational experience," Carabin said. "I want to inspire students to have a love of learning and to be the best person they can be."
The great eight at Yavapai College
Other 2018 All-Arizona Academic Team members from Yavapai College are Casey Barr of Gilbert, Jimena Canchis of Bagdad, Spencer Coffin of Chino Valley, Ann Nardo and Terri Schuett of Prescott Valley, and Megan Pickrel of Prescott.
According to a press release from Yavapai College's J.J. McCormack, the eight winners represent a "wide variety of YC programs and attend four of the college's six campuses and centers."
Scholarships were awarded by the Arizona Board of Regents from "nominations submitted by a local committee that reviewed applications based on academic achievement, leadership and community service," the press release stated.
On March 1, the All-Arizona Academic Team winners will be recognized at a statewide celebration.
-- Follow Bill Helm on Twitter @BillHelm42
More like this story