An inside look at Cottonwood's new Riverfront Wastewater Reclamation Facility (photo gallery)

By
Halie Chavez
|
@haliephoto
Originally Published: January 25, 2018 12:06 p.m.
Photo Gallery
Riverfront Water Reclamation Facility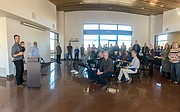 COTTONWOOD – The Riverfront Wastewater Reclamation Facility is operational – more than six years after former Cottonwood City Council members authorized its construction.
The facility will produce 300,000 gallons per day of reclaimed effluent, recapturing 70 percent of Cottonwood's water. Reclaimed water will be pumped back into the aquifer or used for irrigating parks, fields and community gardens.
The Riverfront Reclamation Facility cost about $12.2 million to build.
The facility will run 80 percent on solar power; the panels shield a large section of the plant. The conference space will be used for community meetings and education.
Mayor Tim Elinski spoke at the open house on Wednesday, calling the plant a "beautiful, amazing facility." After thanking numerous people involved in the project, Elinski addressed the controversy the plant has faced.
"There is no major infrastructure project in Arizona that doesn't come without its fair share of controversy. This facility certainly has had that," Elinski said.
"However, visionaries like former mayor Diane Joens and the former council really saw the necessity and the true impact this will have on our community," Elinski said. "I'm proud to have this in our city."
Vice Mayor Kyla Allen then gave a brief history on the facility's conception and the importance of resource conservation. She noted that the project was funded through a wastewater capital reserve.
"The funding for this … facility came from existing utility budgets capital reserves. This means no added debt to our residents. It was paid through reserves … a one-cent sales tax that sunset in 2007. Those reserves were already there," Allen said.
"Not many communities can say they can bring a state-of-the-art facility, an advanced reclamation plant, to be without a financial impact on their citizens – and we've done that here," Allen said.
City Manager Doug Bartosh addressed some community member's concerns about the facility's proximity to a flood plain.
"The council wanted to alleviate those concerns. This facility is actually built about five feet above the 100-year flood plain ... the reality is if we have a significant flood, this will probably be the only building standing in the entire town," Bartosh said.
The open house then opened up to self-guided tours. Wastewater operators explained the steps of reclaiming wastewater to the public.
More like this story
SUBMIT FEEDBACK
Click Below to: