Commentary: Capturing Kids Hearts at Camp Verde schools
Dennis Goodwin Superintendent's Report, CVUSD
Originally Published: January 27, 2018 12:08 p.m.
Pre-Season Track has begun, 3:45 at the track. Official season starts Monday, Feb. 5. You must have your red card by then.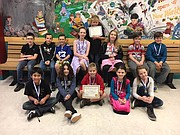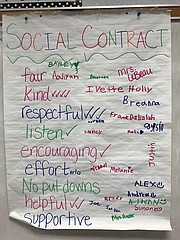 NHS is providing Tutoring on Monday & Wednesdays in room 123 for any students that need a little extra help in a class.
Friday Camps begin Jan. 26. Please hand any Friday Camps permission slips in this morning in order to register.
If you don't have all of the signatures required, hand them in anyway.
You will have time to gather the remaining signatures next week. Teachers, please have someone bring them to the front office. We would like them in this morning as soon as possible.
In the world of sports
JV and Varsity basketball home games against Sedona on Friday, Jan. 26. Tip-off is at 4 p.m.
The 7th and 8th grade boys basketball team improved their record to 6-1 on Tuesday night with a 49 to 41 win over Mayer.  The boys played great even after coming off a two week break. 
The Cowboys look to continue improving their record with one more conference game and one non-conference game before heading into the end of the season championship tournament, this coming weekend at Beaver Creek.

The Girls' tournament is in Clarkdale.
Congratulations to the 5th & 6th grade Boys' basketball team.
They fought hard against Cornville in the championship game and took 2nd place at the Winter Classic tournament at MVP this last weekend. Great job boys!
Middle School Wrestling took nine of its wrestlers to Tempe this last weekend for a tournament.

Five of them placed in the top six wrestlers in their weight class. Congratulations to the following:
Angel Casillas 6th place; Racer Uhler 5th place; Angel Zavalza 4th place; Alan Abril 3rd place; and Brody Townsend runner up to the champion.

Awesome job boys! They go to the State tournament in Tucson this next weekend. Good Luck!
Capturing Kids' Hearts
Our class took on a challenge when we arrived back at school on Jan. 8. To get settled back in for a great rest of the year, we discussed our social contract and the behaviors it contains. The students the set a goal for themselves by identifying a trait they wanted work on in the coming month.
They then got a chance to practice that trait when we broke up into small groups for the great Spaghetti and Marshmallow Competition.
The job: to build the tallest freestanding structure with the material given: 20 pieces of spaghetti, one marshmallow, 1 yard of string, and 1 yard of tape.
The result: a great morning of teamwork, laughs, and learning.
Elementary Choir Sings
at the State Capitol Building …
Mrs. Murlless's elementary school choir traveled to the state capitol building before winter break to sing for the public.

Keeping the songs oriented to the season, the choir sang a piñata song, a selection of Christmas songs, and a song for Hanukah. They wore antlers for Rudolph, Red-Nosed Reindeer and danced for the Hanukah song.

… then they sing in Phoenix
at the Science Center
After singing at the capitol building, our choir students moved on to the Arizona Science Center where they got the see the 3-D movie Conquest of the Skies, allowing them a view back in time where they learned about the world's first flying animals.

Students experienced the hidden mechanics behind the animals' gravity-defying skills, using cutting-edge CGI, the very latest in high-resolution filming techniques, and pioneering scientific analysis.
AzMERIT math awards
Congratulations to some AMAZING students. The following students earned a PERFECT SCORE on their AzMERIT math test last spring: Aiden LaGrave, Racer Uhler, Hunter Mathews, Mekenzie Combs, Logan Johnson, Kenady Holcomb, Joshua Gardner, Teagan Pomeroy, Alex Farrell, Leah Norman, Casey Weatherford, Elsie Freeman and Zoey Robinson.
This is an incredible accomplishment. As many of you know, the AzMERIT is an extremely difficult test. The fact that they had perfect scores is a testament to their hard work! We are proud of you.
Upcoming important elementary school dates
In Preschool, our occupational therapy had fun working with the students on their occupational goals.
Occupational therapy does a monthly push in group into the preschool classroom. This month we worked on strengthening our whole bodies with some ball exercises and animal poses. We build letter D out of wood pieces.
Then, we got our hands ready for learning to write by painting with shaving cream on bubble wrap taped to the easel – although sometimes we painted ourselves too?
This is one of the favorite activities of the preschoolers on OT day.
Our peer models have been setting a wonderful example and help our special students to participate in the activities more fully.
In the ESS Department, our high school teachers recently received the following award for our district. Mrs. Anderson, Mrs. Warren, Mrs. Gustin, and Ms. Carter worked very hard this past summer to contact our graduate students to complete the 2017 Post School Outcomes Survey.
Congrats ladies on achieving 100 percent participation rate.
More like this story
SUBMIT FEEDBACK
Click Below to: