---
---
Molly's Game is a movie based on the true story of a woman who was a substantial person, with outstanding accomplishments and some heroic deeds.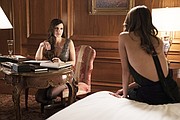 She wrote her autobiography (also titled Molly's Game) while she was successful and rich.
This film is based on that book. Jessica Chastain fills the role of Molly as convincingly as if the real person were playing the part.
The screenplay was written by Aaron Sorkin, who also directed the film in his first shot at that position. There are some sticking points in the film, but overall it is thoroughly engaging and the acting is excellent throughout.
Molly Bloom was a child prodigy, in academics and athletics. The film shows her as an Olympic candidate in downhill skiing, until she sustains a serious injury. Molly is driven by her inbred ambition and by the domineering personality of her father (Kevin Costner).
She takes a job as a waitress in a club that hosts a weekly high stakes poker game, involving very rich celebrities who love to gamble and can afford to lose big.
Her boss is a miserably tough guy, Dean (Jeremy Strong), who is unforgiving about any glitch in the proceedings.
Molly becomes involved in the poker room as a hostess to the card players. The tips she receives amount to more money than she has ever seen or earned. That displeases Dean and he fires her.
But Molly sees the enormous treasure that is floating in the poker world. She opens her own poker parlor in hotel and private suites in gambling capitals in the country.
That includes Las Vegas, Wall Street in New York, Los Angeles, etc. She attracts big movie stars as well as celebrities from show business, sports, finance, etc.
These are all people who are not afraid to bet hundreds of thousands of dollars in a single hand. The pot is often in the millions.
Sorkin has changed the real names of the players to conceal their real identities, unlike what Molly did in her book.
There is a sequence where Molly is involved, unknowing to her, with a group of men who are Russian agents. When she is approached to join their cause, and tilt the games in their favor, she refuses.
Molly pays a brutal price for her refusal, but she will not yield. The Russians are all arrested by the FBI for reasons unconnected with Molly and she is out of trouble. For now!
The FBI comes to arrest her because the gambling activity is deemed illegal. Molly has never committed an actual crime, but the feds are determined.
She hires a lawyer, Charlie Jaffe (Idris Elba), who becomes her friend and principal ally. In the end she pleads guilty in Federal court, but is given a lenient, non-jail sentence.
Molly's Game is longer than it could have been. Several times there is an event that has occurred before and we are shown each time it happens.
The flashbacks to Molly's youth are, at times, too fast and confusing.
But it is a worthwhile film for its true story and the fine performances by all the cast, especially Chastain and Elba.
Molly's Game is at the Harkins Sedona 6 Theater.