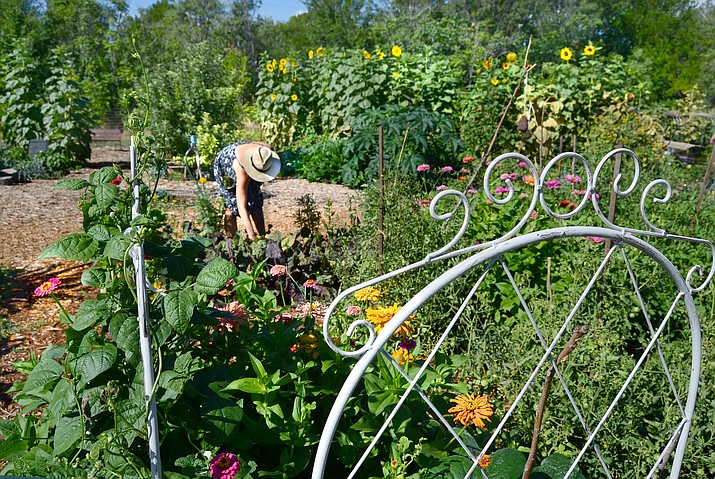 Originally Published: January 30, 2018 11:13 a.m.
Seed Library returns for spring planting season Feb. 3
The Seed Library returns to the Cottonwood Public Library for the spring planting season on Saturday, Feb. 3.
Check out free seeds, grow the plants, and return some of the seeds to help propagate plants that are more adapted to the high-desert climate. If you're new to gardening, check out some books on the subject while you're at the library, there is an excellent choice of informative gardening books available in the non-fiction, oversized and southwest collections. The Seed Library can be found in the parking lot lobby of the library on the first Saturdays of the month from 11 a.m. to 1 p.m. through April 7. The library is located at 100 S 6th St in Cottonwood.
Sunset Yoga & Wine class held Friday evenings
Enjoy an expansive yoga class on the spectacular, view-filled patios of Yavapai College's Southwest Wine Center, followed by a delightful glass of their local, student made wine.
This relaxing, Friday evening class is led by, yoga instructor, Roxanne W. at 4:30 p.m. The Southwest Wine Center is located 601 Black Hills Drive in Clarkdale. Cost is $11 with wine after or $6 for the yoga class only. For more info contact the Southwest Wine Center at 928-634-6566.
Expanded hours for Camp Verde community Library
Camp Verde Community Library is increasing its open hours in response to community demand for use of the facility. The new hours will allow families, students and working adults more choices for getting to the library during the week.
Beginning Monday, Jan. 29, the library will be open Monday – Thursday from 9 a.m. to 8 p.m. and Friday – Saturday from 9 a.m. to 5 p.m.
Camp Verde Community Library is located at 130 Black Bridge Road, in Camp Verde. For more information about this or any other program at the Library, visit www.cvlibrary.org or call 928-554-8380.
Nominations accepted for the Yavapai Healthy School Award through January
Yavapai Healthy Schools (YHS) Coalition defines a healthy school as an environment where a school strives for best practices in school wellness policy, nutrition, worksite wellness, emotional, mental and physical health and caring for the whole student.
Do you know of a school who is going above-and-beyond to meet the health and wellness needs of their students?
If so, nominations for the Yavapai Healthy School Award are now open. Simply visit www.YavapaiHealthySchools.com and share the school you believe is deserving of the Yavapai Healthy School Award and why.
The nominating period for submissions is now through the month of January 2018. Schools must be within Yavapai County to be eligible. The schools nominated by the public will receive notice in mid-February, and schools who receive the most nominations have the opportunity to apply for the award with the winners announced in mid-April 2018.
The Yavapai Healthy Schools Coalition's goal is to empower teachers, staff and students in making healthy choices. YHS Coalition is a partnership of over twenty partners who work to promote healthy living in our county schools.
Brown Bag Brain Buzz with Rabbi Bernie Kling Feb. 1
OLLI (Osher Lifelong Learning Institute) Brown Bag Brain Buzz will host Rabbi Bernie Kling, an independent Sedona rabbi and hospital and hospice chaplain, who will present, "Hospice, Death and Dying," on Thursday, Feb. 1 at 12:30 p.m.
This is a free lunchtime forum, sponsored by Yavapai College, Verde Valley Campus. Bring your brown bag to Room G-106 at 12:30 p.m. or purchase lunch at the Snack Bar in Building F at the Verde Valley Campus, located at 601 Black Hills Drive, in Clarkdale and join us as Rabbi Kling shares his experience of his several years of hands-on hospice chaplaincy here in the Verde Valley.
As the Baby Boom generation inexorably ages, America's death-denying culture of perpetual youth is finally beginning to face reality. We do not live forever; and each of us, together with our family and friends, will have to choose how and where to live out our last days. The hospice movement has been a welcome break in the wall of denial and unreality that has surrounded the topic of death and dying in America.
Rabbi Kling has facilitated OLLI courses on Judaism, the Jewish Bible, and the modern encounter between Judaism and Buddhism. For more information about Brown Bag Brain Buzz or this event, call OLLI at 928-649-5550.
A Caring Place Adult Day Services Grand Opening
A Caring Place Adult Day Center is designed for older adults who need some assistance and supervision throughout the day or simply who are isolated and need social interaction. We enable seniors to socialize with others while still receiving needed care services and medical supervision. At the same time, we offer caregivers a break from caregiving duties while knowing that their loved one is in good hands.
The Grand Opening is Thursday, Feb. 1 from 2-5 p.m. at 203 South Candy Lane, Suite 12 A – B. The ribbon cutting is at 2:30 p.m. Refreshments and tours will be provide.
To RSVP or for more information, call 505-270-4803.
A Caring Place Adult Day Center has planned program of activities designed to promote well-being through social and health-related services. Our care team will develop an individualized care plan to ensure each participant maximizes their potential in our program.
Our Program
Social Interaction & Activities: Sensory and memory activities; Various fun activities such as bingo, Karaoke, card games, physical fitness programs, outdoor outings, music therapy, art therapy, crafting & gardening, and massage therapy.
Nutrition: Breakfast, Lunch & Snacks provided and for those who have a need, we will send home dinner. Additionally, arranging for a nutritionist to advise on healthy eating and cooking (customized diets).
Medical Services: Nurse on premises and oversight by a physician with weekly visits on site in our care center. Our nurse will perform wellness checks every day and will provide medication management.
Value Added Benefits: Assistance with Arizona AHCCCS/ALTCS and VA application process; coordination of benefits; referral services; medical appointments.
Eligibility: Private Pay, State funded through Arizona ALTCS & VA Benefits.
Taxes in retirement workshop Feb. 1
Retirement is rated one of life's most stressful events. Do you have a retirement tax strategy?
Join us at the Cottonwood Public Library for an informational workshop covering Taxes In Retirement on Thursday, Feb. 1 from 11 a.m. to noon in the Dede Ewald Room.
Many aspects of your everyday life begin to change as you prepare for retirement. One of the biggest changes you are faced with involves your finances. The paycheck you have become accustomed to receiving is no longer coming in. Instead, it is now up to you to decide from which accounts you will take income.
If you would like more information on how taxes can impact your retirement income sources, this seminar is for you. Topics to be covered include the changing rules for a retiring generation of baby boomers, common misconceptions about taxes in retirement, possible tools and strategies available to retirees to help develop a retirement tax strategy, strategies to help protect yourself against the taxation of your Social Security income and how rising taxes may affect your retirement cash flow.
Registration is required for this workshop as seating is limited, please call 928-634-7559 to sign up. The library is located at 100 S. 6th St. in Cottonwood.
Registration open for Mountain Bike Festival
The Sedona Mountain Bike Festival will be back March 2-4, 2018 and registration is now open. This year, organizers say they are ready "to put on another amazing event with the same recipe of three days of bike demos, music, breweries, food trucks and shuttles. We are excited to continue our partnerships with Vida women's skills clinic, as we are their first stop of the season, and with Hermosa Tours shuttle company."
The festival is put on by real riders. We know what makes an event fun and what doesn't. "Sedona Mountain Bike Festival is right in the middle of Sedona making it easy to access hundreds of miles of single track," said organizers. There are group rides going out all day every day, some lead by famous athletes. Those who want to ride alone can take advantage of the many trails.

Now until Feb. 2, three-day passes are $80. For the first 1,000 people, this price includes a free event t-shirt by TASCO MTB as the official soft goods sponsor, and pint glass. Sign up at www.sedonamtbfestival.com.
Spirit of Joy religion, science lectures begin Feb. 4
Spirit of Joy Lutheran Church has announced the Religion and Science Lectures for 2018. These lectures are the church's way of participating in the Clergy Letter Project, an association of over 15,000religious leaders and 1,075 scientists who believe that there is no necessary conflict between religion and science.
All lectures are open to the public free of charge and will be given at Spirit of Joy Lutheran Church, 330 Scenic Drive in Clarkdale each Sunday afternoon in February. The lectures begin at 2:30 p.m. and are followed by a time of fellowship and refreshments.
Feb. 4: Dr. Jeff Hall, director of Lowell Observatory, Flagstaff. "A Planet By Any Other Name." What the New Horizon mission has taught us about Pluto.
Dementia Friends informative session Feb. 6
Dementia Friends is a global movement developed by the Alzheimer's Society in the United Kingdom and now underway in the United States. In this free informational session, you will learn: 1. Help everyone in a community understand five key messages about dementia. 2. How it affects people. 3. How we each can make a difference in the lives of people living with the disease.
Register for this informational session on Feb. 6 from 9 a.m. - 10:30 a.m. at Sedona Winds Assisted Living located 475 Jacks Canyon Rd. in Sedona. Registration can be completed by calling toll-free 1-877-521-3500.
Free support group for caregivers of Alzheimer's patients meets Feb. 7
According to the Alzheimer's Association, one in eight older Americans suffers from Alzheimer's disease. It is the sixth leading cause of death in the U.S. and the only cause of death among the top 10 in the nation that cannot be prevented, cured or even slowed. As the disease becomes more prevalent as people live longer, their caregivers often find themselves in need of support and resources. The free support group program addresses such issues. These meetings for caregivers of Alzheimer's patients are held the first Wednesday of each month from 10 to 11 a.m. The next meeting will be held on Wednesday, Feb. 7.

The group meets at Verde Valley Medical Center in Cottonwood, Meeting Room A. Enter the hospital at the Outpatient Services Entrance. The organizers are excited to host this support group at VVMC as it is a more central location. This support group is open to everyone, and we are extending an invitation especially to people who have not been able to attend before. Vast amounts of information is available, so if you have ANY interest in memory disorders, please come check us out. Bonnie Shimko from AZ Care Management Solutions is an official facilitator and will be making as many meetings as she can. For information, call Bonnie at 928-300-0172 or Barbara at 928)-0634-2638 or Fran at 928-301-3852.

Online resources workshop at Cottonwood library
On Thursday, Feb. 8 join Recorded Books representative Brian Gilbert at the Cottonwood Public Library and learn about just two of the many free online resources available to you with your library card. Gilbert will be here to talk about Zinio and Universal Class, two premium websites that many library card holders aren't aware they have access to. Zinio is a digital magazine content provider that connects you to over 200 popular magazines on your favorite mobile or desktop device. Zinio allows you to download and keep these magazines for as long as you want. Titles cover a variety of interests including news, sports, fashion, travel, health and lifestyles. Gilbert will show you how to create a free account with your library card and get started browsing your favorite magazines. Universal Class is a wonderful resource for those interested in lifelong education. The mission of this company is to advance intellectual exchange in teaching, research, and service with its technology and belief that lifelong learning should be affordable to all people of all cultures. Gilbert will be leading the workshop in the Dede Ewald Room from 11 a.m. to 2 p.m. The library is located at 100 S 6th St in Cottonwood.
Join Camp Verde Parks and Recreation for trips to Phoenix area
Join Camp Verde Parks and Recreation for fun-filled trips on a 14 passenger shuttle bus. Trips leave from the Community Center Gym at 9 a.m. and return at 4 p.m. unless otherwise specified. Participants must be at least 16 years old or have an accompanying adult. Explore the secrets of Arizona and relax with plenty of opportunity for you to spend the day the way you want. Must pre-register for all trips
Friday, Feb. 9 Butterfly Wonderland & OdySea Aquarium (Mix & Match) in Scottsdale.
Trip leaves early at 8 a.m. and returns at 4 p.m. Your choice of one or both attractions. At Butterfly Wonderland, walk through America's largest butterfly atrium surrounded by thousands of beautifully colored butterflies! Learn about the fascinating life of butterflies in the 3D movie "Flight of the Butterflies." At OdySea Aquarium, see the Rivers of the World, Otter Banks, Penguin Point and walk through the Great Barrier Reef tunnel under the water! Check out two stories of restaurants and shops around the huge circular plaza.
Cost for Butterfly Wonderland: Adult $42, Senior $40, Student $40, Children 3-12: $33.
Cost for OdySea Aquarium: Adult $55, Senior $53, Student: $49, Children 3-12: $44
Cost for both attractions: Adult: $75, Seniors: $69, Student: $66, Children 3-12: $55.
Register at Camp Verde Parks and Recreation at 395 S. Main St. Or call (928)554-0829 for more information.
U of A Cooperative Extension offers fruit tree pruning demonstrations
It's fruit tree pruning season and the University of Arizona Cooperative Extension, Yavapai County is offering two free deciduous fruit tree pruning demonstrations conducted by Extension Agent, Jeff Schalau.
Come and learn why, when, and how to prune your backyard fruit trees. Demonstrations will cover apples, pears, plums, peaches, nectarines, cherries, and more. Fertilization, irrigation and fruit thinning will also be discussed.
Two pruning demonstrations are scheduled. The first will be held on Saturday Feb. 10 at 10 a.m. at the Marmaduke Orchard, 3435 S Silver Rd, Camp Verde. The second will be held on Saturday Feb. 24 in Chino Valley. It is not necessary to register – just come and learn!
Maps and directions to these workshops are available on the Yavapai County Cooperative Extension web site: cals.arizona.edu/yavapai/pruning/. Signs will be posted prior to the workshops to help participants find the locations. Follow Extension Agent, Jeff Schalau on Twitter (@jeffschalau) for timely information such as cancellations due to inclement weather.
February Star Party at Rezzonico Family Park Feb. 10
Forget Hollywood! Join members of Astronomers of the Verde Valley and gaze at the real stars Saturday, Feb. 10 at 6:30 p.m. at Rezzonico Family Park. You'll see stars, planets, galaxies, and other heavenly bodies that you will never see in Hollywood.
Bring your Valentine for an early celebration. Enjoy the beauty of the heavens as seen with the naked eye. Look through carefully calibrated telescopes setup and monitored by experts passionate about sharing their love and knowledge of the universe with others.
Astronomers of the Verde Valley describe themselves as "an amateur astronomy club" whose "mission is to inform, educate and entertain by providing a varied and interesting program of activities for our membership and the communities we serve." Join them on the telescope pads at Rezzonico Family Park, Feb. 10 for this free presentation and find out just how interesting they are.
Rezzonico Family Park is adjacent to Camp Verde Community Library, located at 130 Black Bridge Road, in Camp Verde. Please park at the library so you don't blind the stargazers with your headlights. Carry a flashlight that is shielded with a red lens, dress for cold weather, and wear sturdy shoes for walking on the gravel path. If you need assistance, please let us know.
For more information about this or any other program at the Library, visit www.cvlibrary.org or call 928-554-8380.
Free Medicare Workshop Feb. 10
On Saturday, Feb. 10 get all of your Medicare questions answered with Denny Fanter in this free workshop at the Cottonwood Public Library. Fanter worked for AT&T in Regulatory Affairs and retired in 2000. Since 2005 he has been a licensed insurance agent and has offered workshops on Medicare through OLLI since 2012. Topics to be discussed will include: When and how to apply for Medicare; what does Medicare Part A and Part B pay; what deductibles do Part A and B have; how does a Medicare supplement or Advantage plan work with Parts A and B to avoid financial loss due to health problems; what is a supplement and Advantage plan; and how does a prescription drug plan (Part D) save on prescription costs.
The workshop will be held in the Dede Ewald Room from 10:30 a.m. to 12:30 p.m. The library is located at 100 S 6th St in Cottonwood.
Jerome Elks Lodge hosts Valentines Dinner & Dance
Jerome Elks Lodge #1361(in Clarkdale) is having a Valentines Dinner and Dance on Feb. 10. The lounge opens at 4 p.m. Dinner is at 6 p.m. You have a choice of Stuffed Roast Pork Tenderloin or Stuffed Filet of Sole. You must make a meal choice at the time of ticket purchase. Dance to the music of Sound Events (formally Jox in the Box) starting at 7 p.m. The cost is $15. The event is for the benefit of the Arizona Elks Major Project. Elks and their guests are invited to attend. Call the Elks Lodge at 928-634-5611 to reserve your tickets.
Movie Monday at Cottonwood library Feb. 12
The Cottonwood Public Library invites you to Movie Monday on the second Mondays of each month. Acclaimed auteur Christopher Nolan directs this World War II thriller about the evacuation of Allied troops from a French city before Nazi forces can take hold. For more information visit www.ctwpl.info. The movie will be shown on Monday, February 12 at 11 a.m. in the Dede Ewald Room, and free popcorn will be provided. The library is located at 100 S 6th St in Cottonwood.
Quilters Group meets Feb. 12
The Camp Verde Quilter's Group meets the 2nd Monday of each month at 8:30 A.M., at the Denny's restaurant located at 1630 W. Highway 260, Camp Verde, Arizona. Please join us to discuss quilts and quilting. We meet monthly to share ideas and plans for the Bi-Annual Quilt Show which is held during the Fort Verde Days Celebration in October. The next Quilt Show will be in 2018. We also share quilt projects we are working on or have completed, please bring your projects to share with us. All quilters are welcome! Our next meeting is on Monday, Feb. 12.
Sedona Chamber announces Sedona Verde Valley Job Fair Feb. 13
The Sedona Chamber of Commerce & Tourism Bureau is pleased to announce a regional job fair on Tuesday, Feb. 13 from noon to 4 p.m. The job fair, which is free to job seekers, will be held at Yavapai College Sedona Center on 4215 Arts Village Drive, in Sedona.
The Job Fair is hosted by the Yavapai College Regional Economic Development Center, City of Sedona, Goodwill of Central and Northern Arizona, Arizona Department of Economic Security (Arizona@Work), U.S. Department of Veterans Affairs, and the Sedona Chamber of Commerce & Tourism Bureau.
Exhibitors include 19 major regional employers who will inform attendees about potential job opportunities and speak to potential candidates. Participating hiring businesses include:
Bashas' Inc.
Bealls' Outlet
Caring Presence
CITY OF SEDONA
Delaware North
Diamond Resorts International
Enchantment Resort
Hilton Sedona Resort at Bell Rock
Holiday Inn Express Sedona
Home Care Assistance of Northern Arizona
Kimpton Amara Resort and Spa
Local First Arizona
Papillion Airways
Pink Jeep Tours
Renee Taylor Gallery
Sedona Rouge Hotel and Spa
Sefton Engineering Consultants, LLC
Whole Foods Market
Xanterra
The emphasis for the Job Fair will be on job recruitment as well as career opportunities and resources that can lead to quality jobs.
Tell your friends, family, and neighbors, and attend the Sedona Verde Valley Job Fair on Tuesday, Feb. 13 from noon – 4 p.m. at Yavapai College Sedona Center on 4215 Arts Village Drive in West Sedona.
For more information, visit www.SedonaChamber.com or call 928-204-1123.
Jeff Oravits speaks at Republican Club Feb. 13
Jeff Oravits, radio talk show host will speak at Cottonwood Republican Club on Tuesday, Feb. 13 at 11 a.m.
Everyone is invited to the Mingus Mountain Republican Club Luncheon at the Veterans of Foreign Wars Post #7400, located 705 E. Aspen St., in Cottonwood.  Keynote speaker will be the conservative Jeff Oravits, a radio talk show host from Flagstaff and Judd Simmons, County Assessor. Future speaker will be Congresswoman Martha McSally who is also running for Jeff Flack's senate seat. Also, Sheriff Scott Mascher will be our speaker is a couple of months. We recommend all local candidates to attend.
Lunch includes main dish, salad and dessert with coffee or iced Tea at $15. Without lunch, there is a meeting fee of $3. Sodas are $1 extra. Lunch is served at 11:15 a.m. RSVP by email, MingusMountainRepublicans@gmail.com  or call Carol at 928-301-2121.
Smart phone class held Feb. 13
Do you have a smartphone but have no idea how to use it? Cottonwood Public Library staff is here to help. IPhone users can pick up some iPhone tips and tricks with library staff member Rose on Tuesday, Feb. 13 at 2 p.m. At 4 p.m. staff member Jeff will be on hand to guide you through the basics of smartphones using the Android operating system. Both classes will be held in the Dede Ewald Room. Registration is required and seating is limited, please call 928-634-7559 to sign up. The library is located at 100 S 6th St in Cottonwood.
Valentine's Day Sip and Stroll
On Wednesday, Feb. 14 from 4-7 p.m., start your Valentine's evening by enjoying an exclusive pairing of beverage tasting and desserts in charming, historic Old Town Cottonwood! Enjoy the short stroll between tasting rooms and bars while enjoying premier wines, craft beers, champagne, and desserts. This special event includes a commemorative wine glass, as well as a 2-oz. beverage pour and dessert pairing at each of the eight participating stops. Purchase your tickets online at Eventbrite.com or Ironhorseoldtown.com. This is a limited event with only 60 tickets available for sale.
Arrive at Small Batch Wine & Spirits at 1044 N Main Street, beginning at 4 p.m. on Wednesday, to collect your ticket and wine glass for the event.
Cornville Community Association meets Feb. 14
Cornville Community Association will meet Feb. 14 at 7 p.m. in the Oak Creek Elementary School Gymnasium. Several County officials will be on hand to share information and answer questions on the following topics: Keeping the ¼ percent sales tax alive until 2020 to fund the county jail; and the Governor's proposed change to minimum lot sizes in unincorporated areas of Arizona's counties.
The meeting is open to all residents, property owners and business owners in zip code 86325.
Registration open for St. Patrick's Day parade & 5K run, deadline Feb. 17
Now is the time to register to participate in Sedona's 48th annual St. Patrick's Day parade, and to sign up for a new addition to the celebration: a 5K street fun run.
Both events will be held Saturday, March 17.
The fun run, suitable for all ages, begins at 8 a.m. at Posse Grounds Park, located 525 Posse Ground Rd.
The parade begins at 10:30 a.m. in Uptown Sedona at Jordan Historical Park, 735 Jordan Rd., and will travel its traditional route, south on Jordan Road, ending at Mesquite Avenue. Welcome to join, as always, are musicians, civic organizations, decorative floats and vehicles, and community businesses.
"We hope public participation will be great again this year, says Rachel Murdoch, parks and recreation manager, "and think the addition of the run will help extend the fun for families especially."
Fun run registration is $30 per person for all ages until Feb. 17, and $35 beginning Feb. 18.
The parade sponsorship deadline is Feb.15. The parade entry registration deadline is Feb. 26, and entry fees are $25 for individuals and nonprofits, and $100 for businesses. Entry spots are available on a first-come, first-served basis.
For details, including spectator maps and parade entry, sponsorship and fun run registration forms, visit sedonaaz.gov/stpatrick.
For more information contact the Parks and Recreation office at 928-282-7098 or email rmurdoch@sedonaaz.gov.   
Sign up for 'Looking Good Cottonwood,' begins Feb. 21
Sign up now for Looking Good Cottonwood 2018. LGC is your step-by-step lifestyle transformation journey. Beginning Wednesday, Feb. 21 through Wednesday, May 16 we offer a 12-week body transformation program which includes extra group exercise classes, health seminars and weekly weigh-ins. Participants will receive an LGC t-shirt (upon completion), discounts on recreation center memberships (three months and longer) and 10 percent off the Brian Mickelsen Memorial Race in April. Come by the Cottonwood Recreation Center to sign up. Fees: $20 for CRC members, $40 for non-members.
For more information, contact Trevor Faust at tfaust@cottonwoodaz.gov or call 928-639-3200. Must be 18 years old to participate.
NACOG brings programs to raise dementia awareness Feb. 21-22
Area Agency on Aging NACOG is working to bring many programs to raise community awareness about dementia. If you would like to partner and provide an informational session, please call Lita Nelson at 928-213-5255.
Area Agency on Aging NACOG is providing a free Mental Health First Aid for Older Adults and Those Dealing with Later-Life Issues training on Feb. 21-22 from 9 a.m. – 1 p.m. at Sedona Winds Assisted Living located 75 Jacks Canyon Rd. in Sedona.
This Mental Health First Aid training will feature many issues that older adults may encounter as they age. Mental Health First Aid is a free 8-hour course that teaches how to help someone that is developing a mental health problem or experiencing a mental health crisis. The training helps identify, understand, and respond to signs of mental illness and substance use disorders.
To register for this FREE training, call toll-free 1-877-521-3500.
23rd Annual Early Childhood Education Conference held Feb. 23
Spencer Gorin, RN presents "Navigating Relationships" (two hours of professional development credit.)
Personal success is dependent upon how deeply we can connect with ourselves, others, and our communities. Student behavioral challenges that are brought to our attention as counselors, teachers, parents and youth-serving professionals almost all have a common thread of the lack of empathy and an inability to negotiate simple and complex relationships.
Our students now live in a world that often annihilates critical thinking, empathy, and face-to-face dialogue. This, in turn, fosters isolation, extrinsic motivation, loss of joy and drive creating a pathway towards "sensation" but not "connection."
However, the very good news is that when students feel deep genuine connections, with other students and the caring adults in their lives, they naturalistically gravitate towards wanting meaningful and healthy relationships.
All we need to do is gift them with simple foundational concepts on how to create healthy bonds and provide experiential opportunities for relevant and courageous conversations.
This is the key for personal happiness, optimizing life-long learning, empathy, and creating deep connections with others. More than ever learning how to navigate relationships with a strong foundation of empathy is how we best prepare our students, not only through K-12, but for college and post-secondary school life experiences.
Event Details
When: Feb. 23 from 6:30-8:30 p.m.
Location: Mingus Union High School Auditorium, 1801 East Fir Street, in Cottonwood
Pricing and Registration
Conference Attendee Price – Included in conference registration
Group Price– $10/person
Individual Price – $20 for online registration (below)
Event will include exhibitors to provide you with information about ways in which you can help strengthen education in your community.
Please contact us if you are interested in highlighting your organization as an exhibitor.
Questions?
Contact the Event Coordinator at 928-301-9105 or email: bailey.bvcs@gmail.com
Strengthening the Verde Event Feb. 23
The 2nd Annual Strengthening the Verde Event promotes a strong community by hosting a night to learn together, connect with resources, and share our vision of a Strong Community.
Experience a presentation by Spencer Gorin on "Navigating Relationships." Spencer will provide you with: concepts on how to create healthy bonds and deep connections opportunities for relevant and courageous conversations tools to form meaningful and healthy relationships.
The event is at Mingus Union High School, located 1801 E. Fir St. in Cottonwood on Feb. 23 from 6:30-8:30 p.m.
Lake Montezuma Women's Civic Club Tea Feb. 24
Lake Montezuma Women's Civic Club Tea will be Saturday, Feb. 24, 2-4 p.m. at Beaver Creek School, 4810 Beaver Creek Road in Rimrock. There will also be a fashion show, an auction and silent auction. Tickets are $20 and limited to 75. Tea attire is expected. Tickets are available from Betty Hart 928-567-2946, Rachel Ayars 719-330-9346, Alberta Amos 928-567-4892, Darla Melcher 928-592-0782 and any civic club member. This is a fundraiser for a Beaver Creek student scholarship and to support local community organizations. 
Dream Run 5K at Verde Valley School March 3
Verde Valley School, an international high school in the Village of Oak Creek, announced its second annual, non-competitive 5K fun run on March 3. The 2018 VVS Dream Run will begin and end on the school campus, taking runners through the stunning red rock scenery of Coconino National Forest.
VVS campus is located at 3511 Verde Valley School Road in VOC and the race will start from Brady Hall at 9 a.m. Pre-registered runners should arrive before 8:45 a.m., while same-day registrants should arrive early, before 8:30 a.m. The event is open to all ages and abilities, and pets on leash are welcome.
Dream Run is a fundraiser with all proceeds going toward tuition fees for Native American students at Verde Valley School. Last year's inaugural Dream Run 5K attracted 85 runners and 105 donors, and netted $5,000 after event costs, money which has been applied 100 percent to Native American student tuition.
The registration fee is $30 per person and includes a T-shirt featuring the iconic Dream Run logo. There is also a reduced fee of $20 for students 19 and under. Registration details can be found online at http://conta.cc/2EUUoA6 or by contacting Dream Run organizer, Leigh Carter at lcarter@vvsaz.org or 520-234-6881.
Loven Family Run at Blazin' M Ranch March 24
Northern Arizona Healthcare's Loven Family Run & Walk will again take place at Cottonwood's Blazin' M Ranch Saturday, March 24.
The event benefits Valley View Care and EntireCare Rehab & Sports Medicine.
The Loven Family Run & Walk is designed for all ages and fitness levels. The 2K run/walk; 5K run/walk and 10K run takes participants on a looped course beginning at the historic Blazin' M Ranch and through scenic Dead Horse Ranch State Park. Following the race, participants are treated to a good old-fashioned country breakfast.  
WHEN: Saturday, March 24, 8 a.m. start
WHERE: Blazin' M Ranch, 1875 Mabery Ranch Road, Cottonwood.
Registration is open through March 21. Visit chronotrack.com or the Arizona edition of Running in the USA website.
Easter Egg hunt returns to Riverfront Park March 31
This free event will be held on Saturday, March 31 at 10 a.m. at Riverfront Park in Cottonwood. It is open to all local children ages one month to 8 years old. Children hunt for candy and prize/coupon filled plastic eggs in five different areas of the park. Age divisions are 1 to 17 months, 18 to 36 months, 3 to 4 years, 5 to 6 years and 7 to 8 years old. This event is made possible by all of our sponsors: Cottonwood Youth Advisory Commission, Pizza Hut, Taco Bell, Sonic Drive-In, KC's Family Tae Kwon Do, McDonald's, Carl's Jr, Country Bank and the State Farm office of Jennifer Griffin.
Brian Mickelsen Memorial Marathon April 21
The Brian Mickelsen Memorial Marathon returns to Cottonwood's Riverfront Park April 21. The event features 2-mile, 10K, half marathon and full marathon races. Both the marathon and half-marathon courses are USATF Certified, making the marathon a Boston qualifier. All four courses begin and end at the Riverfront Park ramadas, 1284 E River Front Road, Cottonwood. This event will be chip-timed by StartLine Racing.
The Brian Mickelsen Memorial Run/Walk has evolved from humble beginnings as the Verde/Mingus Blowout 10K to include four separate races: 2-Mile, 10K, half marathon and a new full marathon. In 1992 the City of Cottonwood held the first Verde/Mingus Blowout 10K/2 Mile. The original 10K course started at Riverfront Park, ran through Old Town Cottonwood, took Bent River Road and found its way back to the start line. Today this route compares more to the Marathon course than it does the current 10K route but you can see how the event in 1992 laid the foundation for the Brian Mickelsen Memorial Run/Walk. With Brian Mickelsen's tragic death in 2007, the City of Cottonwood decided the best way to honor their beloved city manager was to extend the Verde/Mingus Blowout to include a half marathon and to put Brian's name on the event. The inaugural event was a great success with over 400 runners and a tremendous tribute to Brian and all that he did for Cottonwood in his 23 years of service to the City.
To register visit the Arizona edition of Running in the USA or bmmcw.org/register.html.
Patty May 'Open Your Heart to Youth' Scholarship, applications accepted until May 1
The Verde Valley Leadership Program fosters an environment that empowers and motivates others to successfully accomplish their objectives. We mentor and develop each other and our peers. We serve. Verde Valley Leadership awards scholarships to college-bound high school seniors demonstrating exemplary leadership qualities, motivating and setting an example for their peers, and making a difference in their community. We reward their accomplishments and are excited about their future.
Criteria: Students eligible for this scholarship must be a graduating high school senior residing in the Verde Valley who intends to continue their education at a college or university. Student must be available to accept the award at Verde Valley Leadership graduation ceremony July 20.
Amount: $750 scholarships will be awarded to two students.
Deadline: Applications will be accepted until May 1. Verde Valley Leadership, P.O. Box 1663, Cottonwood; or send via e –mail to: info@vvleadership.org
Survivors of Suicide Support Group
For every person who completes a suicide there are friends and family members intimately affected by the death. There is utter bewilderment that the loved one made such a decision. The survivors experience a sense of isolation, shock, anger, guilt, depression and often alienation due to the stigma attached to suicide. Survivors of Suicide is a local support program for those whose common bond is the loss of a loved one to suicide. Meetings are typically the last Tuesday of each month at 6:30 pm at Christ Lutheran Church, 25 Chapel Rd, in Sedona (the corner of 179 & Chapel). For additional information call Barbara Litrell at 928-649-0135 or email bprats@cableone.net.
VVMC Caregiver Support Group meets each Friday
Join other caregivers each Friday from 10 to 11 a.m. at Verde Valley Medical Center located at 300 Willard St., Education Rooms in Cottonwood. Join us for sharing those difficult moments to celebrating precious memories while learning self-care from others that are living it.

Enjoy snacks and materials while gaining access to available supportive services and programs in your community.

For more information about the VVMC Caregiver Support Group or to inquire about other programs and services, call Area Agency on Aging NACOG toll-free at 1-877-521-3500.
Free bird walks at Montezuma Well, Tuzigoot National Monument through April
Continuing through April 2018, Montezuma Well and Tuzigoot national monuments will host bird walks.
On the first and third Saturdays of each month, walks will take place from 9-11 a.m. at Montezuma Well. Each walk will begin at the Montezuma Well Picnic area.

On the second and fourth Saturdays of each month, walks will take place from 9-11 a.m. at Tuzigoot National Monument.

Each walk will begin at the Tuzigoot Visitor Center parking lot. Due to the holidays, there will be no bird walks on Nov. 25 or Dec. 23.
Participants are encouraged to bring water, binoculars, a hat, and to wear comfortable shoes for walking. The trails can be steep, rocky and uneven.
Montezuma Well is located at 5525 Beaver Creek Road in Rimrock.

For more information, call 928-567-3322, extension zero, visit www.nps.gov/moca or follow us at www.facebook.com/MontezumaNPS.
Tuzigoot National Monument is located at 25 Tuzigoot Road in Clarkdale.

For more information, call 928-634-5564 or visit www.nps.gov/tuzi.
Verde Valley Special Needs Support Group meets every third Thursday
The Verde Valley Special Needs Support Group - a core group of people personally connected to the autism community – has been expanded to welcome and offer support to parents, family members, and caregivers of people with all special needs.
A support group is the lifeline that can bring emotional respite and assistance to those struggling. Those in the support group are walking the path too, some of them have for several years, and can offer empathy, insight, and suggestions for professional help and resources.
The Group meets every third Thursday of the month at the Camp Verde Library from 6-7:30 p.m. We welcome you to join us. No family should have to walk this path alone. Come to a meeting and share, learn, and connect with others who understand.
Family Movies at Cottonwood Library
On every third Saturday of the month the Cottonwood Public Library hosts family movies in the Youth Services Department. Family friendly movies begin at 10:30 a.m. and are free and open to parents and children of all ages. Please check the Library website at www.ctwpl.info for this Saturday's family movie title. The Library is located at 100 S 6th St in Cottonwood.
Volunteers needed for upcoming tax season
Your local AARP Foundation Tax Aide sites are seeking volunteers for the upcoming tax season. We have sites in Camp Verde, Cottonwood, and Sedona.

We provide free, confidential tax service for seniors and low income families. Experience is not required as training is provided for counselors, client facilitators, and receptionists. This is a wonderful way to give back to your community.

Please call Pat at 928 567-9251 for more information.
Library hosts Artist's Corner every third Tuesday
The Cottonwood Public Library's Artist's Corner program is an informal live-art demonstration held on the third Tuesday of the month from 9 a.m. to 12 p.m. The purpose of the program is to inspire patrons to create their own art while also promoting and supporting the wealth of talented local artists in the Verde Valley area. The library is located at 100 S 6th St in Cottonwood.
Verde Valley Parkinson Support Group meets second Fridays
With Parkinson disease, the voice may get softer, breathy, or hoarse, making it difficult for others to hear what is said. Speech may be slurred. Swallowing difficulties can occur at every stage of Parkinson disease and cause choking, aspiration of food and saliva into the lungs, and pneumonia. Special therapies can effectively address these symptoms and dramatic improvement in speech volume and clarity can be achieved.
Individuals with Parkinson disease, their family, care partners and friends meets the second Friday of every month, 3-4:30 p.m., at the Verde Valley Medical Center, Conference Room B, 269 S. Candy Lane in Cottonwood. For more information, please contact group facilitator and Parkinson & Movement Disorder Alliance Program Director, Judy Talley at 928-202-7952 or judy@pmdalliance.org.
American Legion invites Sedona high school students to compete in speech contest
High school students of Sedona are invited by Cornville American Legion Post No 135 to compete in the 2018 Annual American Legion High School Oratorical Scholarship Program. The invitation to enter the competition was extended today by Post Oratorical Chairman, Jim Strande.
The subject in the prepared oration portion of the contest must be about some phase of the Constitution of the United States, emphasizing the duties and obligations of a citizen to the United States government. The prepared oration must be the original effort of each contestant and must be 8-10 minutes in length.
Contestants will compete locally with the top contestants moving forward to the area contest held sometime late in Feb. 2018. At that contest, speakers will earn $300, $200, $100 respectively, for placing 1st through 3rd place.
The department contest which traditionally consists of six speakers from across Arizona will be held on March 3rd at the Ahwatukee American Legion Post 64 in Phoenix, AZ. Top speakers will walk away with $1,500, $1,000, and $750 respectively for 1st through 3rd place, all other speakers will receive $400, each.

In addition to the awards by winners of the various elimination rounds of competition, college scholarships of $18,000, $16,000, and $14,000 will be awarded to the first through third places in the national finals. Each state winner who competes in the first round of the national contest will receive a $1,500 scholarship. Participants in the second round who do not advance to the national final round will receive an additional $1,500 scholarship. The top three youth orators who have won all previous elimination rounds of the contest will vie for top honors in the national contest in April in Indianapolis.
The American Legion will pay the expenses of state winners and chaperone at the national contest. High school students in Sedona who are interested in entering the competition will find complete rules and contest information by contacting Chairman Strande at 928-301-7273. Previous national winner of the contest may be viewed at www.legion.org/oratorical.
Movie Monday at the Library
The Cottonwood Public Library invites you to Movie Monday on the second Mondays of each month. This month's movie is based on a book and is a wonderful story of unconditional love depicting the experiences of an eccentric, resilient and tight-knit family. For more information visit www.ctwpl.info. The library is located at 100 S 6th St in Cottonwood.
More like this story