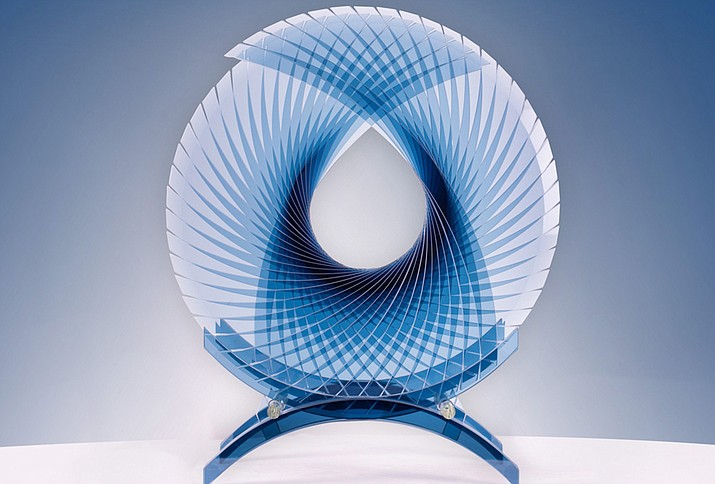 ---
---
A unique marker on the cyclical dial of nature we experience in all its variety; the monsoon season is here, and the rains shall come, as they do every year. There is an unfathomable power in nature that we must surrender to when we enter "into the monsoon."
This July, Kuivato flows into various modes of artistic inspiration in their new exhibit Into the Monsoon. Join them for their opening reception, Friday, July 6th, from 5-8 p.m. during 1st Friday in the Galleries.
Michael Colpitts, a resident artist at Creative Gateways, creates many works that exemplify this theme.
His mixed media pieces have qualities both of oncoming monsoon clouds and the life-giving water they bring. Abstract shapes lay misty and nebulous on the canvas, raining down their beautiful colors in an organic flow. Michael's paintings can evoke the same type of serenity found while watching the monsoon storms roll slowly through the desert landscape.
It is no surprise, then, that Michael finds creative uses for water in the creation of his pieces.
Glass artist Tom Marosz, one of the many talented artists represented at Kuivato Gallery, expresses wonderfully fluid dynamics in his pieces - much likened to the movements of monsoon waters. He states that "Much of [his] artistic journey stems from [his] desire to produce pleasing shapes that flow." Clearly a brave explorer of the glass medium, Marosz explains that, "investigating the possibilities I see in glass keeps my blood flowing and my brain ticking." It is through this investigation and channeling of his artistic medium that he finds direct, "flowing," meaning.
Join Kuivato, Friday, July 6th, from 5-8 p.m. for the opening reception of Into the Monsoon. Explore the powerful qualities of the work of Michael Colpitts, Tom Marosz, and all our represented artists. Browse the gallery, talk to local artists, and enjoy small bites and drinks.
Kuivato a Creative Gateways Gallery is a founding storefront in Tlaquepaque in Sedona. The gallery displays a wide variety of mediums, including fused, blown, and torchwork glass, jewelry, ceramic, mixed media, illustration, and bronze. Kuivato is a sister gallery to artist collective and public gallery space, Creative Gateways Open Studios & Gallery in West Sedona, 45 Birch Blvd. Visit Kuivato 7 days a week from 10 a.m.-6 p.m.
For more information, please visit www.kuivato.com or call 928-282-1212.