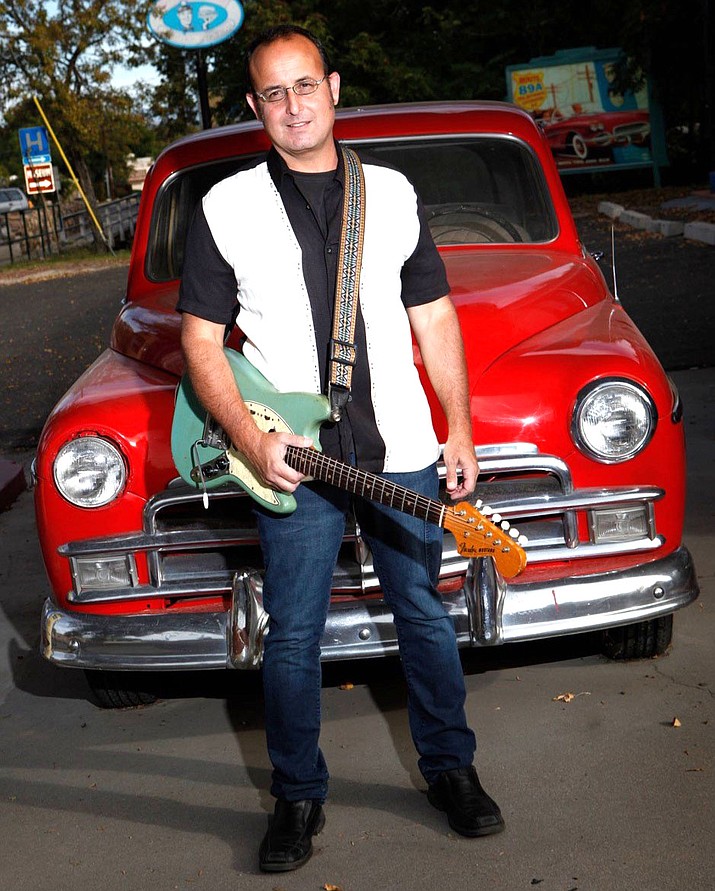 ---
---
Tommy Rocks Vino Di Sedona Wednesday, the Fourth of July, 7-10 p.m. Catch Arizona favorite Tommy Rocks perform at Vino Di Sedona from 7-10 p.m. Tommy is best known as "The Beatles Guy" in Arizona. He performs a Beatles show on the final Friday of each month at Vino Di Sedona - but for this show you can catch him doing what he does best: rocking out his original songs and obscure classics on acoustic guitar. Drawn to players as diverse as Michael Hedges, Neil Young and Jimmy Page, Tommy has blended styles and influences into his own unique style. This will be a show not to be missed.
Tommy is a singer-songwriter and multi-instrumentalist, and performs out roughly 150 nights a year singing and playing guitar, bass and ukulele. Throughout his musical career, Tommy has worked as a guitarist, singer, songwriter, keyboardist, bassist, percussionist, studio musician, disc jockey, radio program director, studio engineer and record producer. On top of his instrumental skills, his voice ranges from smokey bar room blues to Philly R&B to The Beatles. For more information visit www.TommyRocks.net
Thursday night, Vino Di Sedona features the multitalented, local musician, Sierra. Sierra is a singer-songwriter, and multi-instrumentalist, whose music is diverse, but best described as heart-felt Americana. Sierra has also recently started a small business in Sedona, Synergy - Co-op Kitchen. This talented Sedona musician doesn't perform often, so don't miss your opportunity to see her shine. July 5, 7-10 p.m.
Get the feel of a 1950's beach party while Randy J entertains at Vino Di Sedona on Friday, July 6, 7-10 p.m. Randy is famous for his 50's and 60's style surf guitar. Born in Orlando, Florida, Randy J moved to Los Angeles in 1987 and shortly thereafter began composing music for film trailers and TV spots. He returned to Orlando and formed his band the Tarantulas in 1995; now a Sedona resident, Randy performs as a solo artist and with The Tarantulas as the guitarist and lead singer
Saturday afternoon wine tasting at Vino Di Sedona on July 7 is accompanied by music by local Celtic trio The Gaelic Dogs, 3:30-6 p.m. The Gaelic Dogs are Bill Barns, Lou Moretti, and Larry Perkins playing classic Irish songs like Black Velvet Band and Whiskey in the Jar-O.

Saturday Night on July 7 brings the crowd-pleasing Van Reed Brothers back to Vino Di Sedona, 7-10 p.m. Michael Reed (saxophone, guitar, vocals) and Van Johnson (guitar, keyboards, vocals) are a dynamic duo comprising of tight harmonies and solid musicianship. They are also members of a five-piece band called "Street Player". Both have been playing in Arizona for almost four decades. The repertoire of songs includes many styles and genres; rock, pop, country, R&B, and even reggae. Their range of music includes songs of popular artists over six decades. They'll be playing 50's hits from the likes of Elvis Presley, The Everly Brothers, Buddy Holly, Johnny Cash, and The Drifters; 60's hits from artists like The Beatles, The Beach Boys, The Rolling Stones, The Righteous Brothers, Simon & Garfunkel, and Otis Redding, 70's hits originally performed by Elton John, Neil Diamond, The Eagles, Al Green, The Doobie Brothers, and America. And the hits keep on rolling throughout the night from the 80's, 90's and beyond. Johnson & Reed put on a fun show that is lively and geared for singing, dancing and clapping along.
Don't miss Sunday-Funday with Yarrow at Vino Di Sedona on July 8, 6-9 p.m. Yarrow was formed in 2011 when three musicians, Patty and Tom Hoisch and Patricia Fonseca, shared a desire to push the boundaries of the familiar. Recognizing how diversity in their backgrounds could allow their collaboration to become larger than the sum of its parts, they began to cross folk and rock music with classical music and poetry. The result is a continually evolving mix of electric cello, acoustic guitar, djembe, harmonized vocals and poetic lyrics in the Indie genre, offering many original songs and a few familiar favorites with unexpected twists.
Songwriter and musician Patty Hoisch learned how to read and play music in early childhood and has been writing original music ever since she discovered how to break the rules. Her versatile voice, guitar playing and touching lyrics flow throughout Yarrow's works.
Music has always been essential to Patricia Fonseca. She has a long history of singing and a rich imagination. Patricia brings her clear voice, instinctive harmonies, and percussion to the trio. Her literary background and poetic heart manifest in profoundly illustrative lyrics.
Music Monday features Sedona's best rock trio, Saffire, at Vino Di Sedona on July 9, 6-9 p.m. Saffire is a straight-up quality Rock & Roll trio with a wide and far reaching repertoire. Their sound is authentic and driving; featuring complex rhythms, soulful melodies and spirited grooves. Though newly formed last year in the Verde Valley, the three members have a tight chemistry in their love for music.
Classic tunes from the last several decades are covered in an original and very engaging way. "It is so much fun to be playing the songs I grew up loving," says Gina Machovina, classical guitarist/singer and songwriter for Saffire. "But even more enlivening for me is the focus and attention we are giving to my music compositions. They are really taking shape in the best way possible."
Gina brings a unique virtuosity and mesmerizing quality to the forefront as well as an edgy and artistic set of original tunes.
Percussionist Terry Brennan is a forceful and dynamic player and has a sixth sense when providing the textural backbone for the group, and he has a strong deep voice, and plays harmonica and sax.
Al Hinojoza, bassist, has awesomely stepped up to complete this Rock trio, learning the instrument at breakneck speed. No one believes he has just 'picked up' the instrument a year ago. Saffire loves what they do.
Every Tuesday Night is Sedona's best Open Mic at Vino Di Sedona, hosted by Dan Rice, 6-10 p.m. Open Mic started almost two years ago and has grown into an event that brings a full house and variety of musicians every week. Owner Rebecca Schemmer says "Tuesday is my favorite night of the week, Dan Rice does a great job hosting Open Mic, and everyone has fun. We have a lot of regulars, like KB Bren, Randy J, David Harvey, Jill Beitman, Walt Young, and Satih, but we also get new and different musicians weekly." Open Mic is open to musicians of all music styles, and audience members are welcome too.
Vino Di Sedona Fine Wine and Craft Beer, is located at 2575 W SR 89A in West Sedona, enjoy our large outdoor patio, For more information or to see the full calendar of events, visit www.VinoDiSedona.com or call 928-554-4682.