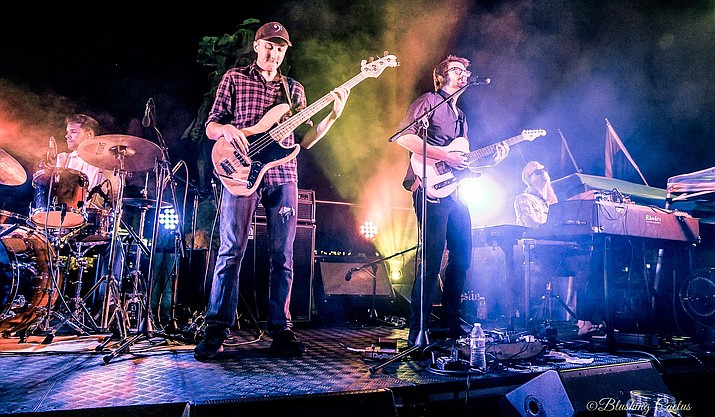 ---
---
If You Go ...
• What: Scandalous Hands Funk Fusion Band
When: Sat July 7th 2018 7-10 p.m.
• Where: Sound Bites Grill Show Room 101 N Hwy 89a Sedona AZ, 86336 at Hyatt Pinon Pointe Shops Uptown Sedona. Cross Street Hwy 179
• More Info 928-282-2713 • www.soundbitesgrill.com
From Prescott, Arizona "Scandalous Hands," a four-piece funk, fusion and rock and roll band will be performing in Sedona at Sound Bites Grill. Their music incorporates funk grooves, jazz harmonic structures and the exploratory improvisation of jam bands.
Scandalous Hands will be playing from 7-10 p.m. in the Celebrity Show Room at Sound Bites Grill at the Hyatt Pinon Point Shops. There is room for dancing and you enjoy a dinner table for the evening.
The band started to come together in October of 2016, when Troy Schilperoort (Keyboard), Adam Haar (Guitar and Vocals), and Dennis Messenger (Bass) began working on a set of musical material.
Shawnee Snaketail soon joined the group on drums and vocals,
completing the band's roster. Since then, Scandalous Hands continues to grow, debuting new material with each performance, and unleashing an explosive inventiveness in their covers of familiar classics. They currently perform all over Northern Arizona.
The band is influenced by The Beatles, Led Zeppelin, Grateful Dead, and Herbie Hancock. There is a $10 Cover to sit in the Show Room where the band performs.
Friday, July 6, Steinway Artist Louis Landen returns to the stage with Troy Perkins and Eddie Barattini. Louis Landon, also a composer and Pianist for Peace has dedicated his life to music. The Jazz Trio performs from 7-10 p.m.
You will enjoy his singing along with his incredible talent which has taken him around the world playing a variety of styles with some of the most recognized names in the entertainment industry. He toured nationally and internationally, playing classical music for Mikhail Baryshnikov; jazz fusion with The John Payne Band; Latin music with "Pucho and his Latin Soul Brothers"; pop music with Rupert "Pina Colada Song" Holmes; rock & roll with John Hall, opening for "Little Feat".
There is a $10 cover to sit and have dinner in the showroom where the Jazz Trio will be performing. If you choose to sit on the patio or main dining room, there is no cover.
For more information and reservations please call 928-282-2713 or visit SoundBitesGrill.com. Hours of operation are 11:30 a.m. to 9 p.m. daily and until 10 p.m. Friday and Saturday evenings. The venue offers live music most nights with no cover.