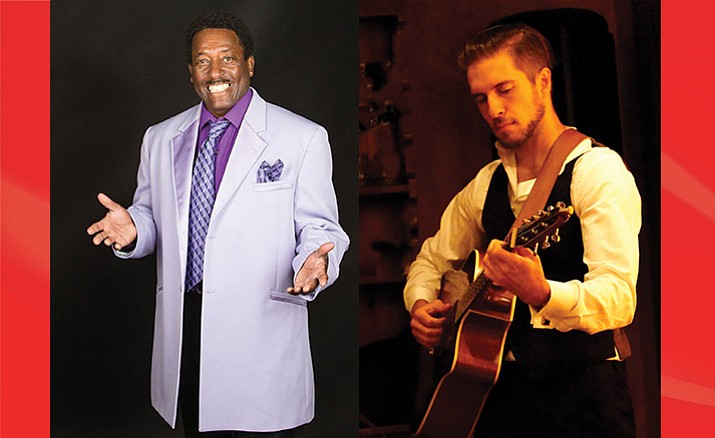 ---
---
Celebrate America's independence at the No. 1 rated 'Italian Restaurant in Sedona' by Trip Advisor. Bella Vita Ristorante offers live entertainment five nights a week - Wednesday through Sunday. Enjoy fantastic food, drink and live entertainment each night at 5 p.m. on the spacious outdoor patio in beautiful West Sedona at Bella Vita Ristorante.
Brian Peterman kicks off 4th of July week at Bella Vita Ristorante on Wednesday July 4th from 6:30 – 8:30 p.m. Singer and songwriter, Peterman has entertained audiences across the west coast and Verde Valley for the past 30 years. Peterman also returns to Bella Vita Ristorante Thursday, July 5th from 6:30 – 8:30 p.m. to keep the good vibes going. Peterman performs a fantastic selection of acoustic classics encompassing the 'golden oldie' decades of the 60s and 70s as well as original material each Thursday night in July.
On Friday July 6th, 6:30 – 9:30 p.m. Sammy Davis will be performing at Bella Vita Ristorante. Sammy Davis' Motown and R&B background bring a timeless and soulful style to his engaging performances. Davis has been in the spotlight on stages across the globe with musical powerhouses like The Temptations, Fats Domino and Chubby Checkers. Don't miss Sammy Davis performing live each Friday night in July at Bella Vita Ristorante.
Dan Vega performs live at Bella Vita Ristorante on Saturday July 7th, 6:30 – 9:30 p.m. Vega performs a fantastic mix of original songs as well as a handful of carefully selected covers for a perfect evening of musical entertainment. Singer/Songwriter, Vega is a Sedona local with strong guitar influences from the Buffalo and Austin Blues scenes. Dan Vega's guitar and vocals enhance your dining pleasure each Saturday night in July.
Bella Vita Ristorante welcomes back Brian Peterman on Sunday July 8th from 6:30 – 8:30 p.m. Peterman has performed seasonally in the Verde Valley for the last 20 years and creates a very enjoyable and unforgettable evening for everyone in attendance.
Bella Vita Ristorante is located 2 miles west of the Courtyard by Marriott on 89A near mile marker 368. For hours of operation, general information and reservations please call (928) 282-4540 or visit www.BellaVitaSedona.com. Bella Vita Ristorante is located at 6701 W State Route 89A in the beautiful Sedona Pines Resort.