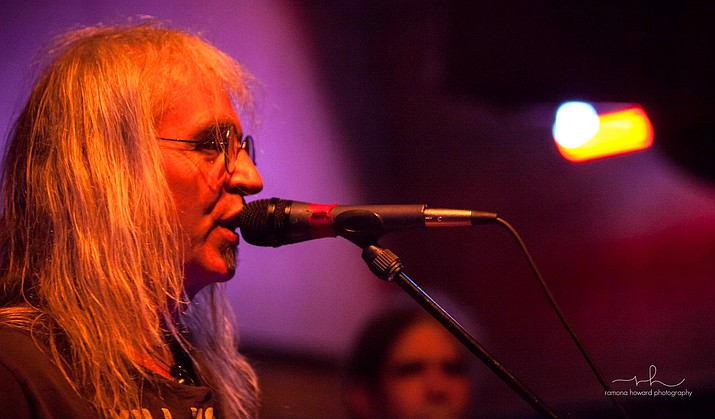 ---
---
The eclectic rock band OvO returns to Main Stage in Cottonwood this Satruday night.
On Friday, July 6, Main Stage plays host to their monthly "First Friday's Dance Party" with DJ ill.Ego.  DJ ill.Ego's performance roots began at Cottonwood's Main Stage and have seen him garner a thriving and ever-growing fan base not just in the Verde Valley but throughout Arizona.  Ill.Ego has been begun opening for national acts in Flagstaff and Phoenix-area music venues and clubs.  Attendees can expect a high-energy dance party featuring music and songs from a variety of genres and decades. The event is free and begins at 9 p.m.
OvO features Tommy 'Rocks' Anderson on lead vocals, acoustic and electric guitars, internationally known guitar phenom Joe Berger of NYC on lead guitar, Kyle Scarborough from Houston (TX) on keys, Pablo Richards (FL) on bass, and John F. Kennedy (AZ) on drums.  OvO performs the obscure hits of some of the world's biggest bands, covering songs by The Who, Santana, Warren Zevon,  Frank Zappa, Led Zeppelin, Pink Floyd, Supertramp, Elton John, Jimi Hendrix and The Beatles.  OvO recorded a double-live CD in Jerome five years ago, and their CDs will be available at the show.
 OvO (The Owl Band) formed seven years ago, and performs in Arizona twice a year following the NAMM shows, first in Phoenix in January, then again in the Verde Valley area in early July .  The band has been joined onstage in the past by Grammy award-winning guitarist and producer Larry Mitchell. This year the band will perform at two venues in Arizona : Jerome's Spirit Room on Friday July 6th and Saturday, July 7th at Mainstage in Cottonwood. Opening the show will be Phoenix band "Serious Play".  Showtimes for both shows are 8 p.m.
  Singer Tommy Anderson, aka "Tommy Rocks," (www.TommyRocks.net) is a well-known entertainer in Arizona, both as a solo acoustic rock performer, as well as with his side projects the Jerome Ukulele Orchestra, The Beatless, the Tommy Rocks Trio, the Sedona Ukulele Posse and OvO. In 2017 Tommy acted and starred in a play written by Katie Lee starring as 'Mr. Death' in the musical western opera "Maude, Billy and 'Mr. D' ". Tommy is best known as a singer, guitarist, bassist and ukulele player who performs heavily in the area, and is known for his Beatles show on the Final Friday of each month at Vino Di Sedona.  On top of performing nearly 175 nights last year, Tommy teaches music and also owns a music store in Jerome called "Tommy Rocks".  
Main Stage has a series of nightly events the remaining nights of the week as well. Mondays feature weekly Karaoke with host Red Bear at 8 p.m. Tuesdays are more Karaoke at 8 p.m. Wednesdays are "This Ain't Your Grandma's Bingo" with host Penny Smith, cash prizes, and drink specials. Bingo begins at 7 p.m. Thursdays has Trivia with Brett and Candy at 7:30 p.m.  The venue is closed on Sundays.
 Main Stage is located at 1 S Main St in Cottonwood and is open Monday through Saturday 11 a.m. to close and 9 a.m. to close and closed on Sundays.