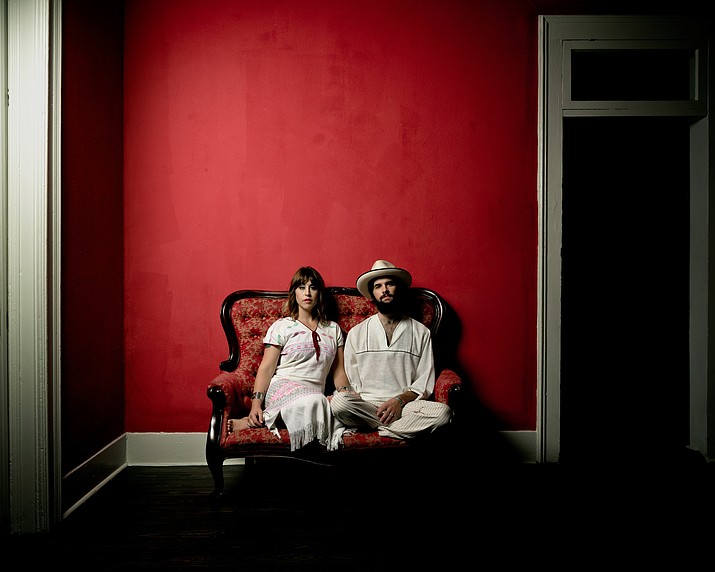 ---
---
The Watters (formerly the Oak Creek Band) and their seven- piece band will be touring the Southwest in July promoting their just-released self-titled album and are excited to help Rotten Johnny's Wood Fired Pizza Pie celebrate their "Grand Opening" at the Collective Plaza, 7000 AZ-179, on July 28th.
The doors open at 6:00 p.m. David Vincent Mills will open the show at 6:30. The Watters performance will begin at 7:30 p.m. Tickets are $15 per person and all proceeds will be donated to Verde Valley Sanctuary and Rotary Club of Sedona Village.
Tickets can be purchased online at https://www.rottenjohnnys.com, or on location at J Wine Bistro, Collective Plaza Suite E-100. Tickets will also be available at the door.
Some chairs and tables will be available at the venue but if you want to assure yourself setting you are encouraged to bring your lawn chair or blanket. Call Rotten Johnny's @ 928-641-6586 for more information on the venue.
So grab your dancin' shoes and come out and enjoy an evening of good music, food, and drinks.
Nestled in the unassuming hills of central Texas, Jenna & Daniel Watters and their seven-piece band have started a raucous revival of the big band Americana sound.
Having been called "Fleetwood Mac with a horn section," their new record features lingering melodies, lively horn riffs, and stunning locked-in harmonies that can only come from years of intimate practice.
Almost a direct response to their first album as The Watters, "Great Unknown," their sophomore effort, "The Watters", is filled with self-discovery and confidence as a result of their journeying through U.S. music cities. Recorded with some of Austin's best session musicians (Trevor Nealon of Band of Heathens, Anthony Farrell of Greyhounds, and Tijuana Train Wreck Horns ofShinyribs), the music is full of the rich experience and expert contributions of everyone involved.
Well-crafted songwriting and incredible collaboration is obvious to any listener. The Watters new album is also filled with the life experiences of the front couple, Jenna and Daniel Watters.
Their story starts where they grew up - surrounded by the mystique and allure of the red rocks of Sedona, Arizona.
A nearly 10 year, in-real-life love story of epic proportions, the pair met in middle school and sang together for the first time at their high school graduation only to be reunited years later eventually resulting in a loving marriage filled to the brim with music. The influence of the road-weathered pair's travels is sonically tangible throughout the album.
Songs such as "Frenchman" with the flavor of New Orleans, or the pull of making Texas their new home in "Soul to Soul," or even all of the different lives they've lived over the years iin "Along The Way" create a heartfelt blend of who they are. Their new self-titled album is unarguably a roadmap to the couple's journey in life.
The Watters' other shows on this tour include opening for Michael McDonald in Aspen, CO, as well as other dates in Fort Collins and Denver before coming to Arizona with performances in Cottonwood, Flagstaff and Sedona.
About The Watters
The Watters have crafted their one of a kind sound by traveling around the country soaking up their habitats. Having lived in Sedona, Los Angeles, Denver, Nashville and now Austin, their sound is as eclectic as the places they've lived. Seamlessly blending Americana, Soul, Rock, Gypsy Jazz and Funk they have been described as "Fleetwood Mac with a horn section." Daniel and Jenna have collaborated on six albums together under various monikers and released their debut record, Great Unknown, as "The Watters" in 2016.
The Watters have garnered a devoted fan base through their high-energy performances, well-crafted songwriting, stirring vocals and road-weathered musicianship. For The Watters, life and music are one, their journey together being their greatest muse.
Visit them at www.wearethewatters.com
For more information, please contact Lauren Trahan at lauren@papermoonentertainment.co or 847-651-3515.