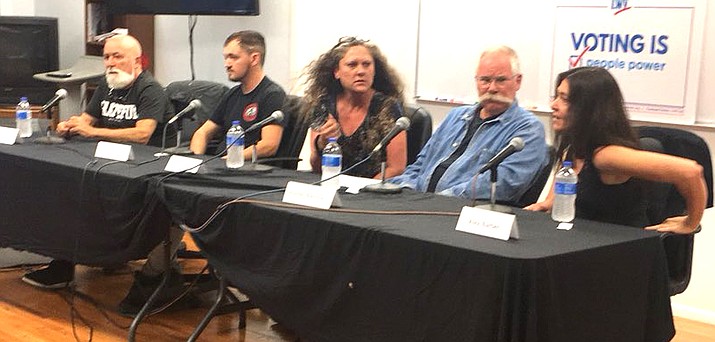 Originally Published: July 21, 2018 1:04 p.m.
JEROME -- Candidates for Jerome Town Council addressed constituents during a public forum Wednesday as they tackled issues facing Jerome such as water, infrastructure and parking.
Competing with the popular Open Mic Night at the Spirit Room just down the street, members of the public and candidates gathered at the Jerome Fire Department. The forum was hosted by the League of Women's Voters' Verde Valley branch, a nonpartisan organization that aims to "empower voters" and "defend democracy," according the group's website. Voter Registration Coordinator Gail Digate moderated the forum.

All five council seats are open. Candidates up for election are incumbents Alex Barber, Hunter Bachrach and current Mayor Frank Vandor Horst as well as Nick Bartell, Jack Dillenberg, Sage Harvey and Mandy Worth.
Vander Horst and Worth were unable to attend the forum .
Members of the audience submitted questions and each candidate was given time to answer. Here were some key issues addressed at the forum:
Why they are running
Dillenberg: A retired dentist and native New Yorker, Dillenberg said he has been coming to Jerome since he was a kid. He married his wife in Jerome and now owns property on Holly Avenue.
"I love this town," he said. "I love the heritage I love the people that are here and what it represents."
Bartell: Owner of Wicked City Brew on Clark Street, Bartell said he fell in love with Jerome when he first saw it. He said he is running for Town Council because he "really cares about this town."
"I really want to move it forward in a direction that I think is appropriate for the Town of Jerome."
Harvey: Born and raised in Jerome, Harvey said she left when she was 19 and has since returned to her hometown.
"I see a lot in this town that has not been taken care of in the last 45 years and my main reason for running for council is to make sure and see that our infrastructure gets taken care of," she said. "I think without the blood that comes in and goes out of this town, we have nothing."
Bachrach: Finishing up his first term on council, Bachrach said he welcomes the opportunity to serve again.
"I appreciate all of your support as neighbors, thank you all so much," he said.
Barber: Born in Jerome on a cold January morning in the Gulch, in a home that former Jerome dentist Lee Hawkins built, Barber said she is passionate about the community and is "extremely invested in Jerome."
She hopes to continue serving the town if voted into council again.
Infrastructure priorities
Some priorities consistent across the board among all candidates were water, sewer and streets.
How they would raise money to fix infrastructure problems
Dillenberg: "I think the pay point I'd like to see is visitors taking some responsibility and getting money from them to help the residents deal with a lot of these infrastructure issues … raise money through our visitors without negatively impacting residents"
Bartell: "If we need more money, certainly we could allocate it in the budget."
Harvey: "I think the citizens of Jerome might need to open their hearts to the possibility of putting parking kiosks up to create some income."
Bachrach: "We actually do quite well with our tax revenue. It's certainly not going to happen all at one time … it has to be dealt with in segments.
Barber : "We are already talking about some paid parking, maybe also get some decent sales tax revenues so that would be something the council would have to sit down and figure out."
Stance on vacation rentals
Dillenberg: "With more and more vacation rentals, you have more people taking showers and flushing toilets and we already have a water issue as is. That's one thing we haven't talked much about."
Bartell: "The state of Arizona has said [towns] are not allowed to say no and essentially at this point I really hope they look at it in the future and say town are allowed to decide whether or not they want them. There's definitely two sides to that and one is that these are people's personal properties … it's a super complicated issue. "It's also pushing everyone out of town who works here and it's really sad."
Harvey: "I believe the town does profit from vacation rentals if they are above board The citizens sometimes feel like they're being overwhelmed by the tourists and the residential neighborhoods … I don't think the tourists who get to enjoy them should be parking in the residential areas period."
Bachrach: "Certainly the people that stay in vacation rentals contribute to the tax revenue that we enjoy as a town … they have had a huge impact on the already tough rental market in our town. We as a town a long with every other town in the state kind of got that issue shoved down our throats and as we speak it's unlawful to prohibit vacation rental use. I wish the people that owned them had a little instruction sheet about courtesy to your neighbors. This is something we could maybe encourage owners of vacation rentals to do.
Barber: "From what I understand, 30 percent of our residents in Jerome are vacation rentals. I don't know if congress people that wrote the laws would come here and see what a nightmare it is to park … vacation rentals are kind of like putting a motel right next to where someone lives."