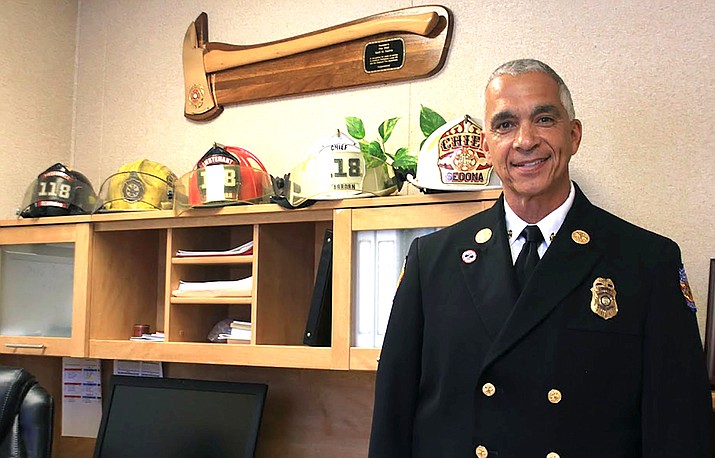 Originally Published: July 21, 2018 8:24 a.m.
Verde Valley Fire Chief Nazih Hazime has always kept his office door open. It's a policy he's always maintained while serving as a fire chief in both Michigan and the Verde Valley.
While this door may still remain open, it won't be Hazime there to answer questions to citizens and media or offer guidance to other prospective firefighters.

Hazime announced his retirement as Verde Valley Fire Chief last Thursday. He will be leaving his post in September after nine years of service. Hazime previously served two years in Sedona and 25 years in Dearborn, Michigan.
Hazime will be returning to Michigan to spend more time with family.
A job for extroverts
Hazime remembers the first time he was fascinated by the camaraderie and work ethic between firefighters.
"Back when I lived in Detroit, I was watching a large grocery store fire at the corner of our block," he said. "I ran down to the end of the block to watch the fire department show up and put the fire out. I thought that would be for me and I've never looked back since."
Still a teenager, Hazime met with the fire chief serving in Dearborn, Michigan.
"I asked him what I needed to do to become a firefighter," he said. "I took his direction and lead."
Since then, Hazime has offered the same thing to anyone who wants to become a firefighter.
"I have them come to my office and meet with me," he said. "I talk to them and empower them … give them a better understanding and feel. To understand what the fire service is all about."
In the United States, firefighters have been saving lives since colonial times making them classic heroes in American Folklore. But Hazime notes that no firefighter would actually refer to themselves as a "hero."
Which is why whenever someone tells him they want to be a firefighter, he wants to make sure they know what they're getting into.
"It's an investment to go to school and get the education you need," he said. "You don't want to waste anyone's time and if their heart's not in it. They don't belong here."
Firefighting is also a job for extroverts, Hazime said.
"They're going to be responsible for people's lives so I have to make sure we hire the right people," he said.
East to West
Hazime had already been working for the fire department in Dearborn for 25 years when the job posting for fire chief in Sedona popped up.
"My wife and I used to frequent Sedona for vacations," he said. "We loved the hikes and the red rocks. When the job was posted, I had already put in my time in Dearborn. The timing was perfect."
Out of 53 candidates, Hazime was selected to serve as fire chief.
After two years in Sedona, Hazime would then become fire chief at the Verde Valley Fire District.
Hazime said some key differences between working in Michigan versus Verde Valley is the small population spread out along an expansive and dynamic topography.
"There's a challenge in response times and getting to locations quickly," he said. "There are the threats of wildland fires and swift water rescues during monsoon season."
The partnerships between the different fire districts and departments is also something Hazime notes is a change from Michigan.
"We train with each other and we work with each other which is always nice to see," he said.
Leaving behind a community
Hazime said he will miss the personnel at VVFD as well as the community who he said is just as much his colleagues.
The work ethic of his employees is something that has resonated with him.
"Their dedication to the community and fire district and toward each other," he said. "I think it's wonderful how much respect they have for each other. That reflects on the streets when they provide service to the community."
Although there is much that Hazime will leave behind, he admits he is at a point in his life where he needs to take time for himself.
"We feel the time is right," he said. "I want to look for relief, as you get older, that becomes more important. Life and family and personal life stand out more."