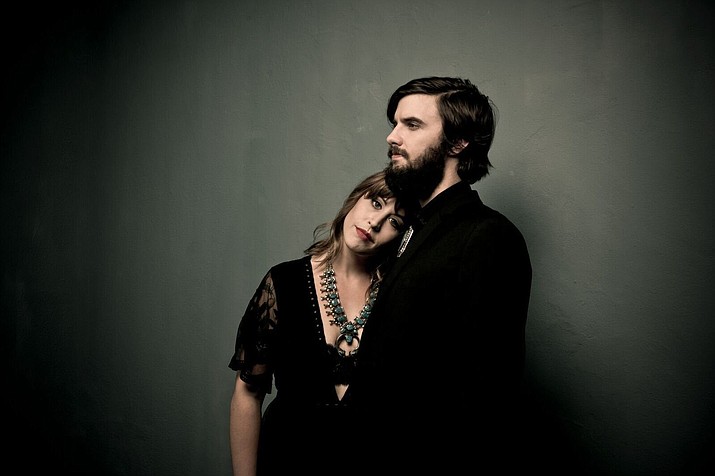 ---
---
Thursday, July 26, sees a special visit from Sedona-raised, Austin-based residents, The Watters.  The Watters arrive on a US Tour and on the heels of the release of their debut sefl-titled album.
Imagine Fleetwood Mac, Tedeschi Trucks Band and Rilo Kiley merging into one dynamic supergroup and you will start to get an idea of The Watters unique Americana/Soul sound. Daniel and Jenna Watters, schoolmates turned band mates turned soul mates, share lead vocals and guitar in the group alongside their six-piece band.
The Watters originated as The Oak Creek Band in 2009, named for the area where Daniel and Jenna grew up near Sedona, AZ. The ensemble was based out of Denver and then Nashville until relocating to Austin, Texas in 2015.
Daniel and Jenna have been playing music together for 12 years, writing together for 8 years and have worked on six albums together. They have toured extensively throughout the country and sold out the first pressing of their self-titled EP in less than one year. The Watters have garnered a devoted fan base through their high-energy performances, well-crafted songwriting, stirring vocals and road-weathered musicianship. Their songs are webbed in a world of truth and wonder with a timeless spirit.  The show is free and begins at 8 p.m.
Friday, July 27 has Main Stage's monthly "4th Friday's Dance Party" featuring DJ ill.Ego. DJ ill.Ego's performance roots began at Cottonwood's Main Stage and have seen him garner a thriving and ever-growing fan base not just in the Verde Valley but throughout Arizona. Ill.Ego has begun opening for national acts in Flagstaff and Phoenix-area music venues and clubs. Attendees can expect a high-energy dance party featuring music and songs from a variety of genres and decades. The event is free and begins at 9 p.m.
Saturday, July 28 sees the Verde Valley farewell show for The August West Band. On the brink of a move to Asheville, NC West will gather The August West Band, Grateful Dead tribute band American Beauty and Well Dressed Wolves.
The August West Band is a high-energy alt-country band based out of Cottonwood Arizona featuring some of the best players in the Verde Valley. The August West Bend was formed out of a love for outlaw country music and southern rock. Taking a jam band approach to alt-country, the band features Don Whitcher on lap steel and slide guitar, Michael Drew on the drums, Ivan Wade on bass guitar and August West on electric guitar and vocals .
The band blends the power of the Allman Brothers with the grit of Waylon Jennings rendering a beautiful soulful sound, covering bands like The Byrds, the Flying Burrito brothers, uncle Tupelo , Son Volt, Bob Dylan and Merle Haggard. The show is free and begins at 8 p.m.
Main Stage has a series of nightly events the remaining nights of the week as well. Mondays feature weekly Karaoke with host Red Bear at 8 p.m. Tuesdays are Pub Trivia with hosts Brett and Candy at 7pm, followed by more Karaoke at 9:30 p.m. Wednesdays are "This Ain't Your Grandma's Bingo" with host Penny Smith, cash prizes, and drink specials. Bongo begins at 7 p.m.
Thursdays see the "Bottom Line Jam" with the Bottom Line Band at 7 p.m.  The venue is closed on Sundays.
 Main Stage is located at 1 S Main St in Cottonwood and is open Monday through Saturday 11 a.m. to close and 9 a.m. to close and closed on Sundays.
All events are free to the public unless otherwise noted.