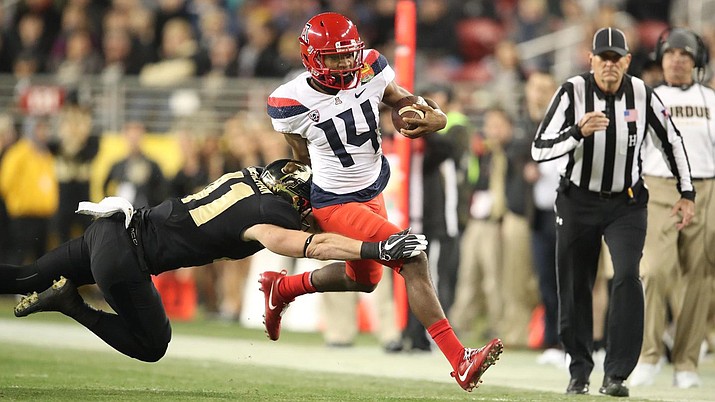 Originally Published: July 28, 2018 1:25 p.m.
HOLLYWOOD, Calif. — It feels all too familiar for University of Arizona first-year head coach Kevin Sumlin as he has inherits one of the most prolific dual-threat quarterbacks in college football. In Sumlin's first year with Texas A&M, he started current Canadian Football League quarterback Johnny Manziel as a redshirt freshman.
Now he has junior quarterback phenom Khalil Tate.
"He's a guy that's really explosive," Sumlin said.
Tate became the starter in 2017 against the University of Colorado where he rushed for a FBS record 327 yards. He continued his success throughout the season as he posted three 200-yard rushing performances, the first player to do that in Arizona program history. In 11 games, Tate threw for 1,591 yards and 14 touchdowns and rushed for 12 touchdowns.
Arizona will alter the zone read offense it ran under former coach Rich Rodriguez to Sumlin's air raid offense. Sumlin's will entail a more pass-heavy identity compared to Rodriguez's run-first scheme.
Sumlin's offense would be similar to Rodriguez's with a few key differences.
"It won't be as much read option just because we have a lot more motions and a lot more pass plays," Tate said.
The pace of play will be similar as Sumlin looks to implement a no-huddle offense predicated on running as many plays as possible to tire the opposing defense. In his tenure at Texas A&M, Sumlin averaged 74.4 offensive plays per game and each play averaged 22.3 seconds of possession per play, which was the seventh fastest in the FBS, according to trumedia.
"They're all about speed," Arizona sophomore linebacker Colin Schooler said. "They're all about getting to the ball faster, snapping the ball faster, us getting as many plays off as possible."
However, Sumlin is not reluctant to make adjustments to his pass-happy offense. In his final years at Texas A&M, he started to implement more of a spread option to fit the style of quarterback Trevor Knight, who struggled with decision-making in the passing game and was inconsistent in his accuracy until Sumlin made the change.
Tate also has room to improve his passing game as he attempted only 16.3 passes per game in his 11 games played in 2017. The positive for the Wildcats is that Tate averaged 9.2 yards per attempt and completed 62 percent of his passes.
"Moving from being an athlete that is a quarterback to being a quarterback that's an athlete, how do you become that?" Sumlin said. "There is still a lot of room for improvement for him. I think he understands that and is working hard in wanting to be a great quarterback."
With a top quarterback in tow, Sumlin must see if he can replicate the same success he did six years ago with Manziel.
"So there is a little different pressure when you're a starter, and it comes with the things that are expected of you. Not just on the field, but off the field and on the sideline," Sumlin said.
Tate said he's not worried about the added pressure.
"I'm still me. I'm doing the same thing I've been doing," Tate said. "I mean pressure makes diamonds."