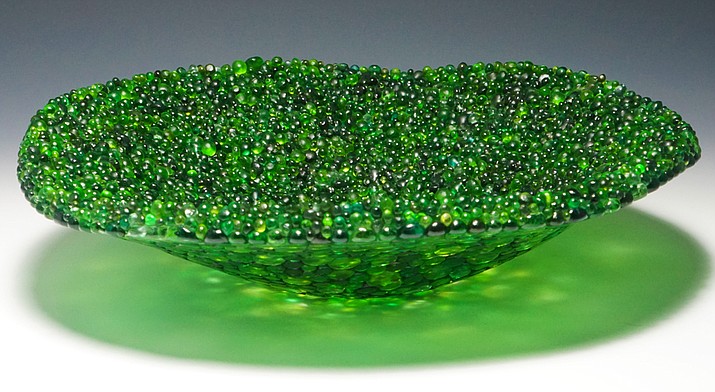 ---
---
After 45 years, Kuivato Glass Gallery is changing to Kuivato, a Creative Gateways Gallery with a change in ownership.
This August, Kuivato celebrates its grand re-opening and explores its artists'many successes in their new exhibit Mastering Craft. Join them for a lively reception and see the new look, Friday, August 3, 5-8 p.m., during 1st Friday in the Galleries.
Kuivato has recently undergone a major renovation, including new floors, display cases and pedestals, lighting, freshly painted walls, and a general reorganization of the store's layout.
As Angela Palmer, the gallery director, explains, "One of the things we wanted to accomplish was a strong but concise visual aesthetic. For the store, that meant continuity and flow between things like the floors, baseboards, wall colors, and so on. For the art, that meant making sure that it didn't feel visually cluttered and overwhelming. Everything we have at Kuivato is beautiful, but if there are too many different pieces in one area, it can feel like a sensory overload. We love everything we have here, and don't want anything to get lost amid other pieces."
This became especially important as Kuivato took on new mediums, moving away from being a glass-only shop. The gallery is still majority glass but includes the mediums of the artists who have studios at sister gallery Creative Gateways Open Studios and Gallery.
Currently, this means that ceramic, mixed media painting, illustration, watercolor, and bronze are all represented at Kuivato.
Additionally, the jewelry at Kuivato has been rethought to carry mostly artists from Sedona and the Verde Valley as well as throughout Arizona.
This focus on Sedona is part of owner, Pilisa Rainbow Lady's and Angela's, long-term goals for Kuivato. This interaction with the community will involve not only business support, but engagement with the artists themselves.
"We represent extremely talented and renowned artists from around the world and are looking to invite many of them to be our guests for 1st Fridays. So start looking for lectures, demonstrations, and special guests in 2019," Palmer said.
This emphasis on talent starts with Pilisa who founded Creative Gateways LLC and owns the AMusinGlass studio that is housed in Creative Gateways Open Studios & Gallery.
She has been a fused glass artist for 12 years, during which time she has consistently worked to expand her talent and technique. Much of her work now involves experimenting with reactive glass, the unpredictability of which makes even the most seasoned of artists wary.
But it is her mastery of her craft that allows her to go against the norm and guide the unstable process into creating wonderful art, while continuing the never-ending process of learning.
Whether viewing small but alluring pendants and coasters or large, stunning bowls and wall pieces, it is undeniable that Pilisa is a master in her field. And as a master of her craft, it is equally important to share her knowledge and success with others which the acquisition of Kuivato will help facilitate.
"I like to look at these types of transitions as great opportunities. We can grow as business people, as artists, and as members of the community. We can provide new outlets and representation for creativity, and help spread the joy of that throughout the public. We're honored to be a part of such a wonderful and long standing destination like Tlaquepaque, and look forward to the exciting adventure ahead of us."
Join Kuivato, Friday, August 3, 5-8 p.m., for their grand re-opening and reception of Mastering Craft. Experience the years of dedication that is evident in Pilisa's work, as well as the work of all represented artists.
Kuivato, a Creative Gateways Gallery, is a founding storefront in Tlaquepaque in Sedona.
Visit Kuivato seven days a week from 10 .m. to 6 p.m.. For more information, please visit www.kuivato.com or call 928-282-1212.