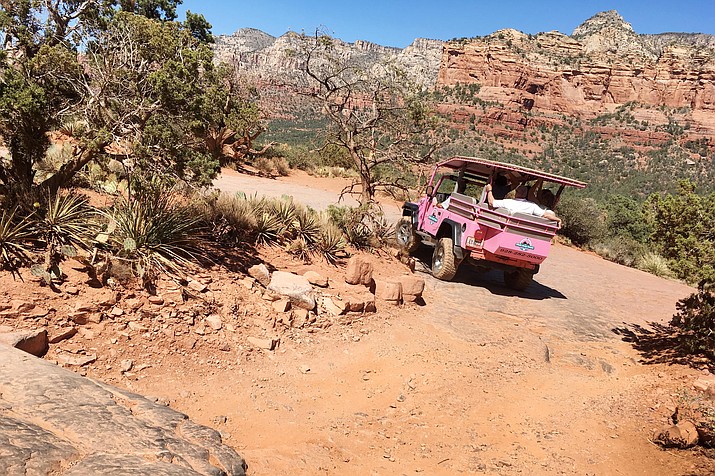 ---
---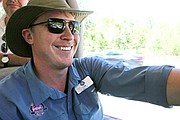 Since 1999, she's lived just outside of Scottsdale in a community called Fountain Hills.
But Barb Sargenti "always" brings her out-of-town guests to Sedona – and to Sedona's Pink Jeep tours.
She tends to do the Scenic Rim tour, Sargenti said. Because it goes into Soldier's Pass.
"There's really good history, and geology," she said before her cousin from Reno joined her on a Pink Jeep Tour.
"It's my first time to Sedona," Nancy Jorgensen said that mid-week afternoon. "I'm going to sit back and take it all in."
Truth is, a jeep tour up and down Sedona's red rocks can only be so smooth.
But in the hands and the steering wheel of Cody Goodrich, each Sedona Pink Jeep Tour is an "opportunity to share the beauty, the history and the natural resources."
"It's really a privilege, a real joy," Goodrich said of being a Sedona Pink Jeep tour guide.
Said Sedona Pink Jeep's Rob MacMullan, the company's signature tour is the Broken Arrow Tour.
"It's a thrill to see what these vehicles can do," said MacMullan, the company's content manager. "The history of that trail is as old as the history of the company. We've been running it ever since.
It's not just what the vehicles can do. It's what Sedona Pink Jeep trains its drivers to do.
To become a fully-fledged Sedona Pink Jeep tour guide, six weeks of training is mandatory. And, as Goodrich said, most beneficial.
More than 150 guides company-wide complete "rigorous four- to six-week training that includes Smith Driver Training, off-road driving techniques; tour routes; local and state history; Native American history; flora, fauna and geology; trail finesse training; CPR and first-aid certification; as well as Pink Adventure Tours company policies and procedures," according to Andrew Wexler, CEO of Herschend Enterprises, the parent company of Pink Adventure Group.
Following training, there's also a "required reading list and a competency test" that requires a passing grade, Wexler said.
The training, MacMullan said, "never really stops."
"We do what we call rock crawling, where the jeep goes on the red rocks, a lot of different angles," MacMullan said.
Back roads back story of Sedona Pink Jeep
In the 1950s, Don Pratt sold real estate in Sedona's Broken Arrow neighborhood. To show off the basin's natural beauty, Pratt Don would take potential clients on a Jeep ride – and as the company's CEO said – "serenade them with his clarinet."
"Eventually the Jeep ride became more popular than his real estate venture and he decided to start a tour company," Wexler said.
As Wexler tells the story, Pratt, following a trip to Hawaii with his wife, picked up an affinity for the color pink "as it donned everything from uniforms to entire buildings at the Royal Hawaiian Hotel in Waikiki."
"Pratt turned his penchant for pink toward his fleet of vehicles and the company's iconic namesake was born," Wexler said.
Today, Pink Adventure Tours has options for all demographics.
Each jeep tour "offers the guest a variety of tours from which to choose to match their interests," such as rugged four-wheeling or bumpy dirt roads, mild, on-pavement tours to see the local highlights, or tours with more highway driving to reach "magnificent destinations," Wexler said.
The great outdoors
As he escorted a family from a Chicago suburb, Goodrich spoke of his love of the outdoors as a reason why he's spent the past three-plus years as a Sedona Pink Jeep tour guide.
He wasn't much for working behind a desk, Goodrich said.
Perhaps it's no coincidence that many of his guests are looking for the same relief.
Wexler said that Pink Adventure Tours was formed to "connect the guest to nature."
"The environment is paramount to our success," Wexler said. "Our guides have a great passion for the outdoors and tend to be hikers, maintain bikers and nature enthusiasts. They love the land and are proud to show people the beauty of Sedona."
For Jay Anderson and his family, its first trip to Arizona was geared toward a Grand Canyon visit.
"It's on my bucket list," Anderson said as he and his wife Rachael, son Alex and daughter Ellen toured Broken Arrow with Goodrich.
For the Andersons, they said that now they'll have two lasting memories from the Copper State.
For more information about Sedona Pink Jeep tours, visit https://www.pinkadventuretours.com. Or call 800-873-3662.
-- Follow Bill Helm on Twitter @BillHelm42